This story has been updated with comments from university officials.
KENWOOD — University of Chicago students held an "occupation" of provost Ka Yee Lee's Kenwood block over the weekend, continuing their campaign to push the university to disband the campus police department.
Student groups CareNotCops and UChicago United organized a march through Hyde Park and Kenwood calling for a public meeting with school administrators on their proposal to defund UChicago Police. Instead, organizers want the campus police department budget to fund initiatives for students of color.
The department is one of the largest private police forces in the country and is not subject to the same transparency laws as municipal departments.
Protesters demanded funds be reallocated for on-campus cultural centers, a Critical Race and Ethnic Studies Department within the university and increased support for South Side neighborhoods.
Cultural centers would be places for students of color to build solidarity "on a campus that is not built for or by them," UChicago United organizer Chioma Nwoye said. The group is calling for the creation of student-led centers for Black, Latinx and Asian students.
"As a Black student, I would say UCPD doesn't make me feel safe at all," Nwoye said. "What makes me feel safe is my sense of community that I've built here with other students of color, with other organizers, with other people I know have my back and I have their back."
A student- and community-led ethnic studies department would be a hub for "anti-racist and liberatory" education, organizer Lilly Le said. The Ethnic Studies Now campaign calls for a department to be created without a chair, a director or any other "bureaucratic and non-transparent" positions.
In June, university officials offered to set up a Zoom meeting between demonstrators, provost Lee and UCPD Chief Kenton Rainey, university spokesperson Gerald McSwiggan said.
The offer stands, as the university has begun meeting with community members representing "a wide range of views on public safety issues," McSwiggan said.
The meetings are part of an effort to "continue examining" UCPD's role in public safety and will be followed by a public forum on issues raised during the input process.
University officials will not disband UCPD, which "provides a vital service in helping to keep safe and support our campus and surrounding communities," university President Robert Zimmer and Lee said in an Aug. 12 message.
"Our aim is to incorporate critical perspectives about our public safety function, including the UCPD," Zimmer and Lee said. "We recognize that Black members of the University community and Black residents more broadly have distinctive experiences with police."
Demonstrators criticized UCPD's role in policing surrounding communities.
The department's coverage area extends far beyond the university's central campus, from 37th to 64th Streets and Cottage Grove Avenue to Lake Shore Drive.
Ninety percent of people stopped for "field interviews" by UChicago campus police officers this year were Black, according to university records. Though people were searched in 17 of the 31 stops — many of which were initiated because the person "matched the description" of an offender — only one arrest was made.
A Saturday afternoon march starting at Zimmer's house, 5855 S. University Ave., visited the campus police Drexel Avenue headquarters and the Main Quadrangle before ending with a sit-in on the 4900 block of Greenwood Avenue.
The action continued into Sunday with yoga, breakfast and organizing workshops. Students will remain there "indefinitely until we hear publicly" from Lee, CareNotCops organizers said in a tweet.
In a statement Monday, organizers said they would remain on the block until Lee agrees to meet their demands.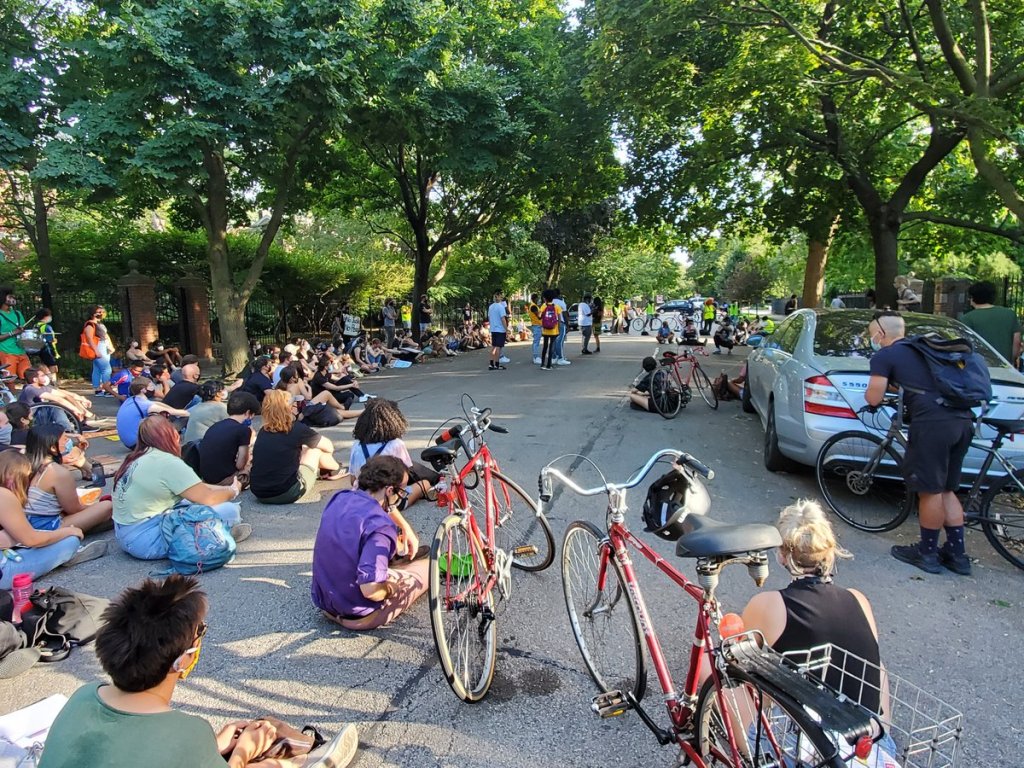 It is the student groups' second multi-day protest of the summer, following a 19-hour sit-in at UCPD headquarters in June.
At the June action, Rainey spoke with protesters and offered to meet. They declined, citing concerns that the meeting would not be "public and transparent."
Kenwood residents along the march route voiced varied opinions on eliminating UCPD and were unfamiliar with marchers' specific demands. But they said young voices must be heard, and appreciated the effort to hold police accountable.
"I haven't thought through that much [about UCPD in particular], but I'm very perturbed about racialized violence in our country," said Susan Stokes, a UChicago political science professor. "It's so great to see young people not just taking the torch, but really pushing these movements forward."
"UCPD needs some of the money, but we can certainly take the other portion of the money to help with the community," said Deborah Telman, a Kenwood resident visiting a friend's home.
One Greenwood Avenue resident appeared agitated by the demonstrators as they arrived, but went back inside without incident.
Subscribe to Block Club Chicago. Every dime we make funds reporting from Chicago's neighborhoods.
Already subscribe? Click here to support Block Club with a tax-deductible donation.