CHICAGO — A man was killed and four others wounded in a shooting Sunday at a Morgan Park pancake house.
About 1:50 p.m., people were eating under a tent at Lumes Pancake House, 11601 S. Western Ave., when the drive of a white SUV pulled up and three people got out and fired shots, police said.
The gunmen, who walked into the tent, aimed at a table where three women and two men sat and fired at least 40 times, the Chicago Tribune reported. Someone ran from the tent and shot back at the SUV, and the driver fled south Western Avenue, police said.
Killed was 31-year-old Devon Welsh, according to the Cook County Medical Examiner's Office. Chicago Police said a total of five people, including Welsh, were shot.
Police said they believe Welsh, who was pronounced dead at the scene, was the target of the shooting.
Four people were taken to local hospitals, including a 43-year-old woman who was shot in her stomach and buttocks. She was at Christ Medical Center in Oak Lawn and was listed as "stable," police said.
A 32-year-old woman and a 32-year-old man were also at Christ and were listed as "stable" after they were shot in their thighs. A 30-year-old woman was in good condition at Little Company of Mary Hospital in Evergreen Park after being shot in her foot.
It is unclear if the victims were sitting together or in separate parties.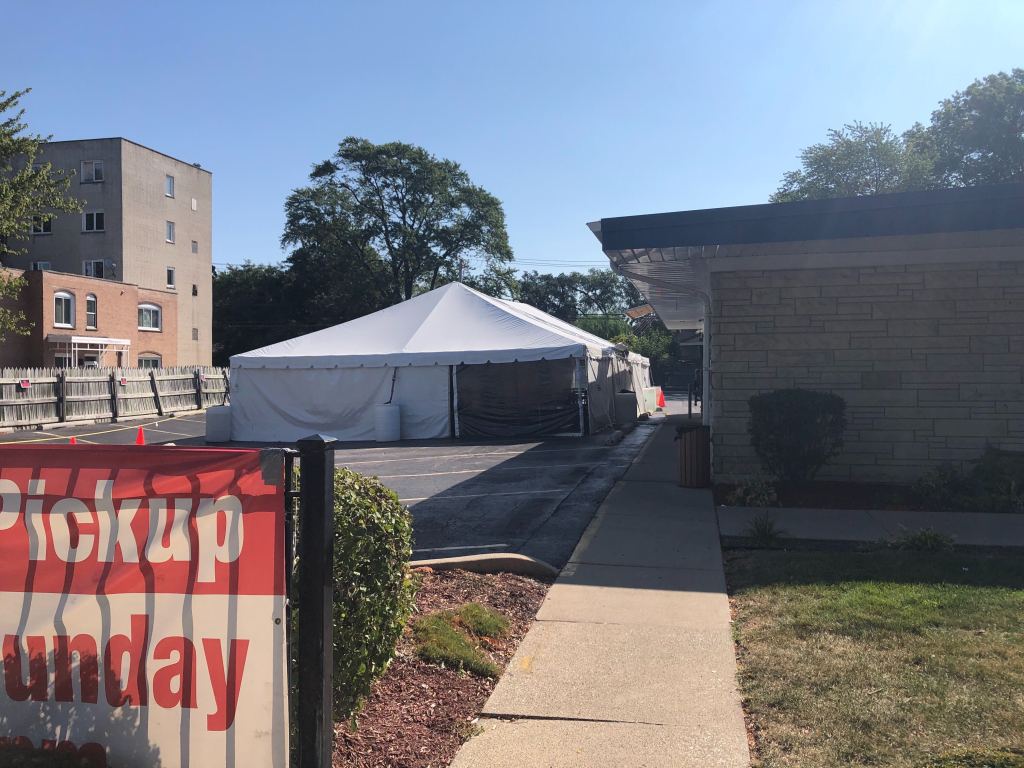 Talvin Short and his wife live in a townhouse just to the north of the Lumes parking lot and had just arrived home from church when they heard the shots ring out.
"I recognized it was gunshots right away. I could hear the bullets ricocheting off the tent poles," Short said.
"My wife went to the window but I told her to get back. Then we called 911 right away. It sounded like a lot of shots, I'm guessing like 40 and they were fired in rapid succession. It sounded like an automatic weapon," Short said.
Lumes is a popular spot for families to eat after church. Inside the tent Monday, chairs were toppled and some food was still left sitting on tables. A bloody table cloth was on the ground.
A woman who said she was at the restaurant Sunday with her family when the shooting happened came back Monday morning to look for an envelope she dropped while running from the gunmen. It was a graduation card and money for her grandson, she said.
The graduation celebration was the reason she was dining at Lumes on Sunday.
A Chicago Police Chaplain also briefly stopped by Monday to offer prayers.
Ald. Matt O'Shea (19th) went to the scene Sunday and later issued a community alert imploring anyone with information to contact the police.
There are cameras at the entrance to the Lumes parking lot and on the building. It is not immediately known if police were able to recover video from the cameras.
No one is in custody and detectives are investigating.