WEST LOOP — The bride and groom wore masks, the flowers came from a planter box, the groom was on his lunch break and the guests kept their distance.
Friday's wedding in the parking lot of the city's Office of Emergency Management and Communications on the Near West Side was unusual in many ways, including being the first one held at the center.
But it was perfect for 911-dispatcher-in-training Daniel Torrez and his bride, Vesna Torres, who had tried to get married elsewhere but struggled to find a place available because of coronavirus.
Why not have it at work? one of Torrez's co-workers suggested.
"Before I go any further," asked officiant George Liebentritt, one of Torrez's 911 trainers, "is there anybody in this crowd who doesn't really know them very well, that thinks there's a reason that these two should not be married?"
Torrez has been on the job for just four weeks, but the setting was right. And it was a welcome celebration for his co-workers, many of whom are still getting to know the future dispatcher.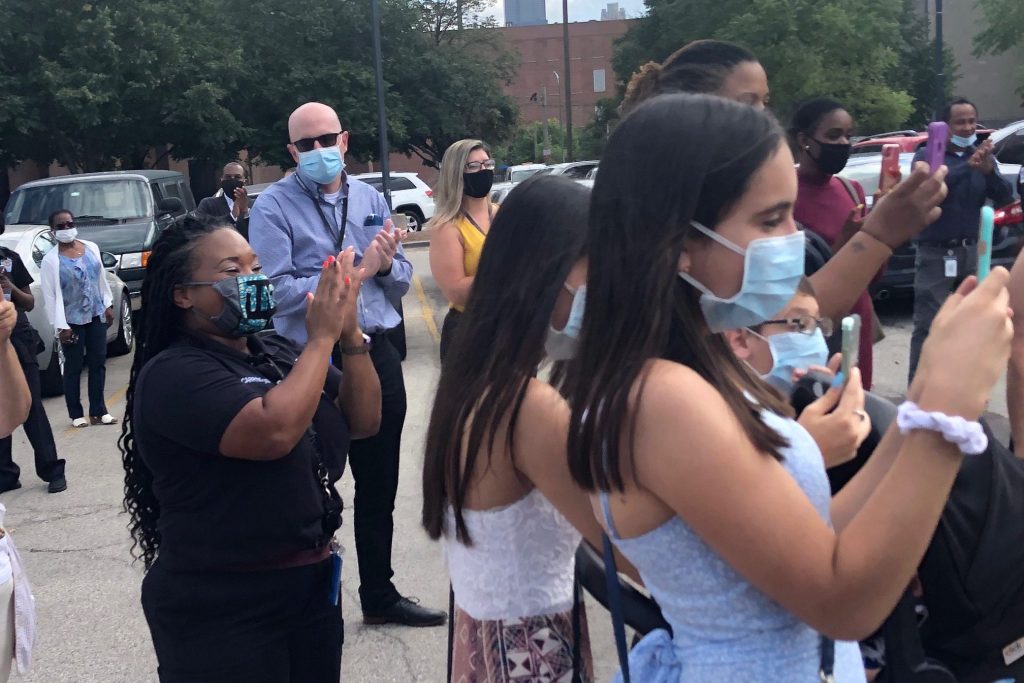 The couple got engaged Feb. 1, with Torrez proposing in front of his wife's family during the baby shower for their first child, Isabella, born March 11. 
The couple met in 2010 as sophomores in high school, but didn't start dating until 2018, when Torrez was in the Marine Corps, stationed at Camp Pendleton in California. Torres ended up living with him in California and the couple adopted a puppy together. They now live in Jefferson Park.
The idea to hold the wedding at work came from Susan Dennewitz, another one of Torrez's trainers.
"They were trying to get married but couldn't. Every time they tried to go to City Hall or somewhere it was closed because of COVID, so it became a joke," Dennewitz said, explaining she ran the idea by Daniel in jest. 
"I told him we could be your bridesmaids and George [Liebentritt] could do the wedding and he was like, 'Oh, really?' I said yeah, but we can only do it at lunchtime because it can't be on the clock. And he called her and she said yes," Dennewitz remembered. "Then I said I better call a deputy for permission, so I called Marty [Managing Deputy Director Martin Doyle] and he said, 'It's on lunch hour, it's outside, it's great.'"
Once they got the OK, the couple went ahead, not even waiting for Torrez's family, who couldn't make it on Friday because of their jobs. Torrez said they will likely get together with family members over the weekend to celebrate their union. 
At 11 a.m. Friday, about 15 masked co-workers and a few of the bride's family members were on-hand to witness the event. She wore a floral-patterned summer dress and carried a bouquet of flowers that OEMC Operations Manager Carla Orlandini picked from a planter outside the building. Workers have turned the planter into a tribute to former co-worker Juan Morga, who died of cancer in 2014. 
"Juan would love it," Orlandini said.
Liebentritt, one of Torrez's trainers, officiated, while another trainer, Andrew Johnson, served as ring-bearer.
The couple stood in the parking lot, holding hands and wearing face-masks while Liebentritt performed the 4-minute ceremony. It wasn't until Liebentritt told Torrez he may kiss his bride that the couple lowered their masks to kiss and embrace.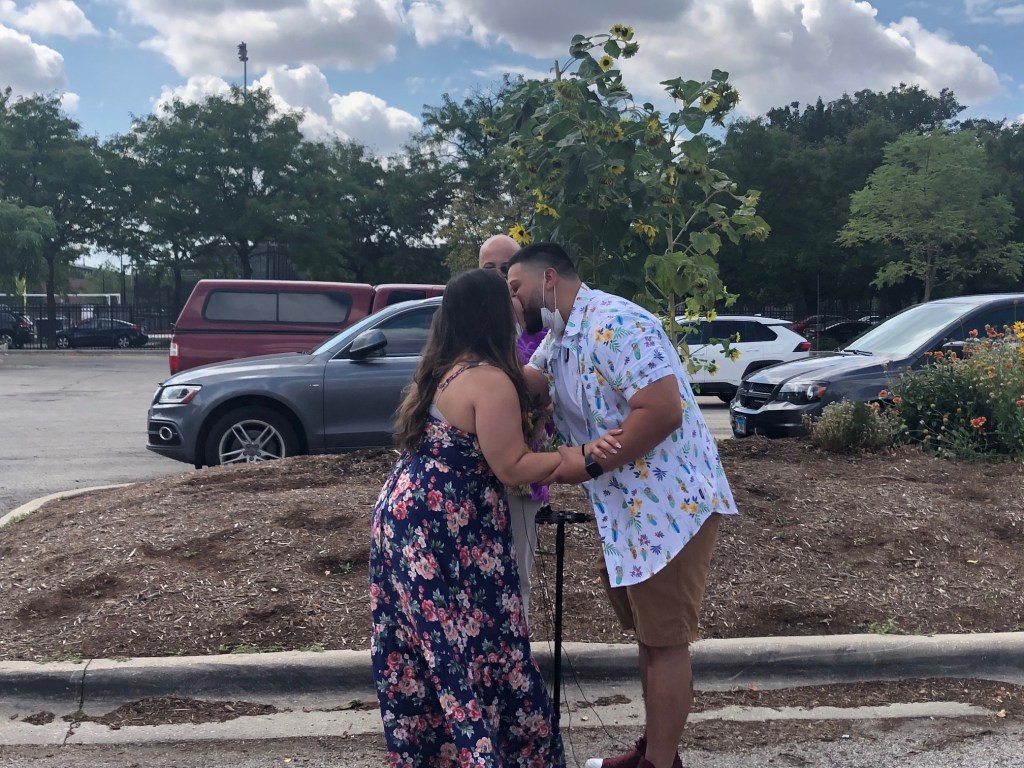 After the ceremony, the couple and the co-workers took a few minutes to have wedding cake inside the west lobby of the building, as well as some paleta bars donated by Razpachos Cafe in Gage Park. 
According to Police Communication Officer Dayna Kline, who has worked at the OEMC for 24 years, it was the first-ever wedding held on the grounds of the facility.
Vesna, who said she may change the last letter in her name from Torres to Torrez to match her new husband's and daughter's name, said it was a relief to finally be married.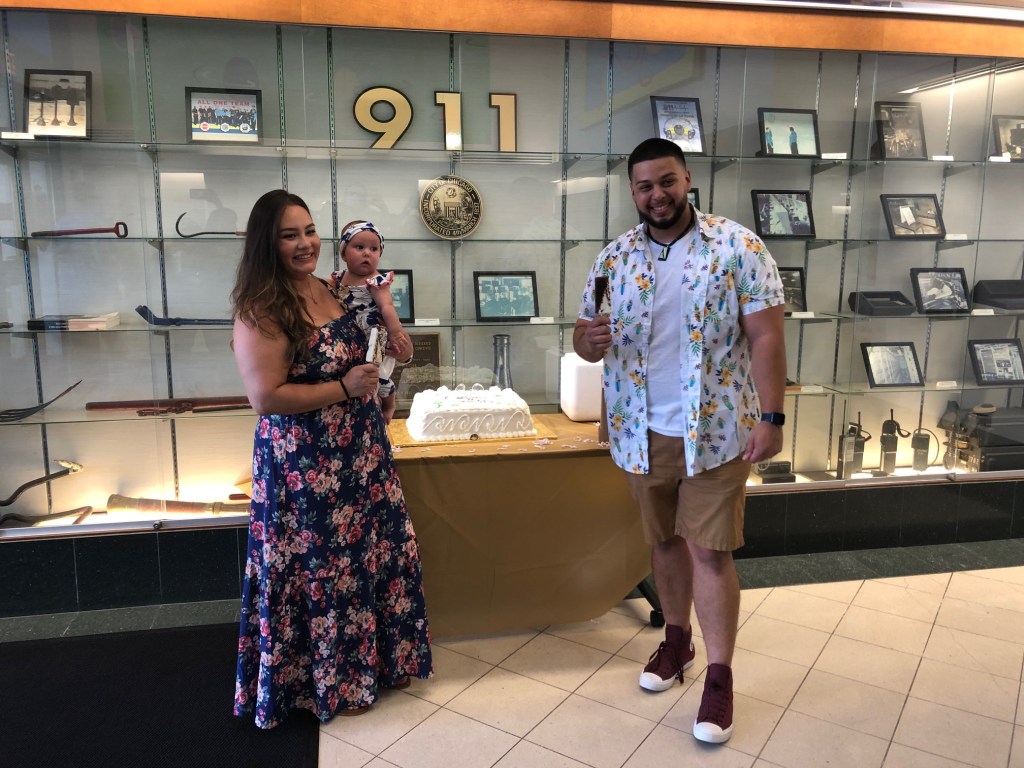 Torrez agreed and said the lunchtime wedding was nicer than he anticipated.
"It was a lot better than I thought. To be honest, I thought it would be a two-second thing," he said. "This is cool and the fact that I just started working here and can already feel the camaraderie and a family-like atmosphere is awesome."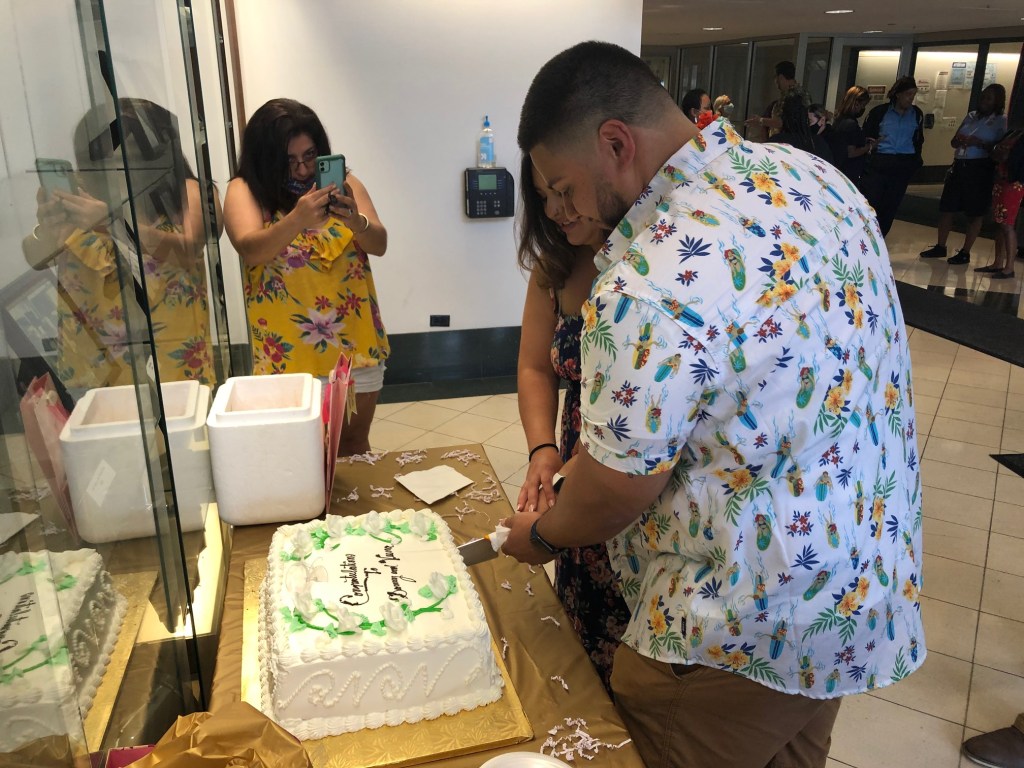 As Johnson watched the couple cut the cake, he said the remainder of the day would be easy for Torrez. 
"We've already done testing for the day so it's just light stuff for the rest of the day."
Asked if he could give Torrez the rest of the day off to go home with his new bride, Johnson smiled and said, "unfortunately no."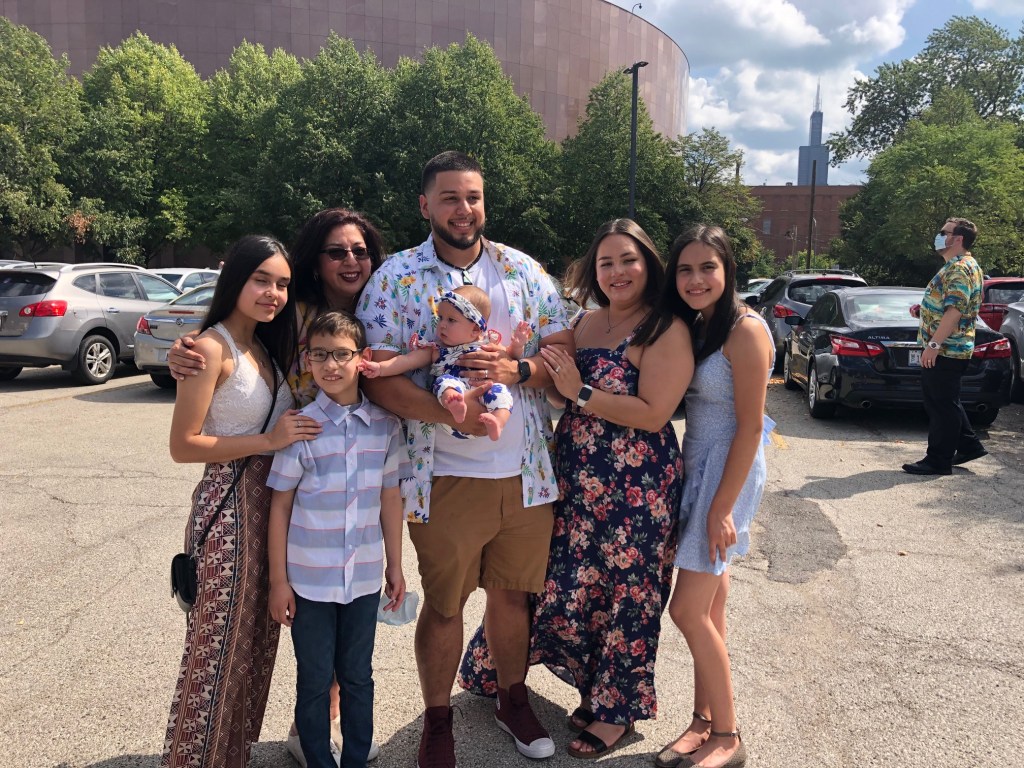 Block Club Chicago's coronavirus coverage is free for all readers. Block Club is an independent, 501(c)(3), journalist-run newsroom.
Subscribe to Block Club Chicago. Every dime we make funds reporting from Chicago's neighborhoods.
Already subscribe? Click here to support Block Club with a tax-deductible donation.