ROGERS PARK — A rare tornado that touched down in Rogers Park didn't cause any major injuries, but it did result in the loss of hundreds of trees.
Now, a group of Rogers Park neighbors, artists and a local business have teamed on an "I survived the Rogers Park tornado" clothing line, with proceeds going to replacing trees lost to the storm.
The idea came from Jennifer Clark, whose Fargo Avenue home just missed the brunt of the Aug. 10 tornado that traveled along Jarvis Avenue before reaching Lake Michigan.
"My block was actually relatively unscathed," Clark said. "As soon as you walk one block … it was hard to describe. These were 100-year-old trees that were gone. They were just lifted out. It was horrifying."
Since no one was hurt, Clark thought it would be fun and charitable to make an "I survived the Rogers Park tornado" apparel line and donate the proceeds to a tree replacement fund.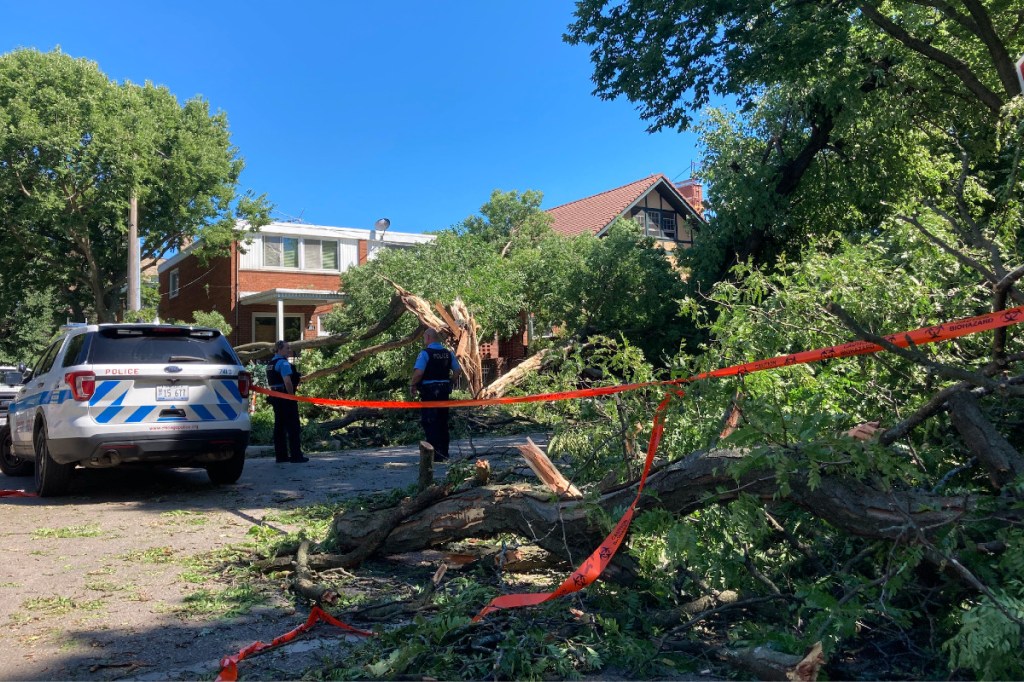 Clark put out a Facebook call asking for artists to submit designs for the merchandise. Within one day, she received logos from local artists who had donated their work. The artwork comes from Jason Demma, Jeiline Perez and Adres Quiroz.
Clark took the designs to Tee Mart Decorated Apparel, a new custom clothing store in Rogers Park. Shop owner Renee Masushima agreed to make the apparel and donate the proceeds to the tree fund, Clark said.
READ: Rogers Park Cleans Up After Tornado: 'Destruction Like I've Never Seen'
Tee Mart created a web store for the line of clothing, offering T-shirts, hoodies, tote bags and even face masks. The items can be ordered online and picked up at Tee Mart, 1445 W. Morse Ave.
For the items Tee Mart could not produce — like dog sweatshirts, pillows and coffee mugs — another web store was created for the "I survived the Rogers Park tornado" clothing line.
Proceeds from the sale will be donated to the Rogers Park Business Alliance, which is creating a fund to replace fallen trees.
The city has plans to plant trees in the areas where they were lost. But over 7,000 trees were lost citywide in the storm. Rogers Park will likely be competing for resources with other neighborhoods, and Clark wants to show the city that neighbors take tree replacement seriously.
"Nothing just happens because you pay taxes," Clark said. "We'll have to really advocate for replacing these trees."
"Hundreds" of trees were lost in Rogers Park due to the storm, said Leslie Perkin, chief of staff to Ald. Maria Hadden (49th).
Agencies like the city's Bureau of Forestry will work to replace as many trees as possible, starting in the fall and likely continuing in the spring, Perkins said. Funds from the ward's discretionary budget could be allocated to tree replacement if necessary, she said.
Rogers Park's tree canopy is part of what makes the neighborhood special, Clark said.
"I feel we owe it to future generations to get them replaced sooner rather than later," she said.
To check out Tee Mart's "I survived Rogers Park tornado" apparel line, click here. For the web-based tornado apparel line, click here.
Subscribe to Block Club Chicago. Every dime we make funds reporting from Chicago's neighborhoods.
Already subscribe? Click here to support Block Club with a tax-deductible donation.