CHICAGO — The Cook County Medical Examiner's Office has handled the deaths of more than 10,000 people this year amid the devastating crush of coronavirus and alarming spikes in violent crime, drug overdoses and suicides.
In every category, communities of color are bearing the heaviest toll.
Not since 1979 have more than 10,000 deaths been handled by the Cook County Medical Examiner's Office in a single year, according to a county news release. The office does not handle every death in the county, not investigating people who are elderly and die of natural causes, for example.
Among the staggering statistics:
Nearly 43 percent of people who died this year are Black.
More than 5,000 people have died from coronavirus. About one-third of those victims are Black.
Nearly 600 people have died of homicides, and 94 percent of those victims are Black or Latino.
About 1,400 people have died of opioid overdoses, and about half of those victims are Black.
282 people have died of suicide. More Black people have already died of suicide this year than in all of 2019.
The office is on track to double the number of deaths it investigated in 2019, when 6,274 people died, according to the county.
"It hurts, but I'm not surprised," said DuShaun Branch, a community organizer for North Lawndale Community Coordinating Council. "People who live outside these communities need to see these numbers and have that gut punch feeling to understand what is happening to Black and Brown people.
"People have lost their jobs or have undiagnosed mental health issues and are sometimes using drugs to cope. These have been problems in our community for a long time and COVID has amplified them."
RELATED: West Side Overdoses Surge As Coronavirus Shutdown Makes It Harder To Access Addiction Help
The surge of cases is "unprecedented," Cook County President Toni Preckwinkle said in a news release.
"The majority of these residents lived in underserved and under-resourced neighborhoods. These are residents who have less access to healthy foods, safe streets and quality health care," Preckwinkle said.
"As a community, we must do better. These aren't just names on a page: These are our neighbors, our friends, our family members."
Cook County, which covers Chicago and its suburbs, has about 5.2 million people, according to the U.S. Census.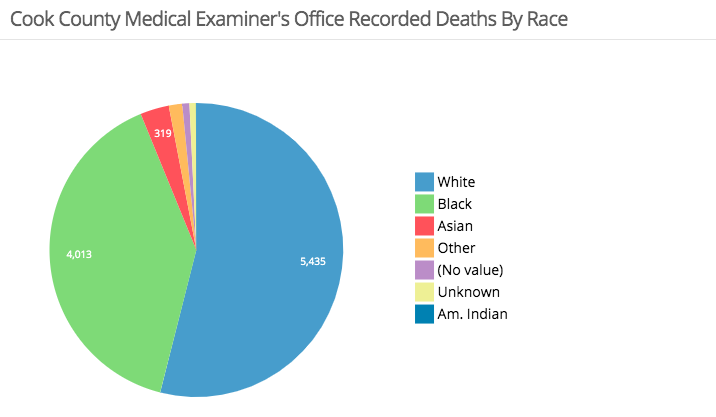 Coronavirus Hits Black, Latino Communities Hard
As the pandemic hit, communities of color routinely were left in the lurch.
Black Chicagoans — who comprise 30 percent of the city's population — account for at least 43 percent of all coronavirus deaths in the city, while Latino people account for nearly 33 percent of all COVID deaths here.
Officials said the startling disproportionate impact on Black and Latino communities showed how there have long been disparities in health care — and many other parts of life — for Chicagoans of color.
Besides having more difficulty accessing healthy food, Black Chicagoans face a swathe of problems that have fueled the disparity: They're more likely to live with chronic disease that makes COVID-19 riskier; they are less likely to have cars, so they can't partake in drive-thru testing; they're less likely to have a primary care physician whom they can rely on; and they can't always practice social distancing because they're more likely to have to rely on crowded corner stores for food or buses for transportation.
In Latino communities, people were at risk because many live in multigenerational homes or crowded housing, some people do not speak English and some are fearful of anti-immigrant sentiment promoted by President Donald Trump, officials said.
Local officials urged people to work from home and distance themselves from one another to stay safe, but that was less feasible for Black and Latino residents than for white Chicagoans.
Many Black and Brown residents are essential workers, who had to keep working so they could get paid — especially as unemployment skyrocketed to record levels and the state struggled to pay unemployment benefits.
Those essential workers — who predominately live on the South and West sides, where coronavirus has hit the hardest — had to continue taking public transit during the pandemic, also increasing their exposure, according to an analysis from the Active Transportation Alliance. 
All that galvanized community organizations to get resources to struggling residents, establishing food and supply drives, providing multilingual information on available testing, launching hotlines and fundraising.
RELATED: Little Village Groups Join Forces To Stop Spread Of Coronavirus: 'Let's Take Care Of Our Treasure: Our Family'
The North Lawndale Community Coordinating Council created a helpline in July to provide emergency assistance for residents. The helpline keeps track of relief efforts and the people who need support during the pandemic. 
"People are being hit right now at every angle," Branch said. "And these are systemic issues that existed long before the pandemic. We can't continue to put Band-Aids on them."
'There Is No Comparison'
While coronavirus accounts for about half of the deaths recorded by the office this year, deaths in other categories also are soaring. The county already has bypassed last year's total of opioid deaths by at least 100, according to the news release.
"If the current trend continues, we could see as many or even more than 2,000 cases this year," Ponni Arunkumar, Cook County's chief medical examiner, said in the news release.
And 63 Black people have died of suicide so far this year, compared to 56 all of last year, according to the county.
Typically, suicides fall during the summer and winter. But the number of suicides among Black Cook County residents has doubled in the first half of 2020 compared to last year, according to the data. 
That rise in suicides among Black residents began even before the onset of the coronavirus pandemic and the state's stay at home order, according to an analysis by The Trace. The majority of those who died were in Chicago, primarily in under-resourced South and West side neighborhoods.
Seven people died within a single 2-mile radius in North Lawndale, according to The Trace.
The data also shows the county is inching dangerously close to recording similar homicide levels documented in 2016, when more than 900 people were killed. Three-fourths of the county's homicide victims so far were Black, according to the county.
RELATED: Chicago Sees Its Most Violent Month In 28 Years As Murders, Shootings Skyrocket
The Medical Examiner's Office has only recorded more than 10,000 deaths three previous times: 1977, 1978 and 1979. 
However, in the 1970s, the office had a broader jurisdiction that meant it recorded many more natural deaths. 
"Now our scope is more narrow, and that makes this year's death number just so jaw-dropping," said Natalia Derevyanny, a spokeswoman for the Medical Examiner's Office. "It really shows the crisis the county is in."
Data on the county's deaths is publicly available at the Medical Examiner Office's online case archive and is updated regularly. County officials are encouraging community groups, journalists, health care workers and more to find help patterns in the death data to lower the death rate.
"We keep comparing 2020 to previous years, but the truth is, there is no comparison," Arunkumar said in the news release.
Subscribe to Block Club Chicago. Every dime we make funds reporting from Chicago's neighborhoods.
Already subscribe? Click here to support Block Club with a tax-deductible donation.