HYDE PARK — After giving most of his life to the peace movement, 92-year-old activist Bradford Lyttle doesn't have much money saved to pay the property tax debt on his Hyde Park home.
"I need money, but I can't stay interested in it," Lyttle said.
But Lyttle is determined to remain in the house he's lived in since 1943 — near friends, his church and a monument to the dangers of the nuclear weapons he's organized against for most of his life. He's also battling the incurable eye disease macular degeneration.
A new neighbor is now stepping up to help. A GoFundMe created by neighbor Callie Alton, which had raised $12,900 as of Wednesday morning, will go a long way toward keeping Lyttle in Hyde Park.
Alton, who moved to Chicago in July, was looking for ways to get involved in her new neighborhood when she met Lyttle through senior service provider Hyde Park Village.
"I started meeting him once or twice a week, talking with him on the phone," Alton said. "I connected with his story and situation and thought a lot of other people would, too."
She was right, as neighbors met the initial fundraising goal of $10,000 in less than two weeks.
Lyttle has spent years "on subsistence, with nothing going into the bank account," he said. It's in line with a lifetime in the pacifist movement in which he prioritized the work over the financial payoff.
"Even though I don't have anything material to show for this, I don't think I made a mistake," Lyttle said. "Ever since I was in my late 20s, I've been promoting peace in various forms. It's the thing that makes me happiest. I feel I'm doing something useful."
'No' To Nukes
Lyttle's life's work has been centered around the idea that violent conflict is not needed to resolve global issues.
"You can't tell me that a species that can go to the moon … or develop iPhones as a kind of communication can't apply this intelligence to resolving conflicts peacefully," Lyttle said.
His pacifist efforts began in his late 20s, demonstrating against Atlas nuclear missile bases in Wyoming and Nebraska with the Committee for Non-Violent Action. In an act of civil disobedience, he walked on to a Nebraska base, for which he was arrested and sentenced to six months in jail.
Upon his release, Lyttle shifted his focus to "the most important [project] I ever engaged in": campaigning against Polaris missile-launching submarines.
Polaris missiles were crucial to the U.S. military's policy of nuclear deterrence, which leaned on the idea that mutually assured destruction would scare leaders away from starting a nuclear war. Lyttle has long pushed back on that premise.
"It seemed [the Polaris missile system] was going to jeopardize the existence of the nations and the human species," Lyttle said. "To put it mildly, this was a dramatic project."
The campaign drew widespread attention. Demonstrations went global and Scottish and Australian people rose up against their Polaris programs. The effort reached folk singer and fellow activist Pete Seeger, with whom Lyttle spent a day fellowshipping and discussing the campaign.
The demonstrations didn't bring an end to nuclear missile programs. The Polaris program was followed by Poseidon and Trident; Trident II missiles are still in service today.
But Lyttle and the Committee for Non-Violent Action pushed people across the world to question their governments' policies of nuclear deterrence — a major point of pride for the activist.
"A few people using nonviolent resistance had been able to offset billions of dollars worth of publicity that the Navy had been using to promote its weapons system," Lyttle said.
Walks Against War
Lyttle's next task was to organize a walk from San Francisco to Moscow from December 1960 to October 1961, with peace demonstrations held along the way. Different countries along the route handled the march with various levels of approval.
The French barred the demonstrators completely; East Germans "didn't agree with us, but they respected us," Lyttle said. Poland used the horrors of Nazi concentration camps as a counterpoint to the pacifists' ideals.
"The Poles said, 'Look, you can't use nonviolence against the Nazis, they'll just kill you,'" he said. "It was the most powerful argument we encountered in the Communist countries."
By the march's end, 41 people from nine countries had participated in the 5,200-mile walk, which culminated in a mass demonstration and feast in Moscow. The American news media were stunned the Soviet government had allowed Western protesters in Red Square, Lyttle said.
"Coordinating this project, to say I was tired — you can't describe the degree of fatigue I felt," Lyttle said. "I slept at every opportunity."
His physical limits would be further tested in a Québec-to-Guantanamo walk for peace held May 1963 to October 1964. Lyttle and his fellow demonstrators faced police brutality, jail time and gun-toting locals as they made their way through the deep South.
Georgia proved to be the most taxing stretch. Marchers tried multiple times to walk through Albany's downtown area, where they were arrested and jailed by police chief Laurie Pritchett, who had derailed Martin Luther King Jr.'s organizing efforts in the city a few years prior.
In protest of their unjust detainment, "we fasted in the Albany jail for two months," Lyttle said. "Some of the women developed scurvy and lost a tremendous amount of weight; some of us got skeletal."
The group "barely survived our walk through Georgia" and made it down to Key West, where they attempted to reach Cuban shores but were ill-prepared — "we got the wrong kind of boat," Lyttle said. The challenging walk to Guantanamo would be Lyttle's last major project with the Committee for Non-Violent Action.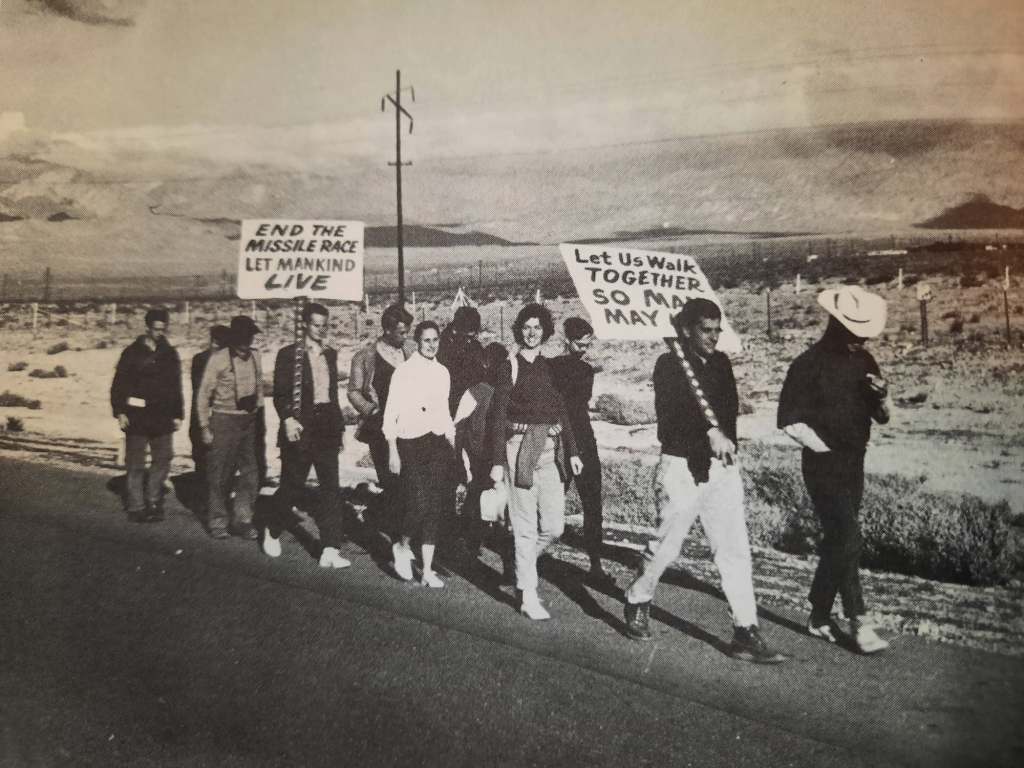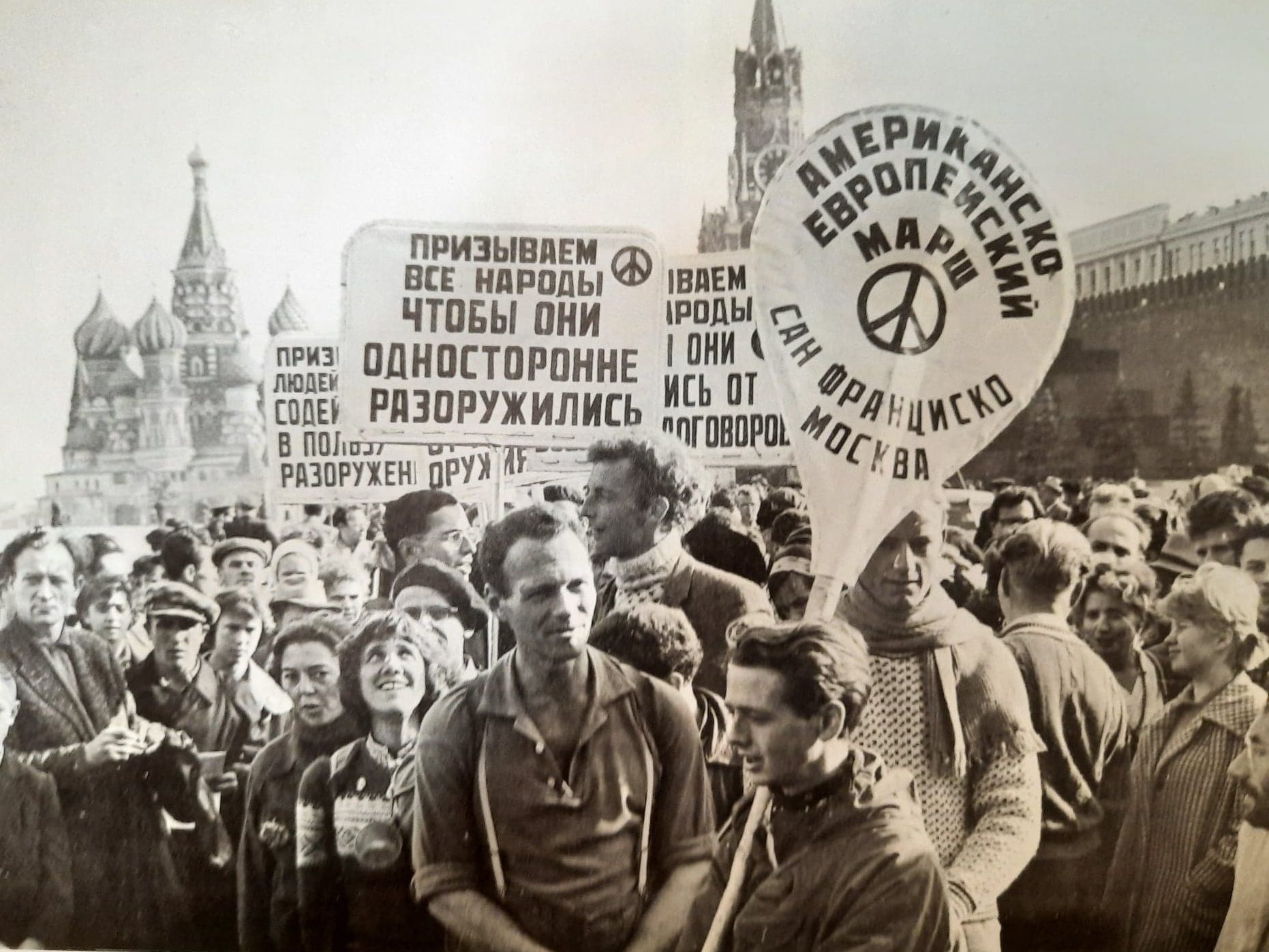 Lyttle took a break before jumping back into the movement as a coordinator of massive anti-Vietnam War demonstrations in Washington, D.C., and New York City.
The November 1969 demonstration Lyttle helped organize was so large, he recruited sound engineer Bill Hanley — designer of Woodstock's sound system — to handle the audio. Half a million people attended, and organizers collected $90,000 for the movement.
"It returned the peace movement to an activity that could attract large numbers of people," Lyttle said.
Another 100,000-person demonstration took place at the Ellipse park in Washington, D.C., in 1970; the next year, Lyttle was arrested as he led a "massive" group of demonstrators toward a sit-down.
Charges of assaulting an officer and several other felony counts were dropped, but following the arrest he began to wind down his involvement in Vietnam War protests.
The Apocalypse Equation
After Lyttle's work in the anti-war movement, he returned to Chicago in the mid-'70s to care for his aging parents, which occupied him much of the next two decades. In the meantime, he developed his "apocalypse equation" in an effort to provide scientific backing to his pacifist beliefs.
The equation, which forms the basis of Lyttle's most recent book, "The Flaw in Deterrence," shows "how the probability of a nuclear missile launch is related to time." In other words: The longer nuclear systems are in place, the more likely there will be an accidental, apocalyptic nuclear launch.
It's also the source of his long-running feud with the University of Chicago, just blocks from his home. He's never accepted his master's degree from the university in 1978 after he was denied entry to its doctorate program in political science.
Since losing his sight, Lyttle is unable to continue perfecting his equation, write books or organize demonstrations like he used to.
Instead, he regularly visits Henry Moore's sculpture "Nuclear Energy" on the University of Chicago's campus, where he launched his 1996 presidential bid, to sell copies of "The Flaw in Deterrence" to nearby students and faculty.
Staying close to the epicenter of his current activism is critical for Lyttle.
In surpassing the $10,000 goal, Lyttle can clear his tax debt from 2019, Alton said. They are now trying to raise another $5,000 to help with needed repairs around the house and buy an artificial vision device for visually impaired people so he can continue writing.
"I can't do much in the peace movement because I'm 92 and half-blind, but I can go to the atomic energy monument and sell this book," Lyttle said.
"My legs haven't given out yet, and my mind hasn't given out to any degree either."
You can donate to Lyttle's GoFundMe online.
Subscribe to Block Club Chicago. Every dime we make funds reporting from Chicago's neighborhoods.
Already subscribe? Click here to support Block Club with a tax-deductible donation.