CHICAGO — Essential workers living in Chicago's Black and Brown neighborhoods have had to continue taking public transit during the coronavirus pandemic despite the risk, new research shows.
The analysis from the Active Transportation Alliance suggests many frontline workers had to risk exposure to coronavirus not only at their jobs, but also on the city's buses and trains. The research also shows essential workers tend to live in communities of color on the South and West sides — communities where coronavirus has hit the hardest.
The CTA introduced social distancing and mask requirements to protect riders on trains and buses, but many people have complained the rules aren't enforced and riders don't wear masks and crowd together.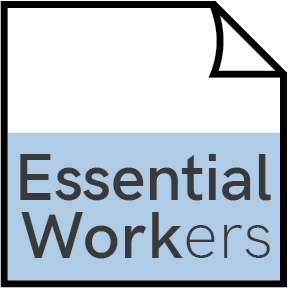 Shalonda Hayden is a frontline worker at Loretto Hospital in Austin who takes the bus to work just before the morning rush. Her bus ride typically isn't too crowded, and since she works in the medical field she knows how to protect herself from exposure with personal protective equipment.
"But it's still a risk," Hayden said. "You never know who sat in the seat before you. You never know who touched the rails trying to get into the bus."
The analysis looked at how public transportation patterns changed after the statewide shutdown began in March in response to the pandemic, tracking data through mid-May. After the stay at home order began, ridership dropped across the board.
But in Black and Latino neighborhoods on the South and West sides most impacted by coronavirus, the drop in transit ridership was significantly smaller than in white, affluent neighborhoods on the North Side.
RELATED: Black Chicagoans Are Dying Of Coronavirus More Than Everyone Else: 'This Is Unacceptable,' Mayor Says
Those areas where transit ridership was not as impacted by the pandemic align with the parts of the city where residents are more likely to be essential workers, according to an analysis by the Chicago Metropolitan Agency for Planning that was used for the study.
According to researchers from the Active Transportation Alliance, essential workers who weren't afforded the opportunity to work remotely had to rely on transit despite the risks, and so their ridership patterns were less diminished.
In more affluent areas, ridership dropped by as much as 90 percent after the stay at home order started, according to the Active Transportation Alliance's analysis. But in other areas, particularly on the South and West sides, ridership fell by as little as 60 percent at some stations.
"People were still traveling to and from work at a greater rate than communities in the North Side who were at a higher rate working from home," said Alex Perez, advocacy manager for the Active Transportation Alliance.
The Chicago Metropolitan Agency for Planning analysis on essential workers is based on American Community Survey data from the Census Bureau from 2014 to 2018. That data finds essential workers are disproportionately Black and Hispanic, and particular frontline fields are overrepresented by people of color.
The research shows Hispanic people made up 21 percent of workers in the area, but they account for nearly 40 percent of food service workers and construction workers. Likewise, Black people make up under 14 percent of the regional workforce but account for over 36 percent of health care support workers.
"These are jobs where people don't have the privilege of working from home," Perez said.
RELATED: Aides Caring for Vulnerable Seniors Amid Coronavirus Still on the Job Despite Lack of Masks, Protective Gear and Social Distancing (BGA)
Black and Latino residents also made up the bulk of coronavirus fatalities in Chicago. Officials have said those groups are also more likely to have certain underlying health conditions, like diabetes and heart disease, that make coronavirus infection more likely to be deadly.
The Active Transportation Alliance research showed driving patterns mimicked the changes in CTA ridership.
Data on crashes involving cars, pedestrians and bikes showed North Side neighborhoods reported significant decreases in collisions during the pandemic, likely because there have been fewer residents commuting to work. But in Black and Latino neighborhoods on the South and West sides, there was no major difference between the number of crashes in 2019 and 2020.
"What we found was that folks who are essential workers tended to live in neighborhoods that were low-income that we have identified as what we call 'economically disconnected communities,'" said Jesse Elam, deputy executive director at the Chicago Metropolitan Agency for Planning.
Those neighborhoods also overlap with the areas that have seen the most coronavirus deaths, the findings show. Neighborhoods like South Shore, Austin, Little Village and Uptown — where coronavirus mortality rates and total deaths were highest through mid-May — are also areas where many essential workers who rely on transit live.
Elam said similar disparities in economic opportunity and access to public resources account for the coronavirus deaths and the concentration of frontline workers in certain neighborhoods.
"We know that a lot of this has to do with economic opportunity that is available to racial minorities and those of lower incomes. That certainly plays into a lot of other factors, whether it's health outcomes, employment, access to education, lots of other things," Elam said.
Anthony Stewart, a 62-year-old food service worker who lives in Austin, said he often feels unsafe when traveling on trains and buses because of the crowds. On some routes where buses come infrequently, passengers pile into the bus to avoid having to wait half an hour or more for the next ride.
As more people begin returning to work, Stewart worries people must compete for limited space on public transit and are not social distancing.
"People are not wearing masks, people are not social distancing, people are coughing," Stewart said.
The crowds also cause tensions among passengers who are frustrated about the risk of getting coronavirus. Stewart has seen several fights break out on public transit, usually because of propel coughing or standing too close.
"I'm more worried about getting killed by 'rona violence than by coronavirus," Stewart said. "That scares me more than the disease itself."
Pascal Sabino is a Report for America corps member covering Austin, North Lawndale and Garfield Park for Block Club Chicago.
This story is a part of the Solving for Chicago collaborative effort by newsrooms to cover the workers deemed "essential" during COVID-19 and how the pandemic is reshaping work and employment.
It is a project of the Local Media Foundation with support from the Google News Initiative and the Solutions Journalism Network. The 19 partners span print, digital and broadcasting and include WBEZ, WTTW, the Chicago Reader, the Chicago Defender, La Raza, Shaw Media, Block Club Chicago, Borderless Magazine, the South Side Weekly, Injustice Watch, Austin Weekly News, Wednesday Journal, Forest Park Review, Riverside Brookfield Landmark, Windy City Times, the Hyde Park Herald, Inside Publications, Loop North News and Chicago Music Guide.
Subscribe to Block Club Chicago. Every dime we make funds reporting from Chicago's neighborhoods.
Already subscribe? Click here to support Block Club with a tax-deductible donation.