UNIVERSITY VILLAGE — As college students returned to dorms last week and classes resumed Monday, a faculty union at the University of Illinois at Chicago is raising concerns about the university's plan as coronavirus continues to spread.
UIC's fall semester kicked off Monday under a hybrid plan of in-person and online classes. While professors are eager to serve students, they have "no confidence the campus is reasonably safe" for in-person learning this fall, according to UIC United Faculty leaders, a union representing professors.
Under the university's plan, all freshmen are asked to take at least one in-person on campus "to build a connection to the campus and a sense of community with their peers," according to the university's Circle Back to Campus plan.
In a statement, union leaders said the university's plan only meets the the minimum standards for reopening. The university is prioritizing opening over "saving lives and preventing illness," the group said.
"We should never put our students, staff, faculty and all of their families at unnecessary risk," union leaders said.
Universities throughout the country are grappling with how — or if — they can open their campuses this fall. Many that allowed in-person classes, or planned to, quickly have reversed course because of rising coronavirus infections on campuses.
University of Notre Dame suspended in-person classes, closed public spaces and restricted dorm access after dozens of students tested positive for the virus in the first few days of class. University of North Carolina at Chapel Hill sent students home after one week and shifted to online classes. Two weeks before the start of class, Michigan State University also is shifting to remote education after university leaders asked undergraduates not to come to campus.
In Chicago, Loyola University has closed its dorms and plans to host most classes online. DePaul University plans to offer classes in-person and online.
At UIC, students, staff and faculty will be required to wear face coverings on campus. The university will also mandate a physical distance of six feet between students in classrooms and limit the size of gatherings.
The school is conducting mandatory saliva-based COVID-19 tests for students living on campus, student athletes, athletic staff and performing arts faculty and students in an attempt to stymie further transmission of the disease. Voluntary testing of other students and staff is also ongoing, UIC Chancellor Michael D. Amiridis said.
Among the nearly 1,000 people tested, 983 people tested negative and three tested positive for coronavirus. More testing is planned beginning Aug. 24, according to a letter.
With more testing, Amiridis said they expect there will be more positive cases, which is why they are activating a contract tracing team at the UIC School of Public Health. 
Students, staff and faculty at UIC are also required to complete an online COVID-19 Safety Training and a wellness screening every day they are on campus, according to the university.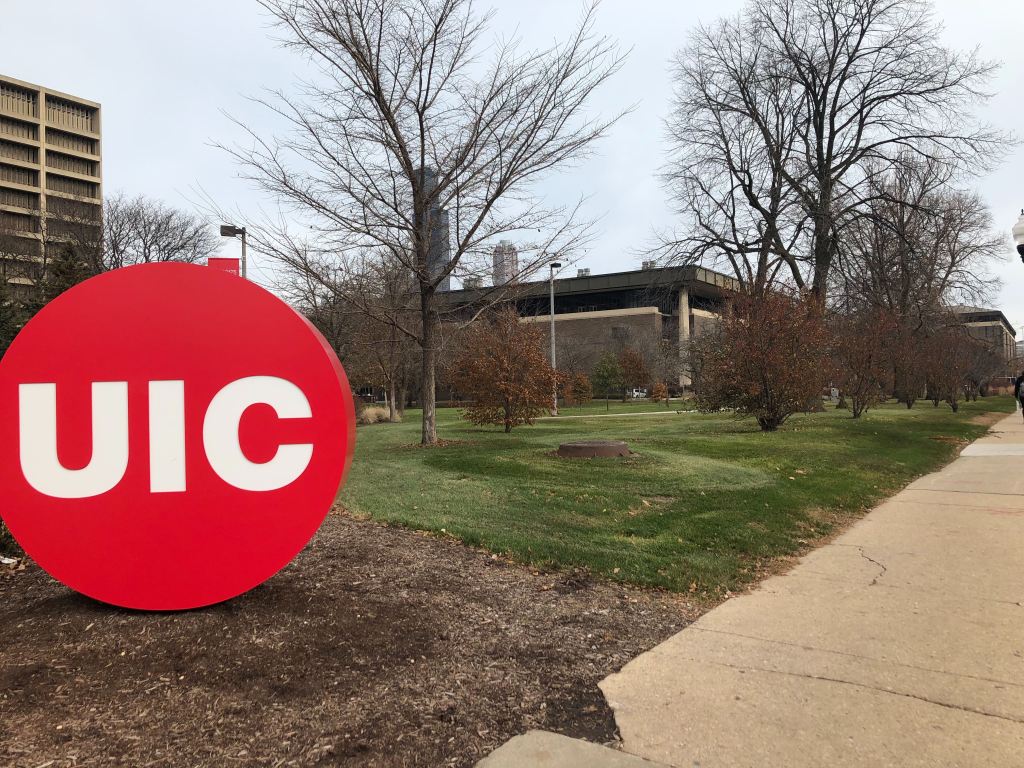 But some faculty members said those precautions aren't enough.
Faculty members say they are "troubled" that support and custodial staff don't have enough personal protective equipment to carry out current safety plans.
Testing and tracing programs are also "insufficient to stop an outbreak on campus from spreading widely back to various communities where we and our students work and live," the professors argue.
UIC Spokeswoman Sherri McGinnis Gonzalez said the university shares "common concerns" as local unions about the "availability and acquisition of effective PPE and safe working conditions."
McGinnis Gonzalez said the university had "expressed and reaffirmed commitment to the UIC community to secure proper PPE for faculty, staff and students whose jobs require it."
She also said the school was taking various measures including coroanvirus safety training, implementing daily wellness checks, and implementing additional cleaning measures across campus.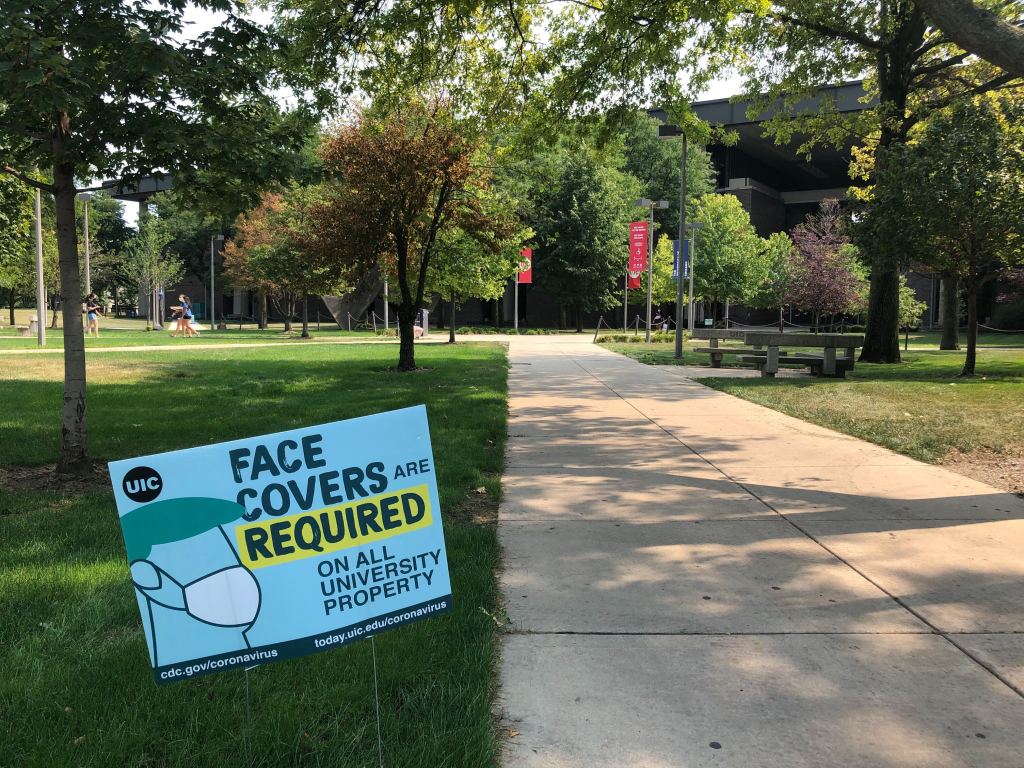 On Monday afternoon, a handful of students walking on the nearly empty campus said they mostly approved of the current setup.
Ashley Soderlund, an MBA graduate student, welcomed the university shifting to mostly online courses. She was happy to take an in-person class during the fall quarter on a subject she had "zero experience" in because she could ask questions on the spot.
But she felt professors shouldn't be "forced to teach in-person," especially if they have a pre-existing condition or live with family members with health conditions.
Junior Dion Asimi said he was comfortable with the precautions taken by the school. Asimi, whose classes are all online, said he might be open to taking in-person classes "depending on how many people" were present.
Brittany Jones, a junior studying marketing, said she didn't have any in-person classes for the semester, calling it "a smart" move. Jones said her class size often range from 50 to 400 students, so it's best there aren't in-person sessions.
The school was taking extra precautions like having students reserve library space ahead of time, Jones said.
Klarizza Peña, a junior studying accounting said all her courses were online, which an advisor said was done to "ensure the safety of the students."
"I didn't even know they were doing in-person classes," she said.
Subscribe to Block Club Chicago. Every dime we make funds reporting from Chicago's neighborhoods.
Already subscribe? Click here to support Block Club with a tax-deductible donation.