AVONDALE –– Some cyclists were reunited with their wheels Sunday — more than five weeks after Chicago police seized roughly 75 bicycles at a protest near the now-removed Christopher Columbus statue in Grant Park.
The National Lawyers Guild of Chicago and Ald. Carlos Ramirez-Rosa (35th)'s office worked to set up the bike return event in Avondale after weeks of working with the Chicago Police Department to get the bikes back to protesters.
Each person had to identify their missing ride with the Guild to pick it up, although rideability varied greatly from bike to bike.
Delaney Nichols' handbuilt, custom frame had been taken once before when someone stole it off their porch. It was missing for a year until a friend found it.
Nichols was present at the July 17 protest as a medic, and had left their bicycle to help those in need. When they returned, the bike was gone, apparently in police custody.
Between the protest and the police's handling, it was returned with deflated tires and disconnected brake cables.
Thankfully, a handful of bike mechanics were on hand Sunday to help cyclists get on the road.
When reunited with the bike Sunday, Nichols described the moment as "oddly emotional."
"The whole thing was so f—–g uncalled for," they said of police confiscating bicycles at the protest.
Ramirez-Rosa is among a small group of aldermen who supports cutting police funding and using that money for social programs instead. He has criticized the treatment of protesters by police in recent weeks.
"I thought it was very onerous that individuals who wanted to protect a rally, who wanted to ensure that it was a peaceful gathering, had their bikes confiscated," Ramirez-Rosa said.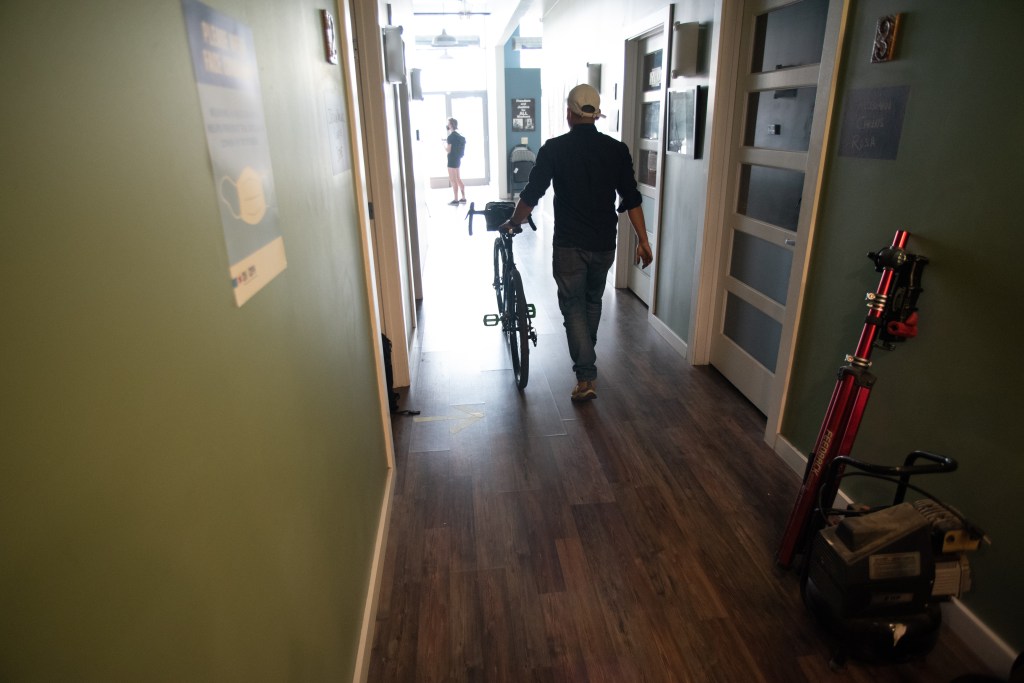 Billy Drew, policy director for Ramirez-Rosa, said police sent images of the confiscated bikes to the Lawyer's Guild, who then worked with people to identify their bicycles to be picked up.
For many, losing their bikes meant losing their primary modes of transportation. Alex, a member of the Guild who did not wish to give his last name, said he wished the process had gone quicker with the city in returning the bicycles.
"A lot of people said they never thought they'd get their bikes back, that it was just going to be gone into some CPD evidence locker somewhere," he said.
Police officials said in a statement many bikes were "abandoned" and several were "used as weapons or to facilitate mob action" against police at the July 17 protest, though protesters and other witnesses dispute the police account.
Bicycles have been used at protests by "bike marshals," who help direct traffic at protests and create barriers to separate participants from police, Streetsblog Chicago reported.
One protester, a 27-year-old woman from Uptown, told Block Club last month she was walking her bike near Grant Park when an officer took her bike without saying anything and pushed her to the ground.
"I was standing in the grass near the front of the line of protesters. I had both hands on my bike, just standing there, when a police officer seemed to pick me out randomly," the woman said, asking not to be identified. "He walked several steps to get to me and then tried to yank it out of my hands.
"He started shoving me and eventually ripped it out of my hands and threw it behind him and then put both of his hands onto my body and shoved me to the ground."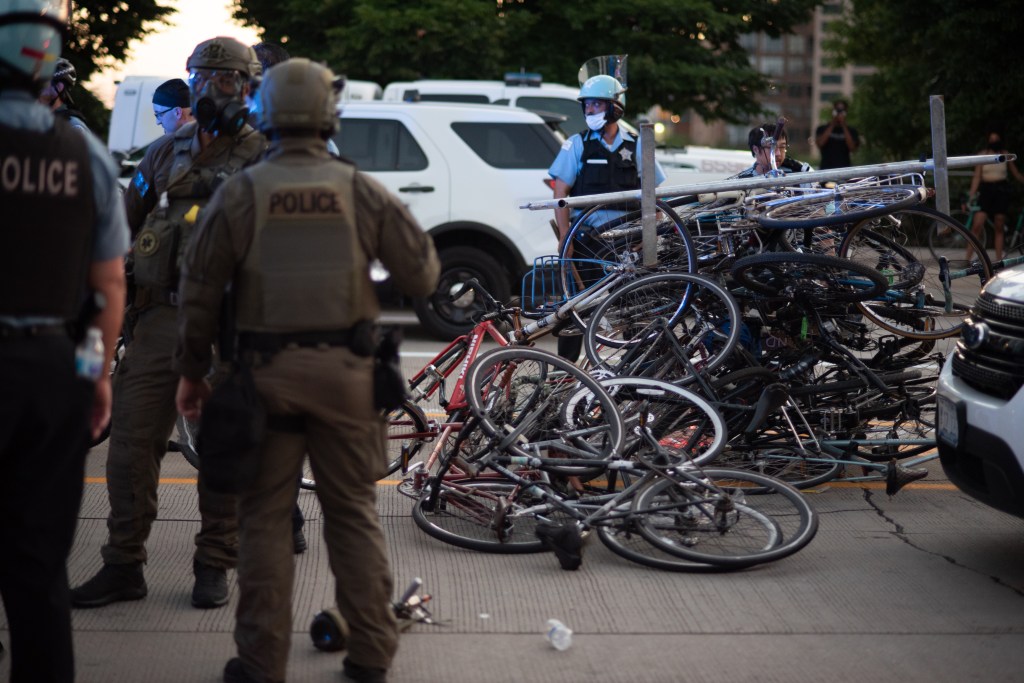 At the protest, officers threw bikes into a a large pile on Columbus Drive.
Organizers from ProtestBikeChicago and ChiResists told protesters to avoid contacting police about their missing bikes at the time.
"There was a fear that bike marshals were going to face reprisal from CPD for their role in protecting the rally on July 17," Ramirez-Rosa said. "So they [National Lawyers Guild] wanted to find an alternative site – one where bike marshals would feel safe. Also it had to be big enough to accommodate all of the bikes."
That's when they decided on his Avondale office.
Ramirez-Rosa plans to continue to work with the Guild to return more bicycles, particularly following the recent protest downtown on August 15 where officers were seen chucking bikes behind their line as conflicts arose.
Bob Chiarito's previous reporting contributed to this story.
Subscribe to Block Club Chicago. Every dime we make funds reporting from Chicago's neighborhoods.
Already subscribe? Click here to support Block Club with a tax-deductible donation.