ANDERSONVILLE — Last year, after Andersonville neighbors and area aldermen complained the city wasn't doing enough to save trees while fixing aging underground water mains, officials announced a pilot program to test out a tree-saving water main repair technology.
But nearly a year later, the program has yet to be implemented.
The potential tree-saving technology, called "cured-in-place pipe" or CIPP, was supposed to be tested below city streets this spring, water department officials told Block Club in September 2019.
The technology allows for a sealant to be injected into the existing pipes, effectively creating a new water main within the existing structure and eliminating the need to cut down trees above the main.
At a City Council committee meeting this week, Water Commissioner Randy Conner told aldermen the coronavirus pandemic has stalled the pilot program.
"We were in the process of putting together some locations and ideas, right before COVID-19 set in," Conner said at the Tuesday meeting of the Committee on Economic, Capital and Technology Development. "We had to put it on the back burner because of contractual issues, to ensure the water system was up and running, and that employees were safe."
Water main work has continued during the pandemic but the projects do not include the tree-saving technology. Conner said he hopes the water main pilot can get back on track in two to three months.
Some, however, are not happy with the new timeline for the project.
"We've been talking about this for years," Ald. Brian Hokpins (2nd) said at the committee meeting. "I'm suggesting you're squandering an opportunity by not being able to show … that you're able to save trees because of this technology."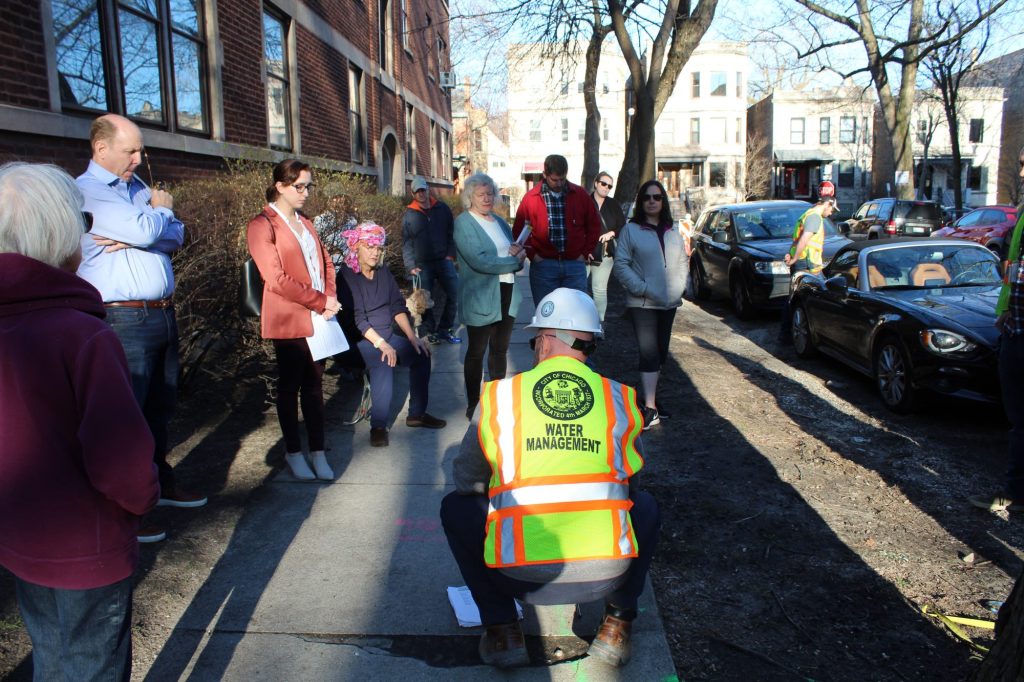 Water department leaders have resisted the CIPP technology, even though cities including Evanston, Rockford and Toronto have successfully used it.
City officials essentially tossed aside the results of a previous pilot in 2017, where crews tested the technology on 300 feet of water pipes. Water department officials said crews could not implement CIPP more widely because of "significant water quality issues" and because it would not adhere to laws about new water piping being 10 feet from sewer pipes.
But the contractor who worked on the project disputed the city's assessment of the pilot and said the sample size was too small to be a useful experiment.
RELATED: As Other Cities Replace Water Lines Without Tearing Up Streets And Trees, Chicago Refuses To Try It
In Andersonville, neighbors last year began petitioning Mayor Lori Lightfoot to find a workaround to losing the trees during water main work. Hokpins and Ald. Andre Vasquez (40th) in July 2019 authored a "Save The Trees" ordinance, asking the city to take another look at the new water main technology.
In September 2019, the city announced a new pilot program to try out the cured-in-place pipe system. Andersonville was to serve as one of the sites for the pilot program.
While the water main work for the new pilot has not begun, Andersonville has served as the testing site for cured-in-place-pipe repairs on sewer drain lines that run from city sewers into private homes.
Farragut, Berwyn and Summerdale avenues have seen repair work on those private drainage pipes this year, said Ald. Harry Osterman (48th). The local work will likely wrap up in the fall.
The city is testing three ways to use the new technology in Andersonville, and a full report expected later this year will determine which worked best, Osterman said.
"It was a success in saving the trees," he said. "When the report is complete, we'll know which method was most effective. The work done in Andersonville is going to inform the city on ways to move forward."
The use of the new pipe technology on private property could have a greater impact on tree retention than its use during water main work, Conner said at the committee meeting.
Conner said the water department is "re-evaluating" a couple of areas where the water main pilot could be tested, including a mix of residential and commercial streets.
Given the local impacts caused by global warming and recent storms that felled over 7,000 trees in the city, saving trees during infrastructure work is more crucial than ever, Hopkins said.
"To be able to use this technology to save trees … that seems to me, no pun intended, to be low-hanging fruit," Hopkins said at the hearing. "The issue of our urban forestry in general has never been in greater focus than it is right now."
Subscribe to Block Club Chicago. Every dime we make funds reporting from Chicago's neighborhoods.
Already subscribe? Click here to support Block Club with a tax-deductible donation.