GOLD COAST — A weed company is hoping to win city approval this week to open a dispensary in the Gold Coast over the objections of a neighborhood group and local aldermen.
PharmaCann, a multistate cannabis operator headquartered in the Loop, wants to open a dispensary at 12-14 W. Maple St. near Mariano Park, but some residents say the dispensary is a bad fit for the affluent neighborhood.
Last month, at the request of Ald. Brian Hopkins (2nd), the Zoning Board of Appeals delayed PharmaCann's bid for a special-use permit needed to open the dispensary until the Friday, Aug. 21 meeting of the board.
Hopkins, who opposes the pot shop, said he was seeking a one-month deferral to allow neighborhood leaders to "have their voice heard, and to work in good faith with the applicant." 
But a virtual meeting PharmaCann held Aug. 10 to update neighbors on the plan was not enough to persuade a coalition formed against the dispensary — called Stop Pot at 12-14 W Maple — to drop their opposition.
"The sheer number of people will be too much for this address, this street and this neighborhood to handle," group spokesman Matthew Newberger said.
Jeremey Unruh, senior vice president for public affairs at Pharmacann, said what the opposition group labels as "congestion" will actually benefit the neighborhood in a "post-civil unrest and post-COVID-19 environment."
"Foot traffic is good for retail neighborhoods," Unruh said. "It's that foot traffic that will drive a recovery of these retailers and these taverns and these restaurants."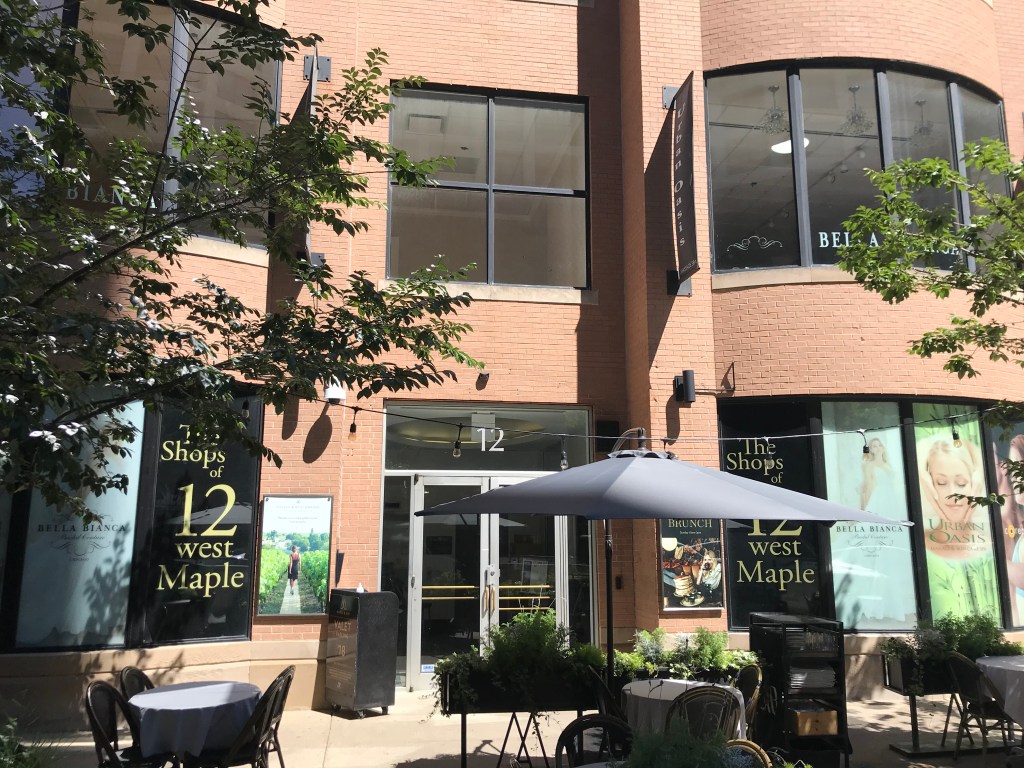 Newberger said the Gold Coast is primarily a residential neighborhood, but it's unique because "it's a place where family and restaurants coexist." 
In other areas of the city, like Andersonville, dispensaries are expanding their footprint with the support of local retailers, but that model won't work in his neighborhood, Newberger said. 
"You don't have kids walking to school there. You have big streets. You have places where people can park and congregate. We don't have any of that here," Newberger said. "We have streets where people live, and that's not where the people that live here want these people, or any people, to congregate."
Neighborhood bar and restaurant owners that have made the area a destination for dining and nightlife, including John Colletti of popular Gibson's Bar and Steakhouse, have joined the effort to oppose the pot shop.
Newberger said the difference between the weed shop and the bars is alcohol is consumed on premise where the server "can stop you from buying anymore alcohol," whereas someone who purchases cannabis at a dispensary leaves with the product to hypothetically consume the product anywhere, like Newberger's stoop.
"Who's gonna know if you eat edibles, if you're high or not," Newberger said. "The difference is that the restaurants can regulate it … . It's very obvious when someone is drunk or if they're over-served in a restaurant."
Unruh said he understands the opposition to cannabis, but the company is not abandoning its desired location.
"There are people that are still trying to get their arms around the fact that cannabis is legal in Illinois, and I understand that," he said. "They've been taught for the last 50 to 70 years that, you know, drinking at a bar until 4 a.m. is OK but purchasing cannabis at retail and enjoying it in the privacy of your own home is not."
Gold Coast residents first spoke out against the dispensary in early March at a community meeting held on the same night another cannabis company, Cresco Labs, held a meeting for a separate Gold Coast dispensary.
Cresco Labs later dropped its bid for a dispensary at 29 W. Division St. to pursue another location in River North.
At the time, Hopkins said a "strong majority" of Gold Coast neighbors were against pot shops and blasted Mayor Lori Lightfoot's cannabis zoning ordinance for not requiring all proposed dispensaries go to City Council for approval.
"I don't want the mayor to take [that power] away from me and give it to a bureaucrat somewhere in the building at City Hall," Hopkins said. "… If we start to see the [Zoning Board of Appeals] making decisions that contradict aldermanic recommendations, I think you'll see a groundswell of support to make changes."
Although 12-14 W. Maple St. is just outside their ward boundaries, Ald. Brendan Reilly (42nd) and Ald. Michele Smith (43rd) filed letters of opposition with the zoning board against PharmaCann's application.
At the March 5 meeting of the zoning board, five cannabis companies were granted a special use permit, including MOCA Modern Cannabis over the objection of Reilly.
Reilly took to Twitter after the meeting to blast the zoning board and Lightfoot's cannabis zoning ordinance.
"The Cannabis Ordinance is a joke and so is the [Zoning Board of Appeals]. We'll be making changes," he said.
If PharmaCann wins approval from the board, it must then receive a state license before opening the recreational weed shop.
Subscribe to Block Club Chicago. Every dime we make funds reporting from Chicago's neighborhoods.
Already subscribe? Click here to support Block Club with a tax-deductible donation.