LINCOLN SQUARE — Neighbors are being asked to weigh on on what kind of pedestrian-friendly improvements they'd like to see in a plaza coming to Lincoln Square.
The plaza would take over the triangle shaped block that currently has sidewalks, a parkway with trees and grass, and a bus stop just east of the McDonald's currently being remodeled at 4844 N. Lincoln Ave.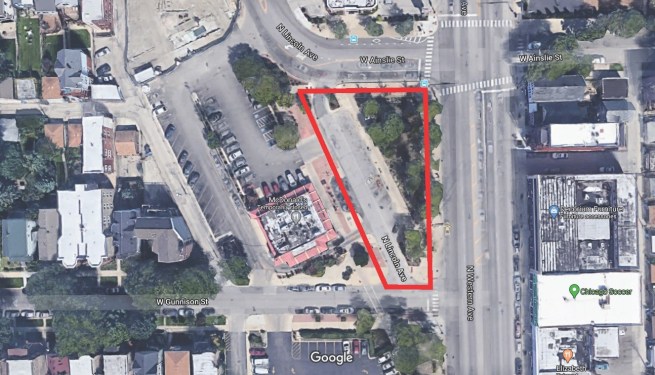 Ald. Andre Vasquez (40th) and city leaders say the site is underutilized and wants neighbor feedback on what upgrades could be made as part of the city's Make Way for People initiative. 
Residents can submit their ideas about how the space can be improved via this online poll. Neighbors can give feedback on features like outdoor seating, art and what kind of events the plaza should host.
"Now more than ever we need to create outdoor spaces for people to enjoy all year long," said Rudy Flores, executive director for the Lincoln Square Ravenswood Chamber of Commerce. "Building a better neighborhood can only be done with the input and suggestions of our Lincoln Square residents."
The new plaza is expected to be completed sometime this fall. A spokesperson for the chamber said there is a short timeline for the work because crews only have to remove parkway landscaping before they can build. 
For decades, the stretch of Lincoln Avenue north of Lawrence Avenue has been a fairly sleepy area in comparison to the bustling, cobblestone neighborhood center just southeast. 
Since getting elected last year, Vasquez has sought to turn the north side of Lincoln Avenue into the Lincoln Avenue North Arts corridor complete with murals and housing for artists to bring vibrancy — and hopefully, commercial and community interest — to the area.
This new plaza is another opportunity to boost the nascent corridor, he said, and local artists are currently being solicited to provide public murals and art for the project. 
"We are thrilled to be bringing the 40th Ward a Lincoln Avenue that is more pedestrian-friendly, more resident-focused and open to Chicago's diverse artistic community," Vasquez said. 
RELATED
Can Art Help Bring The North Side Of Lincoln Square To Life? Alderman Hopes A New Art District Can Make Area Thrive
Subscribe to Block Club Chicago. Every dime we make funds reporting from Chicago's neighborhoods.
Already subscribe? Click here to support Block Club with a tax-deductible donation.