BRONZEVILLE — Hours before police and protesters clashed Downtown Saturday night, a smaller, peaceful march against police violence wound through Bronzeville, though it highlighted ongoing tensions between protesters and residents.
More than 2,000 people had RSVP'd on Facebook for the protest, which was supposed to shut down the Dan Ryan Expressway, but fewer than 200 people showed up. Instead of taking over the expressway, activist Michael Ben Yosef and members of Tikkun Chai Inter-National and Chicago Activist Coalition For Justice marched on 47th Street.
"Welcome to history," Yosef said. "Today the people have stood up and come out to make a resounding response."
Prior to the march kicking off, the crowd was interrupted by a group of neighbors telling protesters to go home. A similar scene played out in Englewood Tuesday, when residents accused activists of riling up police officers then fleeing the neighborhood.
"Take this back up on the North Side. We been here our entire lives …," resident Yashua Aton said. "Y'all call to defund the police and you're giving them $2 million" in overtime.
Yosef and his counterparts worked to deescalate the situation before police prevented them from heading west toward the expressway. The march swiftly rerouted to the streets, stopping frequently to spread messages of support for those affected by police violence.
Xavier Smith, 21, was handed the megaphone by Yosef as the group rallied on Indiana Avenue. Smith reflected on his late brother, 19-year-old Roshad McIntosh, who was shot dead by a Chicago police officer in 2014. The officer said at the time he saw McIntosh point a gun at the officers, but video later contradicted that account.
The Civilian Office of Police Accountability has called for the firing of Saharat Sampim, the officer who killed McIntosh and lied about the circumstances, but he is challenging the ruling.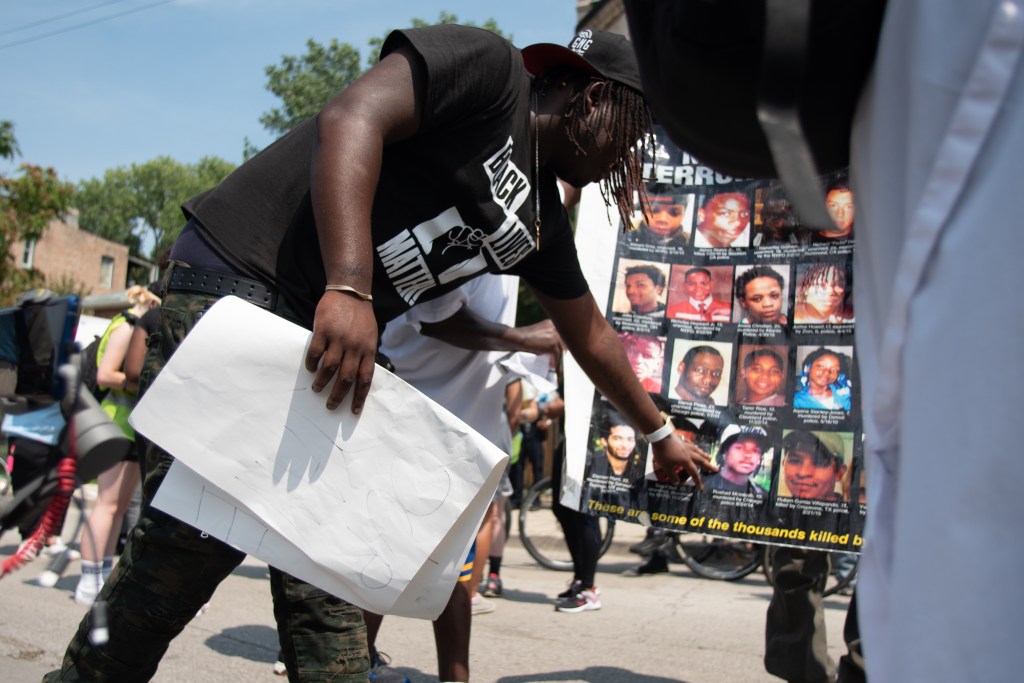 "I can never live my life straight because of Chicago Police Department," Smith said. "This is supposed to be our city, we're supposed to be able to call y'all to save us. What happened to protect and serve?"
On Saturday, activists carried a banner that displayed the faces of people who have lost their lives to police violence across the country. A photograph of McIntosh appeared on it.
Illinois State and Chicago police vastly outnumbered the activists. The march made its way north on Indiana Avenue, and the police detail that trailed the activists occupied roughly two city blocks.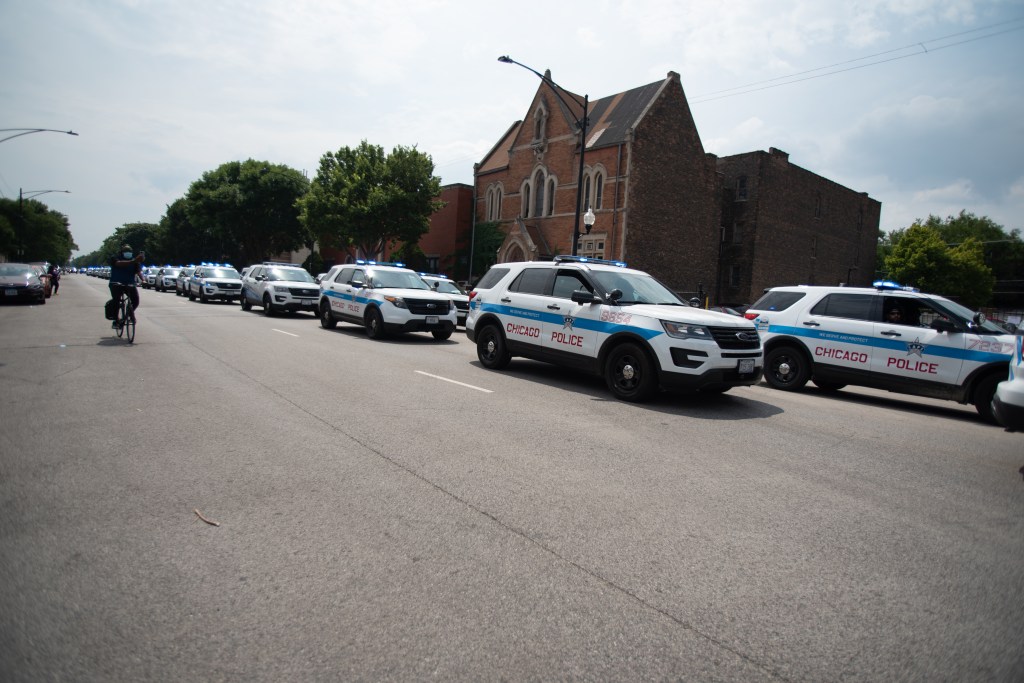 Sharone T. of Bronzeville watched in frustration as the movement slowly made its way north.
"Y'all need to go on these blocks where they're killing these kids and stop them," she said. "It's ignorant… y'all don't even have that many people walking with y'all, that's how I know it's b—–it."
She listed community areas where she wished the police and protesters would take their actions elsewhere to stifle violence
"When y'all step into our neighborhood…y'all leave and go home and guess what? We get it," Sharone said, referring to dealing with agitated officers following the departure of activists.
Lamar Whitfield, founder and CEO of No More Foundation, spoke to the activists. "…We will make a difference. This is a peaceful protest," he said. Whitfield encouraged those present to use their voices, rather than loot, to bring change.
"This is a revolution!" Whitfield repeated as people cheered.
The march eventually made its way to Downtown, following the hours of marching.
"I want them to hear your pain," Yosef said to the crowd as it reached 35th Street and Indiana Avenue. "I brought CNN to you… I brought the world to you guys, to your hood."