HYDE PARK — Longtime education activist Rosie Simpson joined Bret Harte Elementary students to share ideas for improving Chicago's schools at a screening of the documentary "'63 Boycott" Thursday evening.
The film documents the Oct. 22, 1963 boycott and march where more than 200,000 students across the city skipped class in protest of then-school superintendent Benjamin Willis and his policies that reinforced school segregation.
The "Freedom Day" protest was scheduled to coincide with a district-wide head count day; Chicago Public Schools lost $470,000 in one day as a result.
"'63 Boycott" features modern-day interviews with participants alongside footage from their push for educational equity in the 1960s. The 2016 film ties the boycott to more recent actions against school closures in Black and Brown neighborhoods under the Rahm Emanuel administration.
Though the documentary argues skewed media coverage played a role in limiting the massive boycott's impact, Simpson said "important changes" still came from it.
"Any small accomplishments, we ought to appreciate," she said. "The boycott brought about more parent involvement, more community involvement, as during that time we were not allowed to participate in the education of our children. … That's a smaller change, but nevertheless it was a change."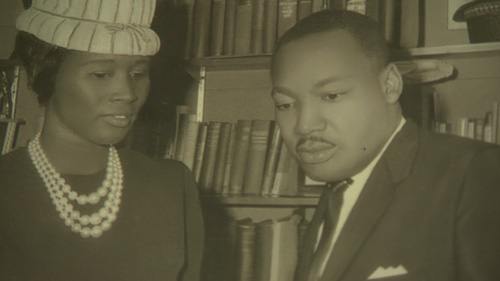 There's still work to be done, particularly around developing a curriculum that's interesting and relevant to all students, Simpson said.
"Especially in the Black and Brown community and the poor areas, they're just being contained for eight hours," Simpson said. "Some get an education; some are just there, and when they get out, they don't know any more than they did" when they arrived.
Simpson was joined for a post-screening panel by Bret Harte students Jefferson Davis and Jade Perry, who is Simpson's great-granddaughter.
Students need "more excitement, such as hands-on activities" to be successful in the classroom, Davis said.
A new curriculum based on the film encourages students to learn about their schools' needs, participate in community-led budgeting and partake in other activities that connect kids' in-school education to real-world issues.
The panelists also addressed inequities among Hyde Park schools. There's "a lot of favoritism going on in Hyde Park," with Kenwood Academy receiving the bulk of the community's involvement, according to Davis.
To change that, Bret Harte students and kids at other neighborhood schools "have to put your word out there somehow" about the things they want for their schools, Perry said. "Make flyers or tell the news or whoever could make it [out] to everybody."
Principal Charles Bright also encouraged Hyde Parkers to join Friends of Bret Harte and help make the school environment more collaborative.
As students organize for an engaging curriculum, for equal resources and against the police presence in their schools, they have communication tools that weren't available to activists in the 1960s, Simpson said.
She urged students to craft a "clear and concise" message before going public with any demands. Social media is a powerful organizing tool, but "we're not using that in the best way possible" — competing messages and misinformation run rampant.
Once the students clarify and agree on ways to improve their schools, it's up to the parents, faculty and other adults in the community to support them, Simpson said.
"Adults should listen to the young people; they should be willing to be advisers and work along with the young people," she said. "These young people know what they want."
You can watch "'63 Boycott" for free on WORLD Channel's website.
Subscribe to Block Club Chicago. Every dime we make funds reporting from Chicago's neighborhoods.
Already subscribe? Click here to support Block Club with a tax-deductible donation.