DOUGLAS — Monday's storm leveled a wall at the historic Pilgrim Baptist Church, a Chicago landmark that was already gutted by a fire in 2006 and is being propped up by scaffolding pending a future rehabilitation.
The church at 3301 S. Indiana Ave., best known as the birthplace of gospel music and a rare surviving religious building by renowned architects Dankmar Adler and Louis Sullivan, was largely destroyed in the 2006 fire.
But its limestone facade that faces Indiana Avenue survived along with most of the red brick outside walls — until the storm Monday leveled the south wall.
The church, which has been holding services at the building across the street at 3300 S. Indiana Ave, plans to rebuild the original church and turn it into a national museum of gospel music.
On Tuesday, Cynthia Jones, chairman of the church's board of trustees, said the plan for the museum's opening was scheduled for 2022. But that has likely been delayed by the coronavirus pandemic.
"COVID has knocked us down," Jones said.
On Tuesday morning outside the church, an independent insurance adjuster was taking pictures of the storm damage. Asked if insurance will cover it, he said "I have no idea."
Jones said it was unclear if the collapse of the south wall, which occurred about 4:15 p.m. Monday, will impact construction plans or schedules, but hoped the red bricks, now in laying in piles, could be used again.
"Those bricks have withstood a lot," Jones said.
"I'm 71 and have been coming here since I was 7, so you do the math. My mother belonged and our family would come here," Jones said.
Built in 1891, the building was originally a synagogue designed by Chicago architects Louis Sullivan and Dankmar Adler. In the 1930s, it was converted to a church that hosted Thomas A. Dorsey, known as the father of modern gospel music.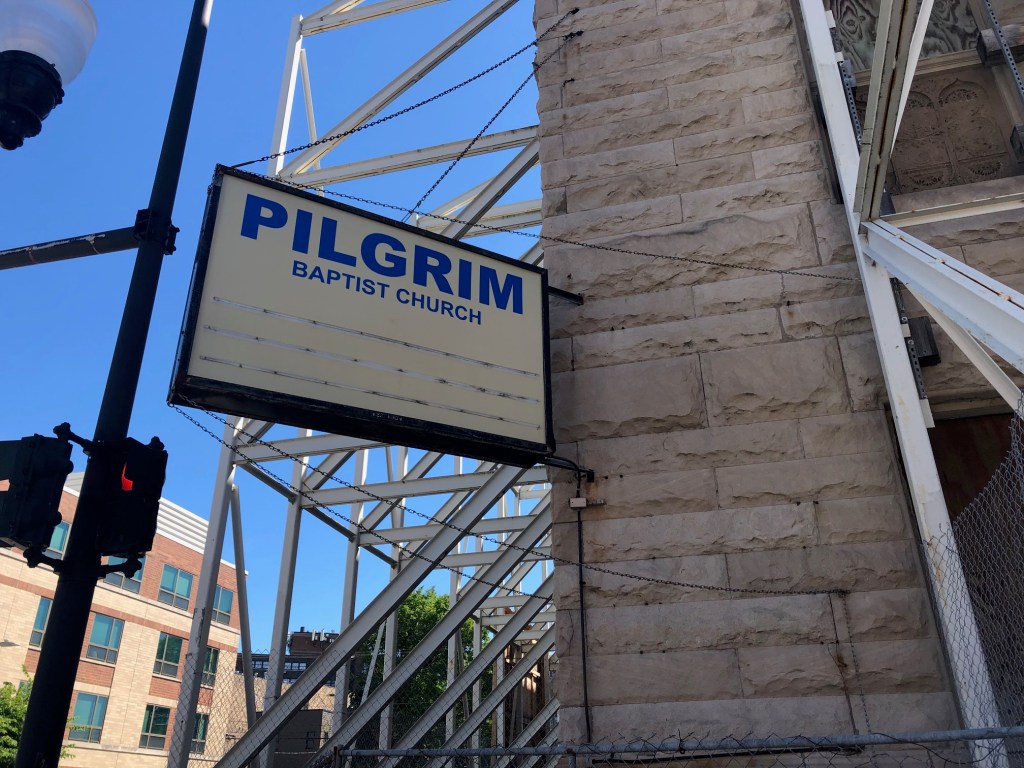 Since the fire in 2006, the limestone facade and other outside walls have been secured by heavy duty scaffolding.
Ward Miller, executive director of Preservation Chicago, said the limestone walls that survived are key to the historic building's history. But he, too, would like to see the bricks of the collapsed wall used in the rebuild.
"It would be wonderful to salvage those bricks and reuse them," Miller said. "We reuse bricks all the time in Chicago, so there's no reason they shouldn't be able to be reincorporated. 
The two limestone walls,facing Indiana on one side and 33rd on the other, are still intact.
"The most important walls are the stone walls that are braced in place to protect the building and protect people."
Jones said efforts to fund the building of the museum is being led by the church and Don Jackson, former chairman of the DuSable Museum of African American History and currently chairman and CEO of  television production company Central City Productions.