This story was originally published by Injustice Watch, a non-partisan, not-for-profit, multimedia journalism organization based in Chicago.
Curtis Ferdinand, 50, was released from Hill Correctional Center on April 16 after 24 years in the Illinois Department of Corrections for a non-violent offense. Ferdinand lives in the Ashburn community on Chicago's Southwest Side. 
ASHBURN — When I started this journey, I was 26 years old. Police stopped me on the highway going from Chicago to Rockford with 2.5 kilos of cocaine in my car. I spent a year and a half in Boone County Jail before receiving a 60-year sentence in 1997 for unlawful delivery. I didn't know how to make sense of it. I didn't know that you could receive that amount of time for a drug charge.
At my sentencing, the judge remarked that I was a member of organized crime and that no amount of time would keep me from being anything other than that. "You are a drug dealer, and you deserve to be sent away for 60 years." That was the explanation from the judge.
They sent me to Joliet prison (about 30 miles southwest of Chicago) for intake, and then to nearby Stateville Correctional Center. When I went in, I had the idea that "they did this to me, I will make them pay. I'm not stopping doing what I was doing." Our famous line at Stateville was, "shit don't stop just because I got popped." We were still getting high, trying to sell drugs, even though we were in prison.
But about seven or eight years into my incarceration, I started to see the kind of person that was being incarcerated. They were getting younger and younger. There was a lot more violence, more mental health issues, and more disconnect. Their lost sense of direction inspired me to want to be a different person. I became a mentor to younger guys, helping them navigate prison life and work on their cases. I became a law clerk trainee and took classes to become a paralegal through a program before the state cut the funding.
When I left Stateville in 2006, the prison was on lockdown. There had been a mini-uprising. About 45 days into the lockdown, the guards came and told me I was being transferred. They didn't tell me where I was going, nothing. But when I got there, to Hill Correctional Center in central Illinois, I said, this is going to be a new start for me. I saw there were a bunch of school programs. I ended up getting an associate degree but didn't get the business degree I wanted, because they pulled funding for the class.
But I also became a student of prisoners like Khalif Veal, who taught that the fight for prison reform was a noble one. I joined a group of 10 men who tried to help steer the prison population into a more positive lane. We created a program called Sound Off along with Khalif Veal, to support the aging population and push for more opportunities and programs for guys with natural life sentences.
My circle of friends was older guys, in our 50s, mid-40s, late 30s. Guys who had a focus and direction in their life because they had been incarcerated 20 to 30 years. The system had beaten them into submission, so they were not getting into trouble. They were looking for ways to cope. I wouldn't say prison was ever safe, but I felt safe with those guys there. And then the COVID-19 pandemic pushed our prison experience into new territory.
The virus spreads
When the virus started to spread at Hill prison, I think around the middle of March, officials put the prison on full lockdown. There was no movement for one day, and after that, they came up with a plan where they would let us out our cells for up to 30 minutes a day. Only 10 people at a time to use the phone, take a shower, whatever you needed to do in that 30 minutes. They would bring all meals to the cell, and then only those inmates who were essential workers helping run the prison would be out.
The prison had no plan for how to social distance. Officials had no plan for anything. Their answer was just to lock the prison down. We were in cells with at most 10 feet by 9 feet of space. The staff didn't even know how to operate the social distancing protocols. The best that they could do was wear gloves. Even when the mask mandate was in its earliest stages, many staff were not following the rules.
The staff was being pulled in different ways about safety protocols, and that left them confused and left us feeling very vulnerable, which led to a panic among the population. No cleaning supplies were being given out. The feeling inside was so tense that we began to feel like this was going to be some "only the strong survive" scenario. I began to wonder whether this was by design, because not only was there the inadequate COVID-19 response, but the way they treated us before that was just as inhumane.
At that time, I had a job working at a milk and juice factory. We had to help supply the milk and juice to prisons throughout the state. There was also a meat processing plant there. The correctional officers were supposed to wear masks and wear gloves, but a lot of times, they weren't adhering to that. They were supposed to give out cleaning supplies for us to wash our hands and to make sure that our work areas were clean. They weren't doing that, either.
I was afraid. I have asthma and high blood pressure. Where I worked was a place that produced for many, many inmates. We processed and packaged milk and juice, so we had to use crates. The crates would come from Stateville, which has the most confirmed cases of the virus. Of course, the guys would have to take them off the truck and wash them. But the truck drivers weren't wearing masks or protective suits.
I was blessed to receive a sentence commutation from the governor's office that got me released early. I left prison on April 16, 2020, and entered a world that was not only 24 years ahead of me but isolated, locked down. Now I'm in this weird middle ground. I can't do enough to help myself. Many resources that I would have been able to access, like the Illinois Secretary of State office, where I could get an ID, are closed due to the social distancing orders. I feel stuck.
'I didn't envision being released in a pandemic'
When I was released, I was given a single mask and a pair of latex gloves along with the donated pair of slacks, a T-shirt, and a jacket. The counseling staff met me to see that I had the addresses and phone numbers of some people who could help me with reentry assistance. That was all I was given in preparation for being released from prison during a pandemic. I had no state ID and no way of obtaining one.
One of my cousins is a manager at a warehouse. "I could get you a job," she said, "but you don't have an ID." She said she would see what she could do. I haven't heard from her again.
My parole officer came to visit me one day, and I was like, "Man, you know I don't have an ID. Is there anything that you can do to help me? What if I get into a situation where I need to prove my identity?" And he was like, "Well, I could get you your picture off of the IDOC website."
Shit, I could probably just get that myself.
I'm living on the southwest end of Chicago with a friend of mine. My daughter is an essential worker; she works in the food service department for a college, so she still has to go to work. I spend time with her when I can. I have a son, and he has a baby on the way. I spend time with him when I can. I have another daughter, and she came to visit me for a weekend.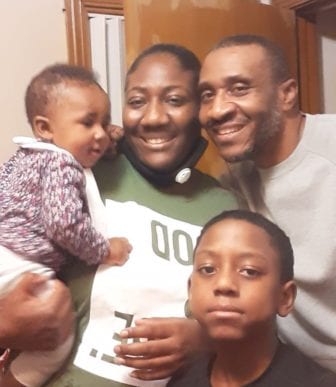 I've been watching a lot of television to catch up on shows that they didn't let us see in prison, but that I knew I would like, such as "The Wire." I've also seen that documentary "When They See Us," and another documentary, "13th."
But I'm so anxious because I've been waiting to get out and hit the ground running. I'm at a standstill. It's frustrating, and my friend still works, so I'm mostly in the house alone. I have no money. It's a little heavy on me mentally. But I do have a phone, so I just try to talk. I just try to call people, and then I start hoping anybody calls. That's what I've been doing for all these years before I got out. I've been talking to people; I've been trying to get people to see and understand what prison is and what it's doing to people.
I'm just getting out at 50 years old, and I have no pension, I have no 401k. So, I know that for the rest of my life I'll probably be working. But I also want to do some volunteer work at food banks, homeless shelters and youth centers.
Before the state released me early, I was envisioning myself getting out of prison after this thing had passed, when everything was straight. I wanted to get my commercial driver's license, so I could drive a truck, and go to school to become a certified electrician. I planned to transfer from Hill prison to another prison that I knew had vocational classes, so that I would be prepared for when I got out.
But I didn't envision being released in a pandemic.
And now, there are protests for another Black life lost at the hands of our "protectors," the police. Yet I won't let this moment turn me into the person I fought for so many years not to be; a person who is angry, unwilling to think, just willing to act.
My 25-year-old son has participated in the protests against racism and police brutality, and I'm proud of him. I do worry, though, and I am concerned about his well-being. But I was always worried about that.
We constantly talk about everything that's happening and how Black people are the first to get arrested, the ones who get the most time in prison. When you think about what the prison population is — we're the majority — even though we're a minority in the rest of the country.
Being incarcerated for almost a quarter-century for a non-violent drug crime forced me to look at the world for what it is. Not just from a racial lens, but in terms of economics. Someone poor is more likely to go to jail. What I realize now is that I am not very prepared to be free in a society that really had no desire to see me free in the truest sense of the word.
How do I navigate this atmosphere of utter distrust, without any of the tools to do so? And no matter what, I'm Black and an ex-felon. I still have a long way to go to get my life back in working order.
But here is where I'll start: I'm getting my state ID tomorrow, and the day after that, I'm starting my search for a job.
Editor's note: Ferdinand did get his state ID on June 4, the day after he submitted this piece, when officials had eased the state's shelter-in-place order. The next day, a construction company offered him a job. "That didn't pan out," Ferdinand texted Injustice Watch on June 9. "Because I don't have transportation. I needed to have a car." His job search, and his journey, continues.