PILSEN — A Pilsen alderman wants to shut down neighborhood streets on the weekends so restaurants can feed more diners outside.
Restaurants across Pilsen reopened under Phase 3 of the city's plan last week — but only for outdoor dining. Ald. Byron Sigcho-Lopez (25th)'s plan would close streets so restaurants could spread out tables outdoors to serve more customers and drum up business.
Sigcho-Lopez wants to close 18th Street on three stretches: from Ashland Avenue to Wood Street, Miller to to Morgan streets and Racine to Blue Island avenues. He's also looking at closing part of Blue Island Avenue between Cullerton and 21st streets and Oakley Avenue between 24th Street and 24th Place on the weekends, he said.
Sigcho-Lopez is working on closures in Chinatown, as well.
"We hear the urgency from business owners. We will be working with small businesses trying to implement this as soon as possible but also as safe as we can," Sigcho-Lopez said.
Sigcho-Lopez's plan is inspired by the city's pilot program to close traffic on major restaurant corridors in the West Loop, Little Village, Chatham and other neighborhoods.
While the alderman is still concerned about the high rate of coronavirus infections and deaths that plague Latino communities, Sigcho-Lopez said small restaurants hit hard by the coronavirus shutdown urgently need help. Sabor y Sazon in Pilsen permanently closed because of a decline in business related to the shutdown.
Sigcho-Lopez said he wants to make sure businesses have adequate personal protective equipment and follow guidelines to protect their workers while reopening for business.
The summer months are typically busy for Pilsen restaurants. And with many festivals canceled or in limbo, Casa Indigo Chef Mer Mansuria said he thinks the street closings is one way the city can help small restaurants that don't have sidewalk permits bring in more business.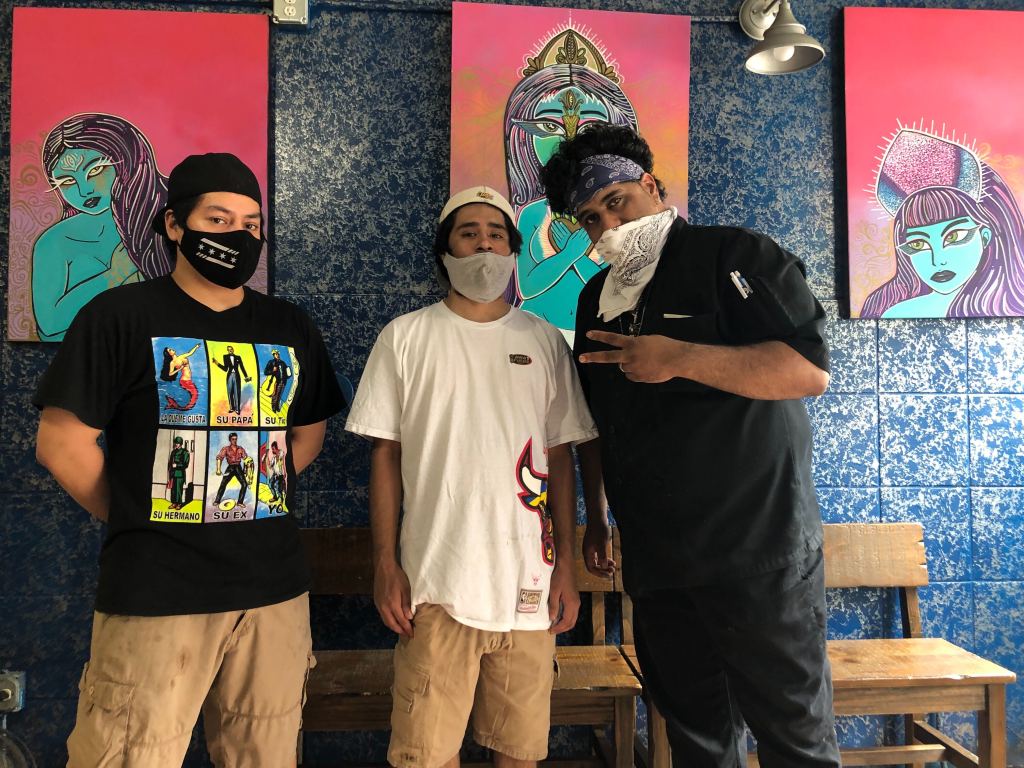 After the first day of service at the restaurant, 1314 W. 18th St., Mansuria said people are cautiously returning to a sense of normalcy. 
"If we have the street closures, that would help a lot of businesses … . You can only do so much with narrow sidewalk," Mansuria said.
Throughout 18th Street lined with a number of small, family-owned restaurants, only a handful of eateries have sidewalk permit on the highly foot trafficked corridor.
While Sigcho-Lopez is pushing for street closings, he also wants the city to expedite sidewalk patio permits for restaurants. The process for getting a sidewalk permit can be complicated and costly, especially when small business owners can only use patios for the few warm summer months, he said.
"We need to expedite and waive those fees, make it less complicated for people,"  he said.
The city is working with Sigcho-Lopez to "determine how best to deliver an efficient and straightforward permitting process," said Isaac Reichman, Department of Business Affairs and Consumer Protection spokesman.
Angel Diaz, who owns Frida Room at 1454 W 18th St., is one of a handful of 18th Street restaurateurs who have sidewalk permits from the city. It took him two years to land one, he said.
"The process is really hard. It's not so easy … . It's time-consuming," he said.
If the process is revised, more restaurants will be able to serve more diners, he said.
Owners "are just trying to survive," Diaz said.
Subscribe to Block Club Chicago. Every dime we make funds reporting from Chicago's neighborhoods.
Already subscribe? Click here to support Block Club with a tax-deductible donation.