BRONZEVILLE — After their business was destroyed by people looting, the family behind a beauty store in Bronzville has been shocked by how supporters have rallied around them, raising nearly $75,000 in just a few days.
Yong Sup Na has owned Modern Beauty Supply, 5050 S. Cottage Grove Ave., since 2016 and Western Beauty Supply, 22 S. Western Ave., since 2014, and he has worked in Chicago's beauty supply business for about 12 years. But Na's stores, which sold hair extensions and other beauty items, were targeted by people looting during unrest last week.
Na's daughter, Sandra Na, and other family members organized a GoFundMe campaign to raise money to repair, restock and reopen the store after looters devastated the business last week.
"We never in our lives thought that we would ever need to anticipate an event like this," Sandra Na said. "And when we found out that the insurance was only going to cover about a quarter of the actual damages — if that — I decided, 'You know what, I need to do what I can do to try to elicit support from our various communities.'"
Just days after being launched, the GoFundMe to help Yong Sup Na has raised more than $74,600 of its $250,000 goal. Sandra Na, who drove from New York with her husband to help her father, said the support from members of the community has been positively "shocking" and "overwhelming."
Yong Sup Na immigrated to Chicago from South Korea in 1985 and worked as a store clerk and janitor, opening several businesses near or in Bronzeville. His daughter said her father "worked hard to do better for himself" and his children.
But after years of work, his businesses were devastated by the looting.
On May 31, Yong Sup Na closed Modern Beauty at noon after officials recommended stores shut down early to prevent looting. His other store near the United Center, Western Beauty Supply, stayed open.
Groups of about 30 people drove up to the stores, smashed glass displays cases and stole merchandise, his daughter said. He tried calling 911 but his calls went unanswered, she said.
Na said her father left Western Beauty Supply and watched from afar as people "went in and destroyed everything." Adam Schefflan, Sandra Na's husband, said the stores were left in a state of "total destruction" with items ripped from the shelves and broken glass strewn everywhere.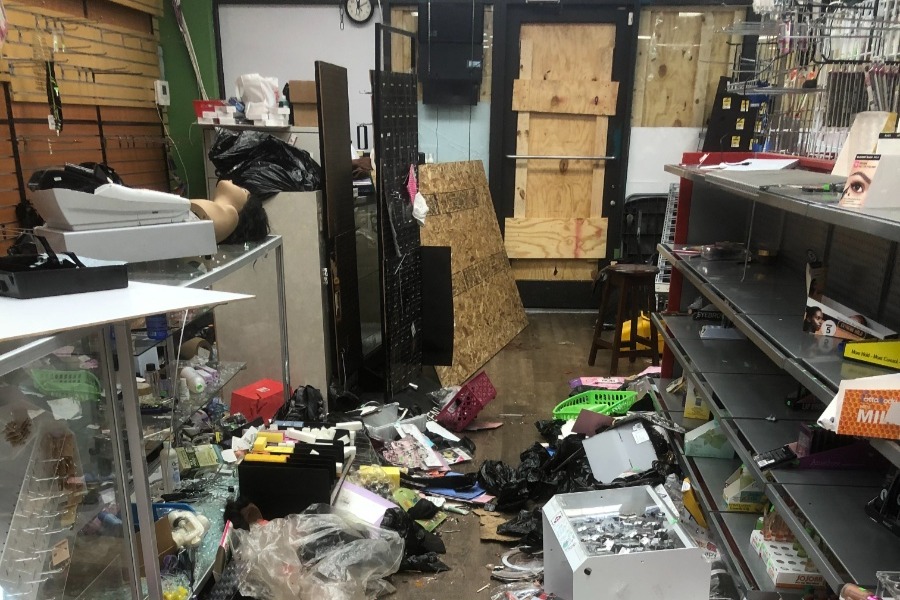 Na and Schefflan said they do not blame protests over the killing of George Floyd for the destruction of Yong Sup Na's businesses — and they're happy he was safe, even if his shops were damaged.
Officials have said the widespread looting and vandalism seen in recent days was done by people who used the protests as cover for their crimes.
"The fact that my dad came home safe and sound is the most important thing, and realizing that George Floyd's family couldn't say that and neither could the families of all the others before him — I think that's what really drove this home for us, at least personally," Sandra Na said. "Because we are in this situation of grief because we've been, unfortunately, these secondhand victims of violence, but the violence that we experienced is nothing near what some other people have experienced."
Sandra Na said the family has a lot of work ahead to clean and salvage what is left of the stores. Her father estimates it will take about two months before they can reopen and bring back their employees, she said. The family business had insurance but it won't cover the bulk of costs needed to reopen.
Elaine Ezrapour, a family friend who gave to the family's GoFundMe, said she believes making donations to local groups and businesses helps make a "tangible difference" during challenging times.
"They're really good people that have been in their community for a long time, and it's just really positive to see the outpouring of support in response to the unfortunate situation that they're in," she said.
Ben Guo, a business student at Fordham University, wrote in an email he found the Na family's story on Instagram and wanted to donate after seeing how Yong Sup Na was pursuing "the American dream."
"I recognized the importance of small businesses in our neighborhood, and no doubt, he has helped create a sense of community with his store over many years," Guo wrote.
Na said the help they received from donors and volunteers who assisted in cleanup efforts made her "hopeful" for the future of her father's business.
"I walked away from our first day of cleaning feeling traumatized," she said. "That's the best way I can put it. I couldn't help but keep sobbing throughout the day because I just couldn't tell how we were going to get out of this.
"But now I feel determined, and I feel hopeful. And I feel like all the support and the community coming together has just been this huge testament of the power of love and support and community."
Subscribe to Block Club Chicago. Every dime we make funds reporting from Chicago's neighborhoods.
Already subscribe? Click here to support Block Club with a tax-deductible donation.