LITTLE VILLAGE — At least two Little Village activists were assaulted by a truck driver at a peaceful protest as demolition at the old Crawford Coal Plant resumes.
Just before 6 a.m., about 30 activists lined the sidewalks at 36th and Pulaski Road across from the old Crawford Coal Plant with a growing refrain: Hell No, Hilco.
At 6:40 a.m., activists temporarily closed off north and southbound lanes of Pulaski Road. A man driving a diesel truck jumped out of his cab and punched, kicked and lunged at protesters in a tense confrontation caught on video by Block Club.
"Back away, back away," he screamed at the protesters while lunging at them.
One protester screams at him to calm down. Others beat their drums, yelling "Shame on you!"
"Shut the f–k up. You the hero? You the hero?" he taunted one protester. "Get out of the intersection! Get out of the intersection! We're all trying to work here."
A woman who was protesting was pushed to the ground by the driver. Her two children were watching.
The man eventually drove away.
Reached by phone Friday morning, a manager at Sun Belt rentals said they are aware of the incident and were investigating.
The truck driver "cared more for money than the lives of [Little Village] residents who are fighting for our right to breathe," the assaulted woman said.
Ald. Michael Rodriguez (22nd) said the man should be arrested and called for an investigation of the incident.
During the scuffle, a separate driver attempted to drive past protesters on Pulaski, pushing them with his SUV in the process. The driver was wearing a Chicago Fire Department uniform, according to a video shared on Facebook.
The Chicago Fire Department was "aware of the incident and to ensure the Department has the full scope of what exactly occurred, we have launched an internal investigation into the matter," CFD spokesman Larry Merritt said in an email.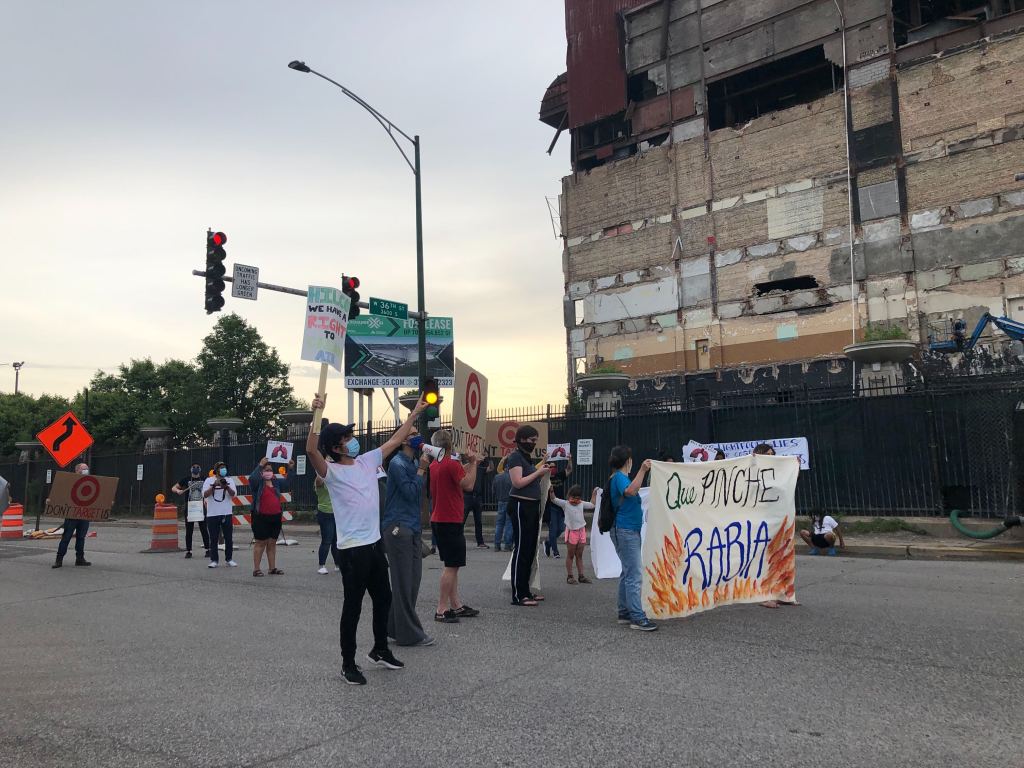 Following the assault, Little Village Environmental Justice Organization director Kim Wasserman said the city is to blame for the tension.
"The reality is there is racial tensions in this city and the city wants this during a pandemic — in the zip code hit the hardest by COVID positive in a neighborhood that has been targeted by the Chicago Police Department," Wasserman said. "… You are going to get civil unrest, you are going to get people in the street, you are going to get confrontation like this."
Shortly after the assault, police officers arrived and moved protesters to another street corner.
For two years, neighbors have called on city officials to stop Hilco Redevelopment Partners from turning the old coal plant into a 1-million square foot warehouse for Target that would bring hundreds of new diesel trucks to the area. 
The chorus of voices calling for Hilco to abandon the project have only intensified since a botched implosion at the site in April covered Little Village in dust.
RELATED: Planned Explosion Covered Little Village In Dust During Respiratory Pandemic — Why Did The City Let It Happen?
In the aftermath, Mayor Lori Lightfoot indefinitely stopped work at the site.
But last week, citing a turbine building the city says is an immediate danger to the community, officials approved Hilco's plan to resume demolition at 6:30 a.m. Friday.
Despite multiple requests, the city has not provided structural reports for the building.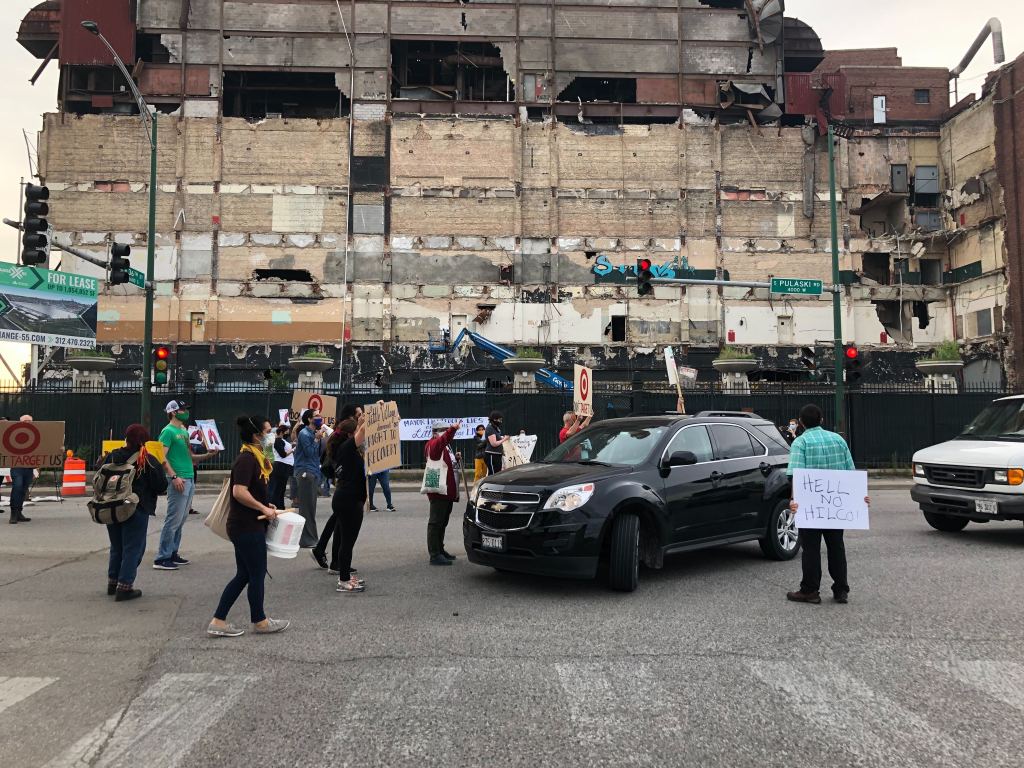 Wasserman chastised city officials for allowing demolition to resume amid the pandemic and civil unrest. The city has failed to listen to residents, she said.
"We just want to breathe clean air," Wasserman said.
'Mechanical Demolition'
Last week, Hilco officials said in a letter the company would conduct a "mechanical demolition" of a turbine building at the site starting at 6:30 a.m. Friday.
"All activities, performed by Heneghan Wrecking & Excavation Co., Inc., will be conducted in accordance with its dust mitigation plans which have been approved by the City of Chicago Department of Public Health and the City of Chicago Department of Buildings," company officials wrote.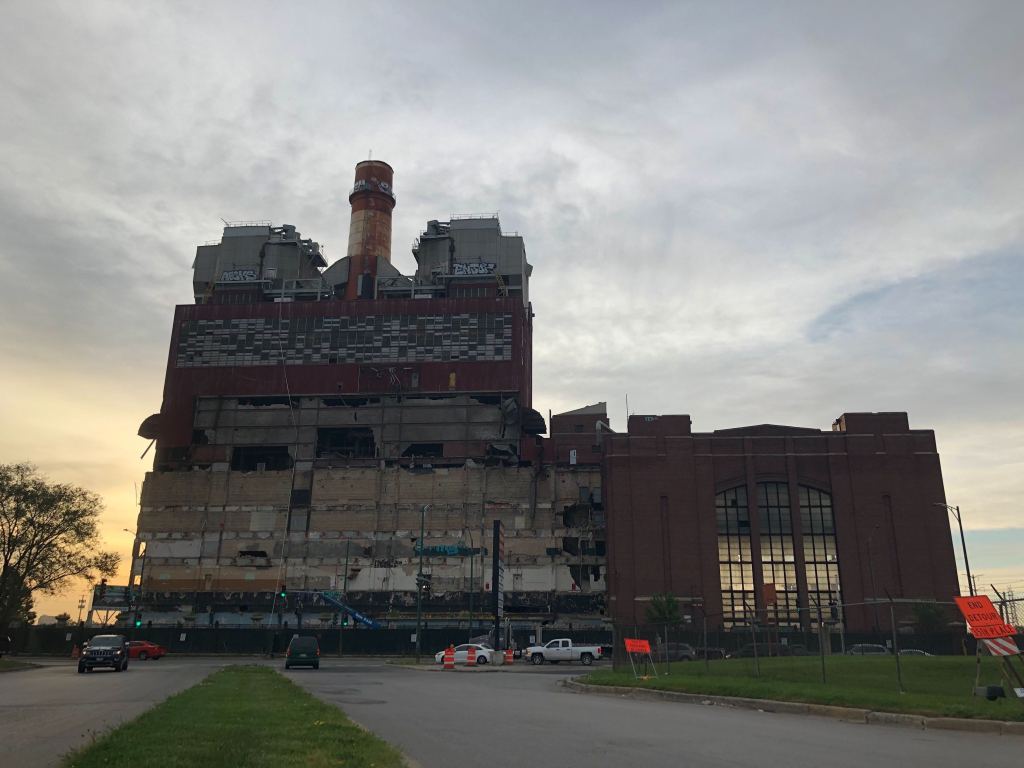 Lightfoot indefinitely stopped work at the site after an April 11 implosion covered Little Village homes in a cloud of dust and debris. On Saturday afternoon, city officials said the new demolition work to dismantle the turbine is expected to take two days.
The city's Department of Public Health and the Illinois Environmental Protection Agency have conducted a thorough review of contractor Heneghan Wrecking's dust mitigation plan, Department of Buildings spokesperson Mimi Simon said. Water operations to mitigate dust are part of the plan, she said.
Rodriguez, the area's alderman, was on site during the demolition and said air monitors on the site were not triggered during the work.
Even so, "Hilco had to go for being bad actors," the alderman said. Rodriguez he told city officials to wait until the stay at home order was lifted.
The April 11 implosion happened after the city permitted the work amid a respiratory pandemic and with little notice to neighbors. A day earlier, activists begged city officials to stop the demolition but it went on anyway.
Residents felt blindsided 
Earlier this month , despite the stop-work order, neighbors were blindsided when the city gave a contractor permission to demolish the turbine at the plant. There was no notice to neighbors. Faced with protests, Lightfoot later halted the demolition work again.
Days later, the city quietly issued a $40 million building permit for the site's redevelopment. Some neighbors were mad again, noting Hilco Redevelopment Partners would eventually need a building permit to continue the redevelopment.
RELATED: Little Village Neighbors Push Back On City's Plan To Allow More Demolition At Hilco Site: 'There Is No Trust Here'
Maria Murillo, 42, said the city was allowing demolition to continue during a global pandemic.
Esmeralda Hernandez, member of el Foro Del Pueblo, said residents shouldn't have to be at the site protesting.
"Look at Lincoln Park, they had something similar happen in their neighborhood. They're fine, they don't have to be out at 6 a.m. fighting for there right to breathe," Hernandez said.
RELATED: Chicago's Latino Neighborhoods Have Most Coronavirus Cases In The State. Is The City Doing Enough To Respond?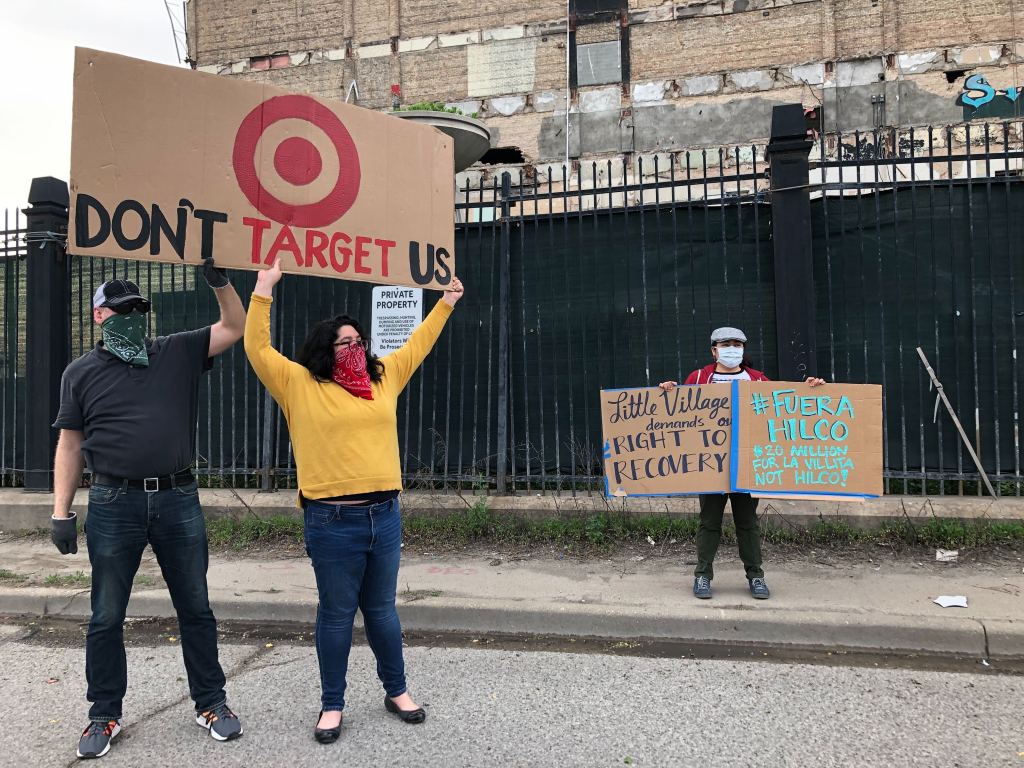 Little Village resident Lucky Camargo, member of Mi Villita, said the site won't bring high-paying jobs to Little Village.
"I don't believe this is good economic development for Little Village. Immune-compromising diesel industry for meager paying jobs is not economic development to me," Camargo said. "It's economic violence."
"You don't give a $20 million tax break to a multi-million dollar enterprise in a neighborhood whose medium income is $30,000 and call that equity. That's real looting," Camargo said.
In reflecting on the assault on protesters Friday, Camargo said it reflects "what we are seeing across the nation."
"A mother with her children and he felt entitled to inflict violence on her…It's almost an allegory in the way that government serves this particular community," she said.
The Crawford Coal Plant closed in 2012. Hilco plans to build a one-million-square-foot warehouse for Target in its place at the 70-acre site, 3501 S. Pulaski Road.
Read all of Block Club's Crawford coverage here.
Block Club Chicago's coronavirus coverage is free for all readers. Block Club is an independent, 501(c)(3), journalist-run newsroom.
Subscribe to Block Club Chicago. Every dime we make funds reporting from Chicago's neighborhoods.
Already subscribe? Click here to support Block Club with a tax-deductible donation.