SOUTH LOOP — Keewa Nurullah thinks it is a miracle her South Loop store was untouched by looting and vandalism this weekend — but her family, who maintain a tradition of being Black business owners, has not always been so lucky.
Nurullah's great-grandfather, Simeon L. Neal Sr., was a tailor in Tulsa, Oklahoma, during the 1921 Tulsa massacre. The massacre saw white people attack and kill Black people and burn Black-owned businesses. Neal had to flee to Chicago during the massacre, which occurred 99 years ago this week.
It was that massacre and its anniversary that were very much on Nurullah's mind this weekend — as was the significance of protests in Chicago, where people spoke out against the police killing of a Black man, George Floyd, in Minneapolis.
"I was very emotional and sad over the weekend because it was the 99th anniversary of the Tulsa Riots," Nurullah said. "And just knowing that we haven't come very far in terms of Black people getting targeted by racists and white supremacists to where literally 100 years later we're fighting the same fight."
'Keep My Family Tradition Alive'
Nurullah owns Kido, a children's store at 1137 S. Delano Court in the Roosevelt collection. Her family has a history of being business owners in Chicago — but the roots of that stem from the massacre in Tulsa 99 years ago.
Back then, Tulsa was home to a large population of affluent Black Americans. One neighborhood, Greenwood, was even known as Black Wall Street. That, among other things, led to tensions among Black and white residents.
The riot, also known as the Black Wall Street Massacre, started after a Black man, Dick Rowland, and a white woman, Sarah Page, entered the same elevator. People in the building heard a scream, though what happened in the elevator and why or even if Page really screamed remains unknown.
Rowland was accused of assaulting Page and was arrested. Lynchings were still common at the time, and a white mob gathered outside the courthouse. Black people, fearful for Rowland, went to the area in his defense.
The conflict turned into a riot when members of the white crowd fired shots, leading to a gun battle. The white mob followed Black people back to Greenwood, where white people continued to shoot Black people and looted stores. In the days that followed, Greenwood was bombed, set ablaze and more Black people were killed.
No one was ever charged for the murders of Black residents or destruction of property. Charges against Rowland were dropped, as well. 
Nurullah's great-grandfather, Neal, fled with his family, including his small children, after the riot. They settled on the South Side of Chicago, where Neal eventually set up his own shop on 63rd Street.
Nurullah's grandfather was interested in the family business and, after learning the trade from his father, he began working as a tailor. At one point, both men had separate businesses set up on the South Side, Nurullah said.
Nurullah is proud of her family history.
"I feel very determined to keep my family tradition alive regardless of what's going on because I am aware that for African Americans it's very rare to have legacies kind of carried down through generations and a lot of people don't even know their family history like that," Nurullah said.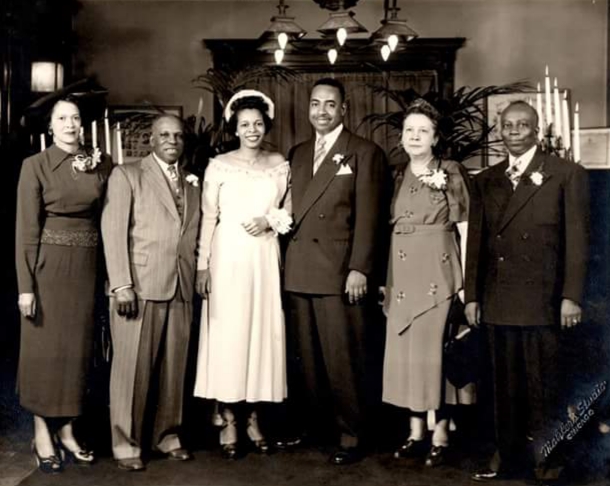 Nearly 100 years after the unrest and racial violence of Tulsa, the tales of people like Neal are just now being highlighted. It wasn't until this February the Oklahoma Department of Education decided to require students be taught about the massacre.
To Nurullah, that's an affront to the history of Black Americans who experienced horrific racial violence.
"I recently learned that they're just starting to teach the Tulsa Massacre in Tulsa schools in Oklahoma this year — 2020," Nurullah said. "It really baffles me because I've never had a class in school, growing up in Chicago, where we didn't learn about the cow that started the Chicago fire." 
The overlooked history of the massacre is incredibly relevant to the protests happening today, Nurullah said, and she's felt an uncanny sense of deja vú amid recent unrest.
Nurullah has also been forced to reckon with feelings about her store and what she feels is truly important about the movement to protect Black lives.
"I am definitely a person where if my store was part of the collateral for the cause then that's fine," Nurullah said. "If my store burned to the ground and that meant that something would change in terms of Black people being murdered at the hands of the police, then that's fine. I don't think anything material can really substitute the loss of a life."
In this moment of tension, Nurullah said she wants people to practice empathy and humanity.
"I would encourage people to think beyond themselves and really try to put the shoe on the other foot because I don't know — that's humanity," Nurullah said. "Humanity is being able to see your son in the position that a young, Black man is in that has a tragic end." 
Nurullah emphasized that there is a greater good to be achieved through protests, and current circumstances could pave the way to a brighter future. Ending wrongful deaths is the ultimate goal for Nurullah. 
"I really wish that people who are complaining about the looting and about their personal inconveniences would think about what could happen if we ended these wrongful deaths," she said. 
Subscribe to Block Club Chicago. Every dime we make funds reporting from Chicago's neighborhoods.
Already subscribe? Click here to support Block Club with a tax-deductible donation.