LINCOLN PARK — Mayor Lori Lightfoot wants the city to fire a Chicago Police officer who flipped his middle finger at protesters Thursday.
The incident happened as thousands marched from Lincoln Park High School to the Chicago Police Training Academy.
At about 5:55 p.m., a caravan of protesters in cars attempted to turn on to Armitage Avenue, but a bus carrying police officers turned south on the stretch first.
A protester flipped their middle finger at the bus. An officer flipped both of his middle fingers at the protesters in return.
A Block Club reporter tweeted the photo, along with a video from a nearby witness.
Chicago Police have opened an investigation into the incident, officials wrote on Twitter.
"CPD strives to treat all individuals our officers encounter with dignity & respect. We do not tolerate misconduct of any kind, & have opened an investigation into this incident," the tweet read.
Chicago Police News Affairs had no further information about the incident Thursday night.
Lightfoot, speaking during a Friday press conference, said she wants the officer fired.
"We'll find that person and, in my view, that person needs to be immediately stripped of their police powers and start the process for firing them," Lightfoot said. "We will not tolerate that kind of abusive, offensive conduct on the part of police officers."
The image sparked outrage from some Chicagoans. It happened as protesters calling for justice for George Floyd and others filed 258 complaints against Chicago Police since Friday, reported by head of Civilian Office of Police Accountability Sydney Roberts.
This interaction took place during a protest demanding that Chicago Public Schools divest from the police department. The protesters marched to the Chicago Police Academy in the West Loop and eventually ended at the Juvenile Detention Center near the Medical District.
Chants during the protest ranged from "F–k twelve" and "Quit your job" to "Who do you protect? Who do you serve?"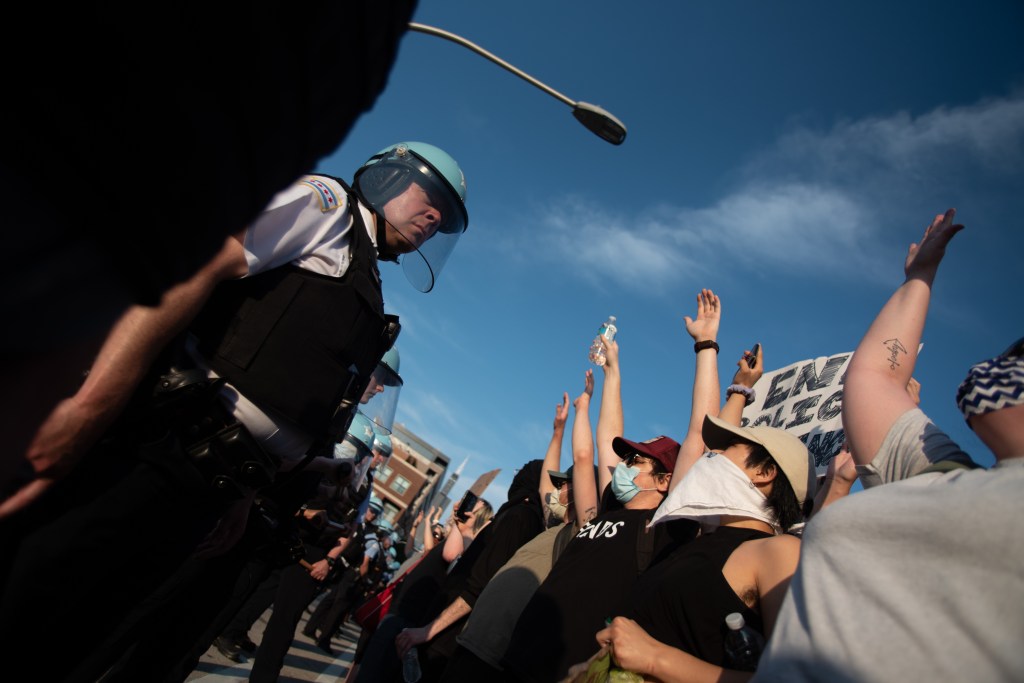 Protesters are calling for:
Chicago to defund its police department;
a Civilian Police Accountability Council to replace the current police board appointed by the mayor;
and the release of all protesters from jail.
Outside the police academy, some officers were covering their nameplate and badge numbers or did not have their body cameras on. Most officers were wearing police-issued helmets, which typically have their badge numbers.
When asked why his nameplate and badge number were not visible, one officer told a reporter he didn't want people to know where he lives.
Chicago Police officials reinforced that the nameplate and badge numbers are required in a series of tweets.
"…Nameplates in uniform are the most universal form of transparency and accountability. CPD officers are required to wear and make visible their unit assignment designator, nameplate and prescribed star ….Any officer found in violation of these policies will be held accountable through an internal investigation."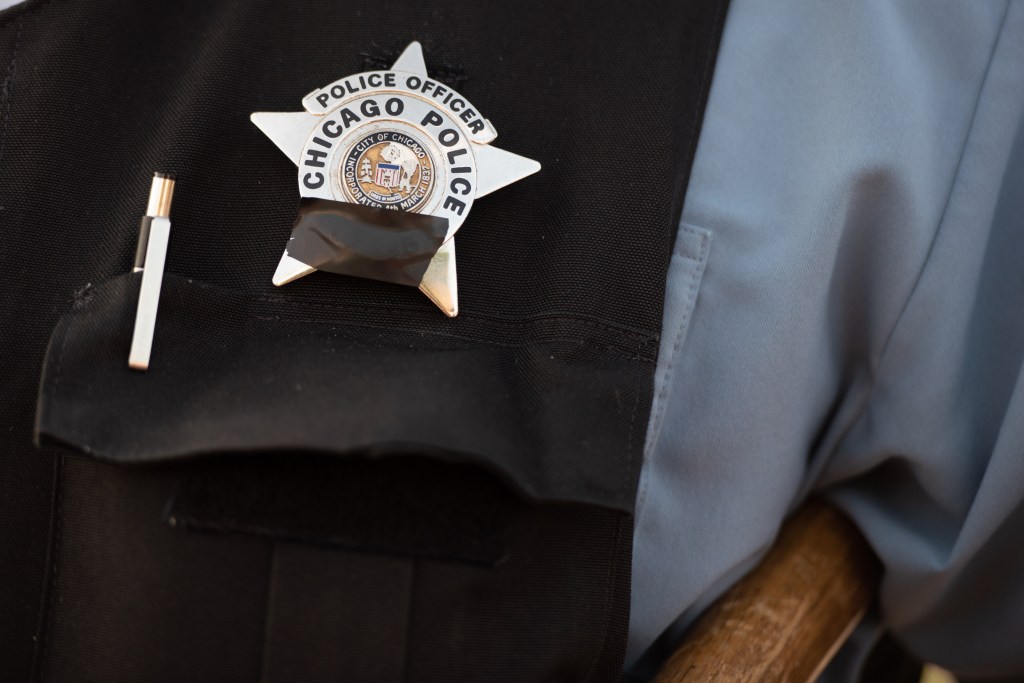 Under CPD's Uniform and Appearance Standards, all sworn and uniformed civilian members are required to, "if attired in uniform or casual dress, wear the prescribed star, name tag, unit designator, and rank insignia on their outer-most garment and in view to the public."
Subscribe to Block Club Chicago. Every dime we make funds reporting from Chicago's neighborhoods.
Already subscribe? Click here to support Block Club with a tax-deductible donation.