UPTOWN — A massive demonstration that made its way through Lakeview and Uptown on Monday ended with police attacking a group of protesters, witnesses say, an incident that is now being investigated by authorities.
Thousands of people showed up to a protest that began in Boystown before marching onto Lake Shore Drive and Uptown and Wrigleyville. The event was described as overwhelmingly peaceful by organizers, attendees and neighborhood officials.
But as the protest wrapped up around 9 p.m., some instances of unrest were reported. A few Uptown stores saw property damage. Police attempts to clear the neighborhood ended with at least three people being assaulted by officers and a number of arrests — events that were recorded on video.
Video shared on Twitter showed police in the 4600 block of Broadway seeking to clear the area of a group of residents and demonstrators. A Black man is seen in the video being pushed back by police when one officer runs up and shoves him to the ground before punching him in the head. The incident was first reported by the Chicago Sun-Times.
That incident is now being investigated by Chicago Police, according to the department. The Civilian Office of Police Accountability has launched a use of excessive force investigation, according to the Sun-Times.
"The Chicago Police Department (CPD) strives to treat all individuals our officers encounter with respect. We do not tolerate misconduct of any kind and if any wrongdoing is discovered, officers will be held accountable," the department said in a statement.
Olivia Love, Charlie Vail and other protesters witnessed the attack on the man that was captured on video. In seeking to intervene, two people in the group suffered injuries, including a concussion and a leg wound that required stitches.
Love, 22, and Vail, 24, attended the march and were walking with some friends back to their car in Uptown when they saw the man get attacked by police near Broadway and Wilson Avenue, they told Block Club. Love can be seen in the video screaming for police to stop, the cane that she walks with visible in the footage.
The group went to try to shield the man from further attack when they were brutalized by police, Love and Vail said.
Love was struck in the head by a police baton, she said, and her partner was hit in the leg. Vail received bruising after throwing herself into the scrum, and another man caught in the fracas had severe injuries to his leg, so much that the girls had to help him away from the scene, they said.
"This group of cops started advancing aggressively," said Love, who lives in Humboldt Park. "They surrounded us. Police brutality is unfettered and unchecked. They are beating people for no reason."
After the physical altercation ended, the group was assessing their injuries when police said they needed to request an ambulance or leave, Vail said. Some police offered them napkins to address their wounds, they said.
The friends got to Vail's car and eventually went to Illinois Masonic Hospital, where Love was treated for a concussion and her partner received stitches to close a gash on his leg, they said. (WARNING: the below photos are graphic.)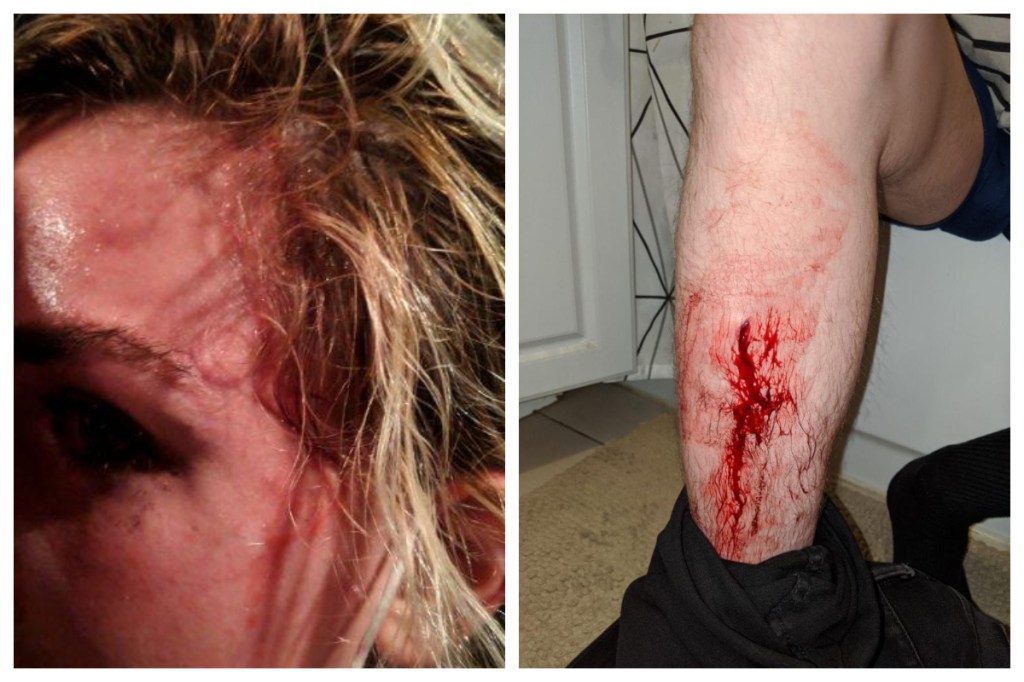 The ACLU of Illinois has condemned the incident, calling it an act of police violence against those exercising their right to free speech.
"Over the past two days, the ACLU of Illinois has been made aware of many incidents in which Chicago police officers have used excessive force against those protesting the murder of George Floyd by Minneapolis police," Karen Sheley, director of Police Practices Project for the ACLU of Illinois, said in a statement. "These incidents have occurred in several parts of the city, despite repeated claims that officers have used restraint."
The Uptown protest started around 3 p.m. Monday, with thousands of people marching from Boystown to stage a sit-in at the corner of Broadway and Sunnyside in Uptown. From there, the group marched onto Lake Shored Drive before returning to Uptown and eventually ending in Wrigleyville around 9 p.m.
Much of the back leg of the protest did not even have a police escort as it walked through North Side intersections and was cheered on by motorists and neighbors.
In a statement after the event, organizers said it was largely peaceful because of "the temporary mercy of a violent militarized force, and the extraordinary privilege of a large, mostly white North Side Red Line gathering."
As protesters dispersed, however, some unrest was seen.
A number of storefronts on Broadway saw smashed windows following the event, including at City Sports and Fashion Bar, which is raising money to re-open following the damage.
At least 13 people were arrested at the Uptown march, organizers said. There were 396 arrests Monday from protests and demonstrations.
A heavy police presence, including officers in helmets and SWAT gear, was seen along Broadway in Uptown Monday night. Multiple videos show protesters and neighbors clashing with police.
Police used the city's 9 p.m. curfew to antagonize protesters, some of whom had to walk miles to their car because of the closure of the CTA and Divvy, said Love and Vail, friends who have been attending Chicago rallies that seek justice for the police killing of George Floyd.
"As soon as it hit 9 [p.m.], we were rushed," Vail said. "It was ungodly scary."
Block Club Chicago's coronavirus coverage is free for all readers. Block Club is an independent, 501(c)(3), journalist-run newsroom.
Subscribe to Block Club Chicago. Every dime we make funds reporting from Chicago's neighborhoods.
Already subscribe? Click here to support Block Club with a tax-deductible donation.