HYDE PARK — Three state legislators pitched legislation for police reform and spoke to concerns of over-the-top responses to looting at the Hyde Park Kenwood Community Conference's emergency forum Tuesday evening.
State Reps. Curtis Tarver II (D-25th) and Kam Buckner (D-26th), and state Sen. Robert Peters (D-13th) spoke at the virtual forum, which allowed residents to share their experiences in the days since George Floyd's brutal killing by Minneapolis police officers.
Tarver initially planned on debating his bill and other proposals during November's veto session.
But by Wednesday, Tarver, Buckner and state Rep. Lamont Robinson (D-5th) had called upon House Speaker Mike Madigan and Senate President Don Harmon for an emergency legislative session to address police reform and the rebuilding of communities following incidents of looting.
"There is a substantial amount of legislation … that has been filed in the past and that is more important now than ever," the three said in a statement. "Our communities simply can not wait until the November veto session to address these systemic failures and the eroded trust of our neighborhoods when it comes to government, law enforcement and the criminal justice system, as well as economic development."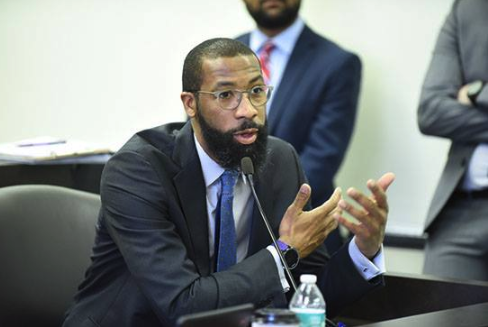 During the forum, Tarver told participants about HB 4999, which he co-sponsored. The measure would strip police officers of their pensions upon a felony conviction. It awaits action in the House Personnel and Pensions Committee.
Buckner shared details of HB 3926, which would require a special prosecutor any time there's a death involving law enforcement in Illinois. It awaits action in the House Judiciary-Criminal Committee.
Peters' SB 3449 would create a "fourth option" for 911 calls around mental health services, such as a professional trained in crisis intervention and de-escalation.
He cited the police shooting of University of Chicago student Charles Thomas during a reported mental health crisis as a reason police cannot be used as "a replacement for the services people need."
The legislators also responded to security concerns in the neighborhood, namely two heavily armed contractors hired by the clothing store Akira after the store, 1539 E. 53rd St., was robbed during weekend.
The first contractor was removed Monday, only to be replaced by another who stuck around until Tuesday morning, according to the Hyde Park Herald. Tarver called is a "totally unnecessary" response from the store owners.
Tarver said University of Chicago, which owns the property, intervened and asked the owner to remove the guard.
"I would say the top of the list of what we can do is speak with the university and hold them accountable for what their tenants are doing," Tarver said.
Neighborhood businesses owe residents an ongoing discussion about their priorities, Buckner said. He said Hyde Parkers do a great job of making their expectations of businesses clear before shops open, but that conversation doesn't always continue once they're up and running.
"It should have been very clear to the owner of Akira that … this is not something you should even try to do," Buckner said.
Peters said he gave Akira's owners "a bit of a hard time" over the use of an "armed, paramilitary force in Hyde Park." The damage in the neighborhood was "relatively contained" compared to other areas of the South Side, and protests remained mostly peaceful, he said.
"Some people loot because they want to create chaos, but most people are looting because they live in chaos," Peters said.
Subscribe to Block Club Chicago. Every dime we make funds reporting from Chicago's neighborhoods.
Already subscribe? Click here to support Block Club with a tax-deductible donation.