LINCOLN SQUARE — The owner of a Lincoln Square bar is apologizing after posting a racist rant on Facebook about the Black Lives Matter movement — but some neighbors say they still plan to boycott the bar.
Maureen Sullivan owns Spyners Pub, 4623 N. Western Ave., and has been in the process of renovating the space during the pandemic. 
Sullivan made a series of racist statements in Facebook comments on Tuesday, including that peaceful protesters "were primarily of all other races except for black," and that protesters "should only be allowed in zoos because they act like animals."
"Black lives matter annoys the shit out of me," she wrote. "Everything and EVERYONE including animals, plants and the entire environment matters. This entire cause sickens me and they can all f— off."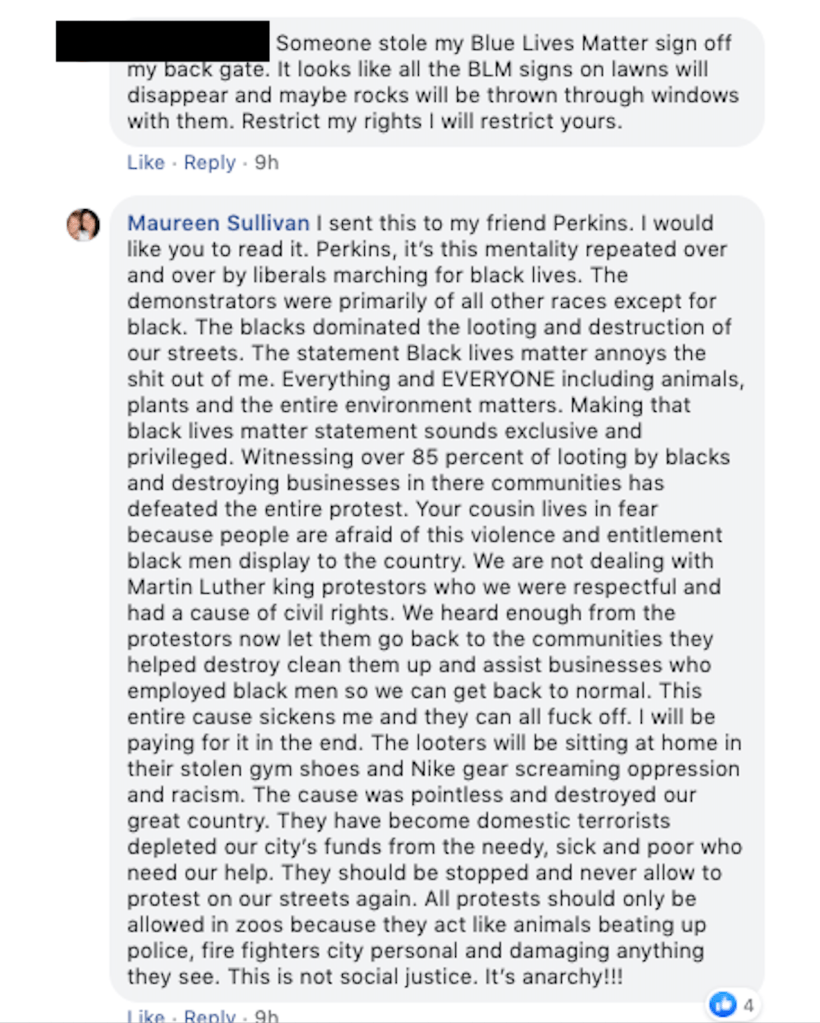 Sullivan deleted the comments and later posted an apology to her Facebook late Tuesday night. But by then, numerous residents had lambasted her for her remarks and reshared the posts in hopes of discouraging people from visiting her bar again.
Sullivan declined to comment.
Darin Ortmann, who bartends at Loafers Bar, saw Sullivan's comments after they were shared among hospitality Facebook pages.
He visited Sullivan's personal Facebook page to make sure the post was real then shared it to a Lincoln Square group. He told Block Club he was disgusted when he not only verified Sullivan had written it but that she was also writing more racist posts to defend herself.
"It sickens me. I want people to know this is who you are supporting," Ortmann said. "This is the person who is getting your money when you go there." 
After Block Club's article was published, neighbors organized a socially distanced protest of Sullivan's racist comments outside of the business Thursday at 5:30 p.m.
"This is a peaceful protest only.  Please no destruction or violence," one organizer said.
Demonstrators have staged days of peaceful protests throughout the city in response to a police officer killing of George Floyd in Minneapolis.
Though the protests have been peaceful, some have used the demonstrations for cover as they ransack local businesses. City officials repeatedly have emphasized that protesters are not responsible for the local property damage and injuries.
Sullivan's comments came after she spoke to Ald. Matt Martin (47th) about using city trucks to block access to Lincoln Square to help prevent looting. She accused the alderman of failing to protect local businesses.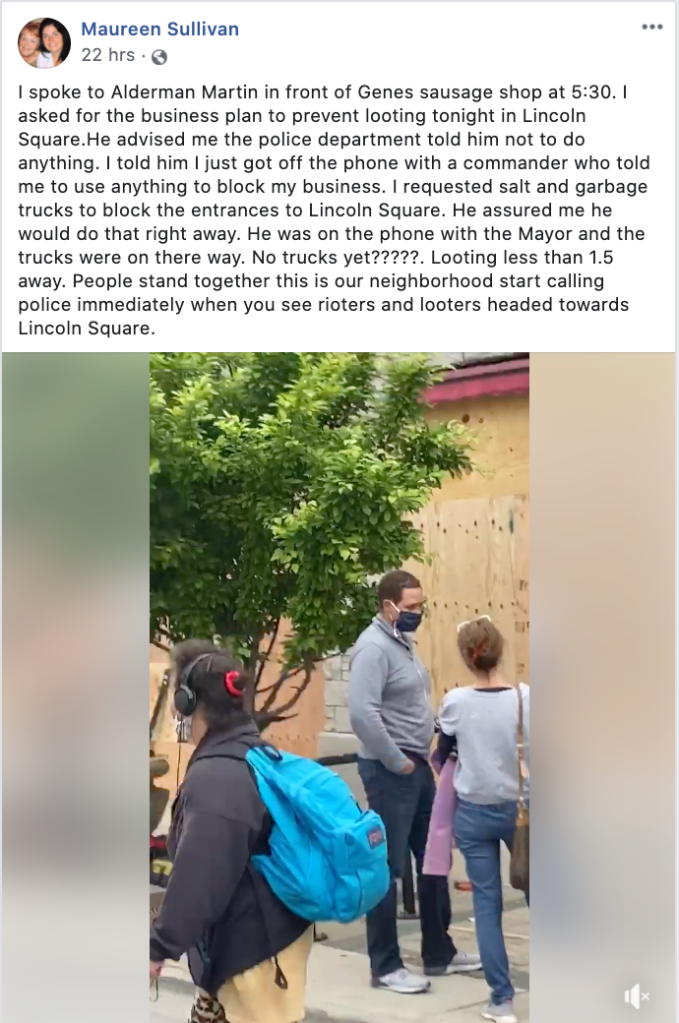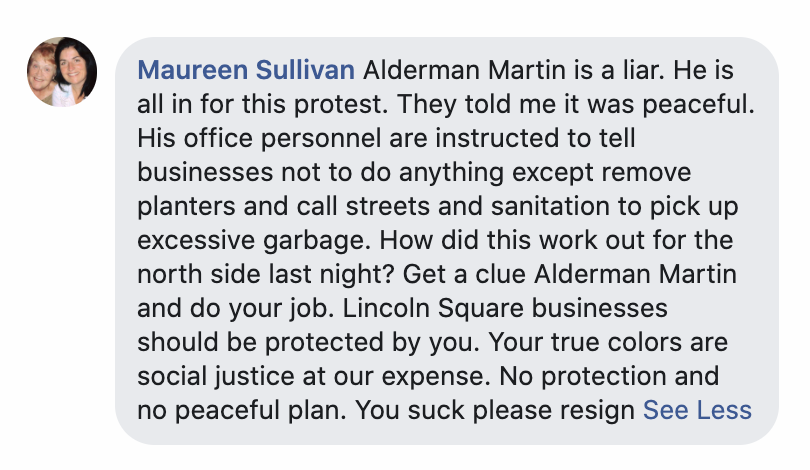 Martin told Block Club he brought Sullivan's concerns about looting to police and Streets and Sanitation leaders, asking them how feasible a roadblock with city trucks would be.
He didn't address her rant, but said most people he's spoken with in the ward have supported the peaceful protests taking place around the city.
"I am very fortunate to represent a ward where the overwhelming number of residents are deeply concerned about the epidemic of racism against Black men and people of color," Martin said. 
Before issuing an apology and removing the post Tuesday night, Sullivan defended herself in Facebook comments, saying she's a "humanitarian" and not a racist.
In her apology, she said she made her comments without "walking in the shoes of Black Americans" and that as a small business owner, she was only trying to protect the neighborhood from "plunder." 
"I know it's impossible to unring a bell, I also understand the backlash that will be attached to my previous comment, I understand some will forgive me and some will not," she said in the post.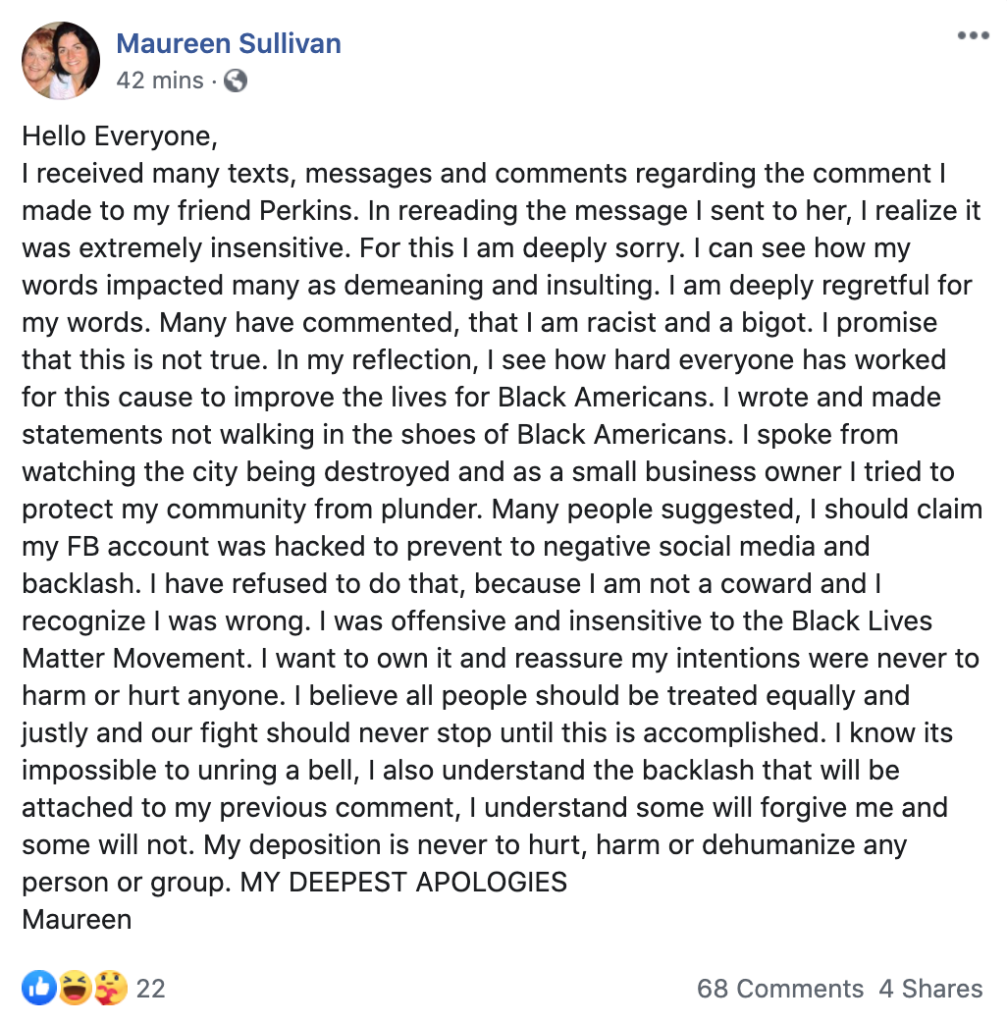 Many online commenters claimed Sullivan's apology was insincere.
"F— your apology. You only saying this because you got CAUGHT," one person wrote on Facebook.
Other commenters suggested Sullivan educate herself and use her resources as a business owner to fight against structural racism if she was truly sincere. 
The bar's Yelp page also had at least 47 new reviews Wednesday criticizing Sullivan's comments as racist, including screen captures of her post and urging people to not spend money at her bar.
Bethany Relyea, a social worker who lives in the neighborhood, said neighbors deserved to know about what Sullivan was saying.
"This needs to be called out. Her comments are vicious and false and could lead to more violence and put Black lives in jeopardy," Relyea said.
Sullivan's attempt to deflect attention from her racist remarks resulted in even more false racist comments, Ortmann said. 
"Yes, sex trafficking horrible too. But what she is doing again is blaming Black men for all the looting," Ortmann said. "That's garbage. She's cruel."
Sullivan also praised Martin Luther King, Jr.'s protests as "respectful" and having "a cause of civil rights" while condemning the current Black Lives Matter movement as "terrorists" and that their cause was "pointless and destroyed our great country."
"There's a lot of racist s— floating out there right now. If people are dumb enough to make their horrible comments in public I want to call them out and hopefully help make this world a better place," Ortmann said.
RELATED
Stop Sharing Unchecked Rumors On Social Media, Chicago's Top Cop And Black Organizers Urge: Memes Are 'Inciting Racialized Violence'
Spyners Pub Renovating During Shutdown, But Owner Promises It Will Remain A Dive Bar
Subscribe to Block Club Chicago. Every dime we make funds reporting from Chicago's neighborhoods.
Already subscribe? Click here to support Block Club with a tax-deductible donation.