NORTH LAWNDALE — After a weekend of looting and fires, West Side neighbors mobilized to clean up storefronts and parks Monday.
Cleanups in North Lawndale were coordinated by UCAN, a local youth services group, in collaboration with Ald. Michael Scott Jr. (24th) groups like Harmony Community Church. The cleanup was supported by UCAN's street outreach workers who intervene to stop violence from happening in hotspots in the neighborhood.
Outreach worker Dandre Warren said they have shifted from stopping violence to helping fix up the West Side and help young people in the area to do the same.
"We not just out here for gang violence. We out here for any negative thing. And I'm also hoping that we can pull out some more guys who may see us… and come on in and join us," Warren said.
Other volunteers cleaning up said they understand the pain of protesters and people looting and damaging property since North Lawndale has always struggled with police brutality and killing of its Black residents. In Douglas Park, Rekia Boyd was fatally shot in 2012 by an off-duty Chicago Police detective who was later acquitted of all charges.
But Javonna Askew, one of the volunteers, said she and her family are channeling their frustrations with police violence toward restoring the community. As much as people on the West Side feel frustrated by the state of the world, she said residents still depend on all of the businesses that have been vandalized.
"We are still a community, and we do want these businesses here," Askew said. "We do want the income, we do need the jobs."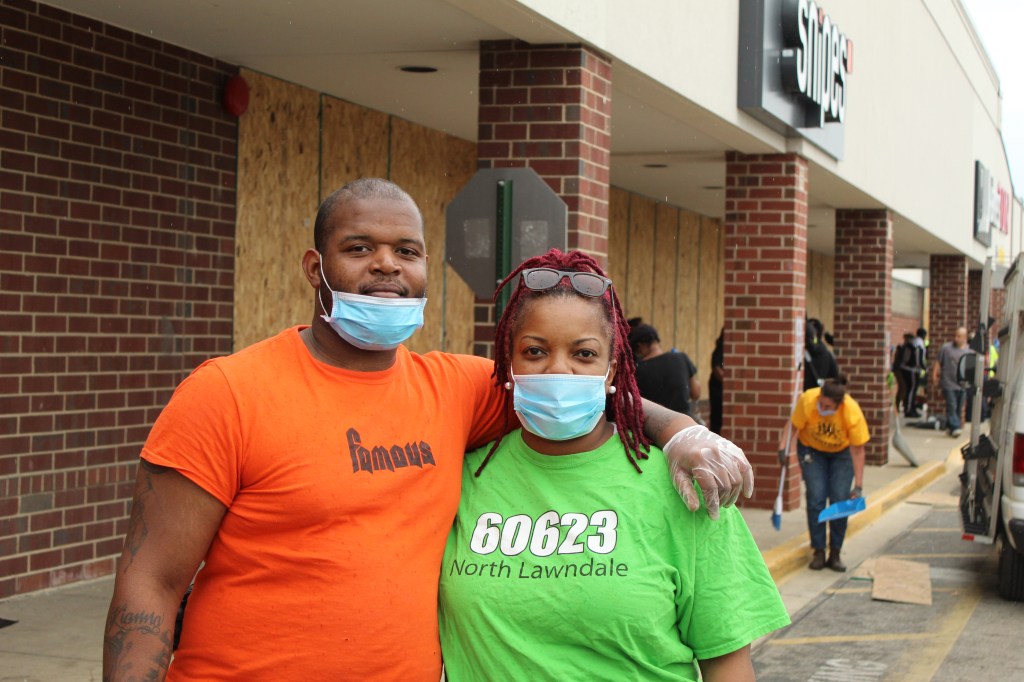 Volunteers focused on patching up Roosevelt Road, one of North Lawndale's main commercial corridors that was hit by people looting Sunday.
Dozens of residents wearing masks stood shoulder-to-shoulder as they swept up shattered glass and picked up debris from shops starting at the corner of Roosevelt and Pulaski Roads, including beauty supply stores, chain restaurants like Subway, a chicken shop and a Shell gas station.
Crews of volunteers also boarded up broken windows at stores.
The group of volunteers then moved to Homan Square to help clean up the restaurants, the shuttered movie theater and clothing stores that had also been vandalized.
Just a block away from the strip mall where the group was cleaning is the site of the Homan Square "black site," a police interrogation facility uncovered by the Guardian where thousands of Black people were allegedly tortured without the knowledge of family and attorneys.
"Sometimes you can do everything the right way and you still aren't heard," Askew said. "I don't necessarily agree with damaging property. But I understand needing an outlet for your anger."
"Just like they vented with frustration, we also have to vent with our peace and show them that there are two ways to do this," she said.
Even before community groups brought volunteers to Roosevelt Road, a group of teenagers had coordinated their own neighborhood cleanup in Homan Square. The young people brought brooms and other cleaning equipment from their own homes to help out. Local leaders said they were amazed that the teens were the first on the scene to help businesses recover.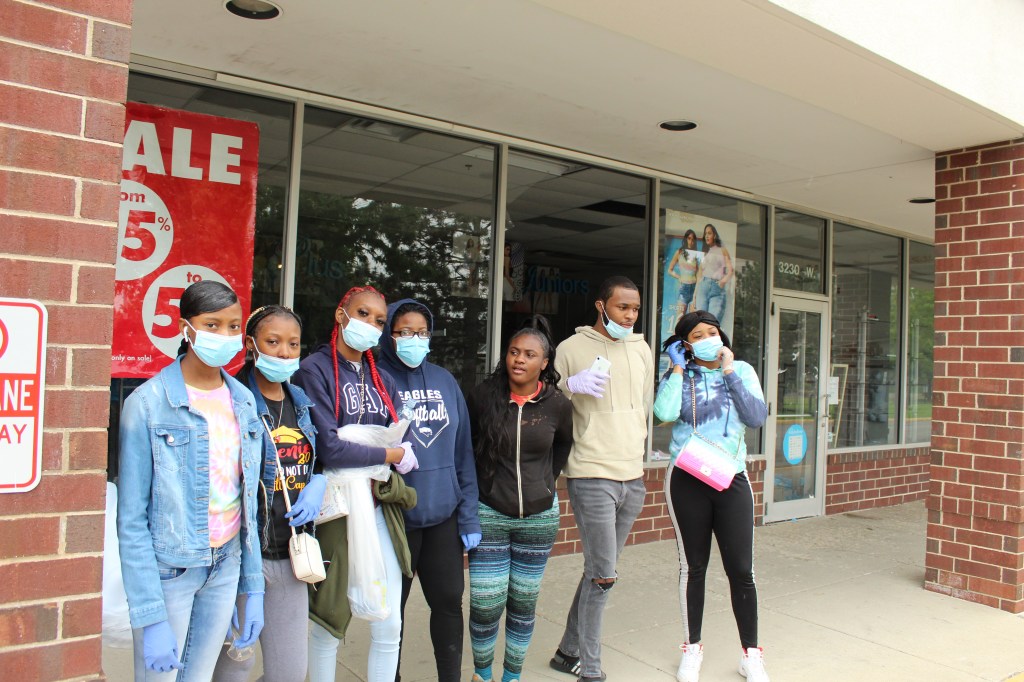 "Some of us just feel like we are destroying our own community. But when it's all over, we won't have nothing left," said Amani McKinney, 15. "We still live here so it's still our community. We're gonna need these places to go get food and buy clothes."
Separately, youth-led West Side Cleanup Crew is hosting cleanups From 10 a.m.-1 p.m. Tuesday and Wednesday in Garfield Park and North Lawndale.
In Lawndale, the group will meet at Leamington Foods, 3240 W. Roosevelt Rd.
In Garfield Park, the group will meet at the Breakthrough FamilyPlex, 3219 W. Carroll Ave.
The West Side Cleanup Crew is looking for volunteer and donations of money and supplies like push brooms, trash bags, mask, gloves, buckets, rakes, wheelbarrows and hand sanitizer.
Money can be donated to the organizer spearheading the project Kaleb Autman via cashap at $KalebAutman or Venmo at Kaleb-Autman.
Volunteers can sign-up online.
Pascal Sabino is a Report for America corps member covering Austin, North Lawndale and Garfield Park for Block Club Chicago.
Block Club Chicago's coronavirus coverage is free for all readers. Block Club is an independent, 501(c)(3), journalist-run newsroom.
Subscribe to Block Club Chicago. Every dime we make funds reporting from Chicago's neighborhoods.
Already subscribe? Click here to support Block Club with a tax-deductible donation.