WOODLAWN — A South Side cowboy who gained fame for his viral videos is now being targeted by false social media posts claiming he stole his horse from police.
Adam Hollingsworth, a Black cowboy who rides under the name Dreadheadcowboy, normally takes his horses, Prince and Bella, around the South Side and Downtown to delight people. He's recently ridden his horse at protests in honor of George Floyd, a Black man killed by police in Minneapolis.
But people have snapped videos of Hollingsworth riding at protests in Chicago and posted them on Facebook, Twitter and other social media sites, claiming he stole Bella from a mounted police officer. One Twitter post, which read "Breaking: Protester stole a horse from police," was retweeted more than 8,000 times and watched more than 1 million times.
The video, shot by an unknown person, shows Dreadheadcowboy galloping on his spotted horse, Bella, Downtown during the protest.
People have threatened Hollingsworth and someone even egged and spray painted his car, writing, "Return the Horse Bitch." Hollingsworth lives in suburban Crete but his car was parked at his sister's house in Englewood, and she first noticed the damage Tuesday morning.

RELATED: This South Side Cowboy Has Become A Viral Video Star During Pandemic
"I've been getting people inboxing me, telling me to return the horse and don't come to Chicago," Hollingsworth said Tuesday. "I want to let people know that I'm out here to bring the positive back to the community, and they're making it even harder than what it is."
People even edited a video Hollingsworth recorded to spread the fake news. He was recording a lengthy Facebook Live of his ride during one protest when other people at the event joked he stole the horse. He joked back, "I stole it from the police," and he laughed.
But someone edited the more than 29-minute live video into a 32-second snippet, proclaiming again Hollingsworth stole the police horse, and shared the truncated video on a different social networking site.
It was reshared by people, including a comedian, on Facebook. People accused Hollingsworth of theft, demanding he return the horse as others tried to correct the misinformation, sharing news articles about him.
"Wow he is so proud of what he did. I am so sorry to see this and ashamed that we as one of the leading cities of America can't even stop it," one woman wrote in a false accusation.
Notably, Bella is spotted and does not look like a typical police horse, which are chosen for their uniformity.
"They're quick to run with it because it makes it more interesting," Hollingsworth told Block Club. "They took that little part of my [Facebook] Live. I had a [long] Live and they took 30 seconds.
"A lot of the people on my page know me, they knew it was a joke. A lot of people that don't know me took it and ran with it."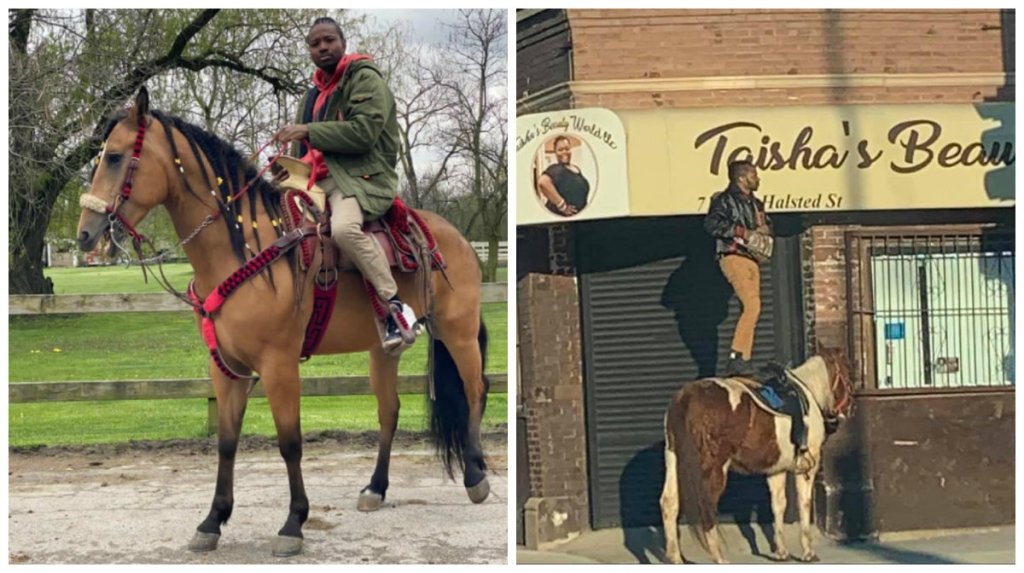 Hollingsworth said he is afraid of the backlash from the misinformation because his truck was tagged, but "it's not stopping me from doing what I'm doing." Before the Chicago protests, he even traveled to Minneapolis to participate in protests there, he said.
If you want to support Hollingsworth's plan to introduce horseback riding to city kids, you can donate to his GoFundMe here. And, of course, there are fake GoFundMe links in his name going around. But this is the real one.
Subscribe to Block Club Chicago. Every dime we make funds reporting from Chicago's neighborhoods.
Already subscribe? Click here to support Block Club with a tax-deductible donation.