THE LOOP — After someone hurled a bottle of whiskey through his Loop restaurant's plate glass window, the owner saw an opportunity to send a message of love.
And who knows? Maybe it will spread to other boarded-up businesses.
On Tuesday morning, as temperatures heated up, Sean Rouzbeh, owner of The Marq in the historic Marquette Building at 60 W. Adams St., and several employees began painting the plywood that replaced the smashed window.
Rouzbeh, Maria Bernal and Rey Romo were painting a large Chicago flag with the word LOVE with a red heart. Their hope is other businesses that suffered damage nearby over the weekend follow their lead.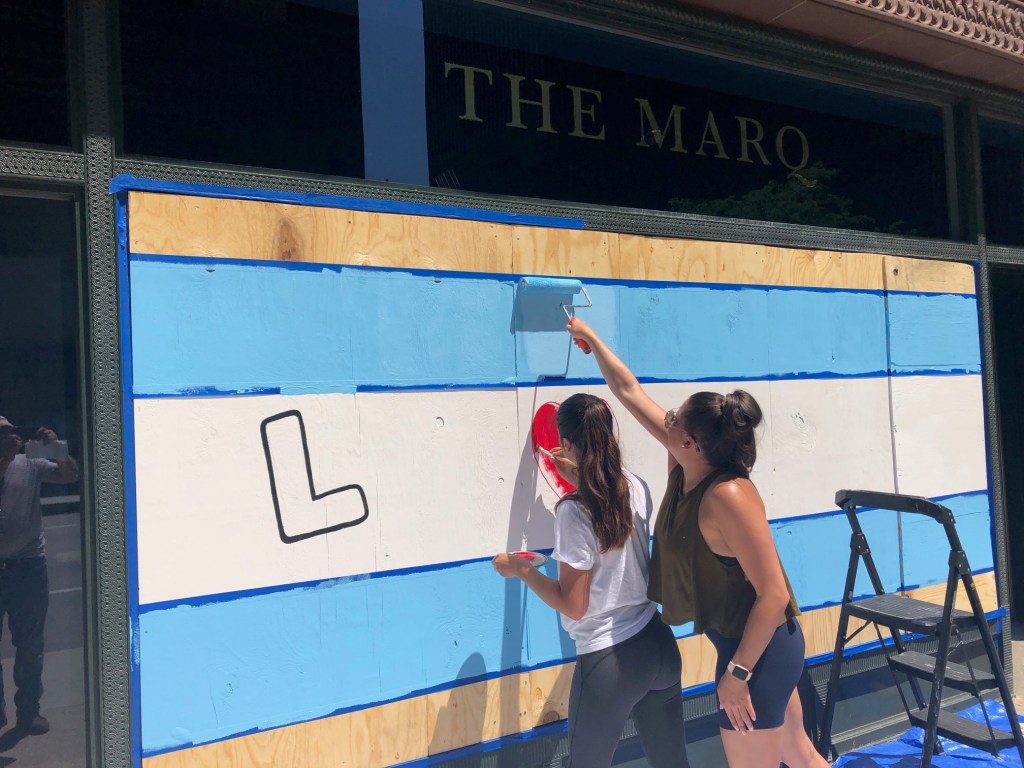 The Marq's surveillance video showed someone throwing a a whiskey bottle into the front window Sunday night. For a restaurant closed because of the COVID-19 pandemic and still awaiting a permit to have outdoor seats, it was insult to injury. However, Rouzbeh is using it as a chance to spread positivity, even joking that the offender chose a nice whiskey.
"It's Woodford, so they had taste," Rouzbeh joked.
On a more serious note, while playing the video for a reporter, Rouzbeh said "he's not a looter, he's an anarchist."
Rouzbeh said he's lucky the damage wasn't worse, noting the Walgreens down the street at 200 W. Adams saw heavy destructions from looters who set a small fire, causing the store's sprinkler system to ruin whatever wasn't stolen. He also said the entire situation may result in a positive change.
"Sometimes it takes things like this for the country to change."
For now, Rouzbeh is trying to cause small change and is urging businesses who have put up plywood to paint similar messages of hope.
Standing in the warm sunlight painting, Bernal and Romo, who both have worked at the restaurant since it opened five years ago, agreed with their boss.
"We want to spark the whole street to do this," Bernal said.
 "Hopefully this is a start," concurred Romo.