KENWOOD — Nigel Telman marched in the protests Downtown on Saturday.
On Monday, he helped clean up his neighborhood of Kenwood with about a dozen or so residents.
Telman, broom in hand, wanted to set a good example.
"I want … people to come through and see that the community is not about the looting, the community is about helping each other," he said. "I really saw that here today."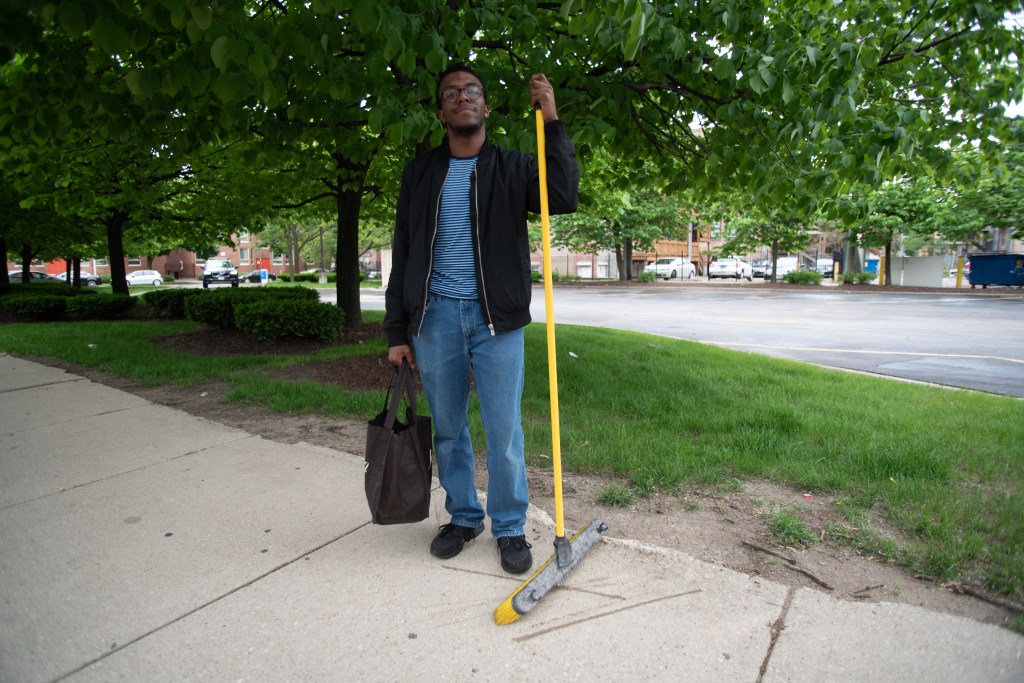 Cities across the world have seen widespread reactions over the last week since the police killing of George Floyd in Minneapolis. Chicago has seen fires, looting and vandalism across the city.
Moqueet Syed sat in his car as he watched storefronts get boarded up next to his. Syed is the president of the Advanced Medical Imaging Center in Kenwood and describes the current situation as a "double whammy."
His business had been reduced to 30 percent due to COVID-19 and now is unsure when he will be able to reopen due to safety concerns. The buzzing sounds of contract workers boarding up nearby buildings whirred in the background as Syed spoke. Plywood panels were cut with precision to protect the glass windows that guard the local businesses.
The Walgreens on the same plaza as Syed's business was ransacked, save a handful of strewn items and a pile of Sunday's Sun-Times with the headline reading "Burning Rage." 
Heading west on 47th Street, Ben Lane of Ka'Lab Bronzeville was holding a sign as he played music on a speaker. In his art studio sat a sign saying "Proud to be a Black owned business." Signs like this speckled shop windows nearby.
Earlier that day, Chicago Police Supt. David Brown drove up to Lane and thanked him for his message.
"It feels really good to see that we are coming together and that we do have a sense of unity," he said. To Lane, the signs symbolize the moving toward a heightened togetherness in the community.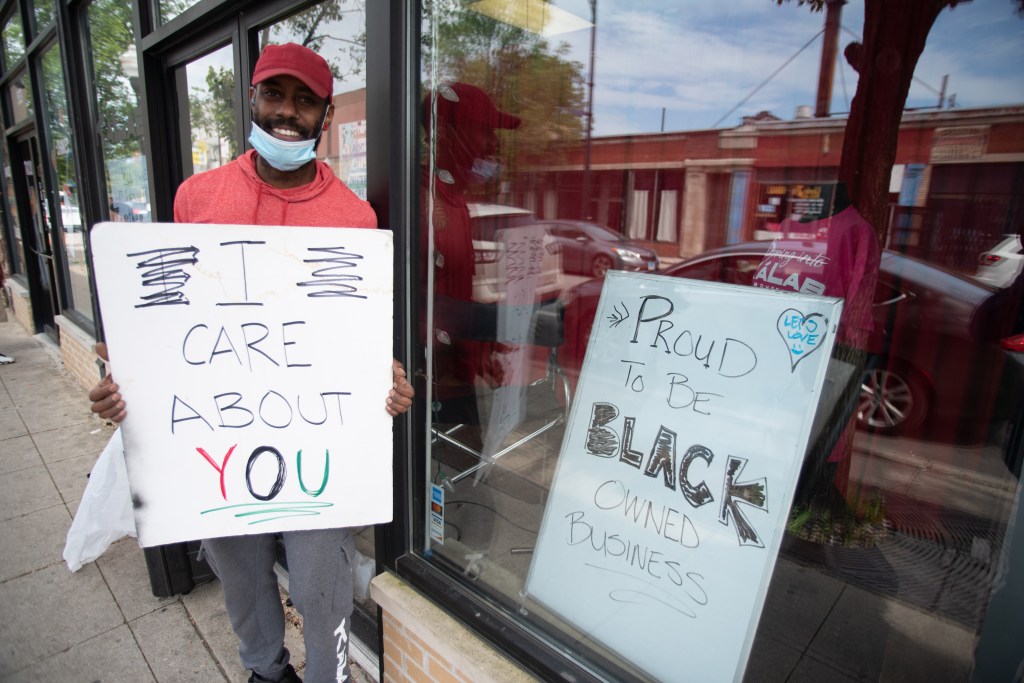 People were cleaning and boarding up the Walmart Neighborhood Market in the 4700 South block of Cottage Grove Avenue when Khaalia Hillsman, Kenwood resident and American basketball player, arrived mid-afternoon.
She became emotional at the sight of the looted grocer. She was in the area last night when looting happened and was upset with what she saw.
"I don't want people to think Chicago is like this," Hillsman said.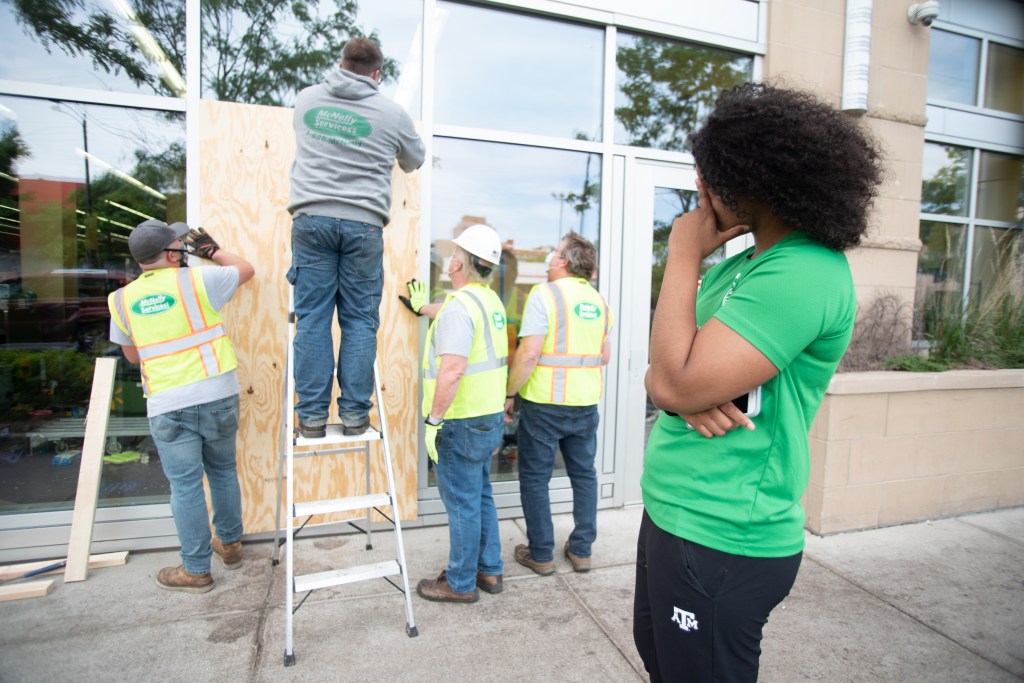 Hillsman remembers the day the store opened, lamenting on how long it took to bring it to the neighborhood yet how quickly it could be "ruined." She worries for her neighbors who won't have access to resources with the current lack of a grocery store within walking distance.
Further south in the Auburn Gresham neighborhood, Cavell Ball and Gerrell Tucker – both from Englewood – were boarding up the windows of a damaged beauty shop. The team of two, who were helping protect businesses across Chicago all day, were screwing sheets of plywood together to cover a business that had only recently reopened.
As Tucker was securing the shop, he reflected on the current climate, saying he understands "the distress with my people," though he does not agree with the looting.
Auburn Gresham resident Karen Houston was planning on shopping at the business, but was shocked and saddened upon arrival.

"My initial reaction is we don't have a lot of stores, we don't have a lot of essential places to go to for supplies," Houston said. "This is awful for our community at this point."
Houston doesn't believe the looting was the work of protesters, but rather "this came from a belligerent group that really don't care for community, don't care for their neighbor."
She said she knew of a few churches that were trying to help clean up after the rambunctious night yet could not because of the continued looting.
In the end, she hopes to see a community bond.
"We've all lost out on a lot of things these last couple of months, but it's sad because people have to struggle even more."
On the theme of the widespread looting that the city, and country, has been seeing, Telman doesn't want that to represent his neighborhood and its residents in the media.
"We need this place cleaned up. We need people to understand that the looting and the violence isn't what this is about."
Rather, he hopes that people remember that the unrest is because a police officer killed George Floyd in Minneapolis.
Subscribe to Block Club Chicago. Every dime we make funds reporting from Chicago's neighborhoods.
Already subscribe? Click here to support Block Club with a tax-deductible donation.