ENGLEWOOD — Local legislators are pleading for people to stop damaging property and businesses in South and West side neighborhoods and blasting Mayor Lori Lightfoot for what some called a deliberate move to concentrate city cops in Downtown during the unrest.
Members of the Illinois Legislative Black Caucus called for unity and an end to the looting during a press conference Tuesday afternoon.
"What we are seeing is pent-up anger and frustration manifesting itself in a very ugly way. But pain is ugly, and when people have had enough, it comes out in all forms," Illinois Senate Majority Leader Kimberly Lightford (D-4) said.
"I do not condone destruction of property, especially in our communities…but I understand the sense of hopelessness that people are feeling, and I'm tired of people telling the Black Caucus what to do instead of simply providing opportunities for us and our people."
Meanwhile, members of the Chicago Aldermanic Black Caucus are accusing Lightfoot and police Supt. David Brown of devoting most police efforts to safeguarding Downtown over the weekend, leaving South and West side communities to bear the brunt of property damage and violence when city authorities closed off access to the city center.
Some caucus members said in a statement Tuesday they pleaded with city leaders for more police protection in their areas on Sunday, to no avail.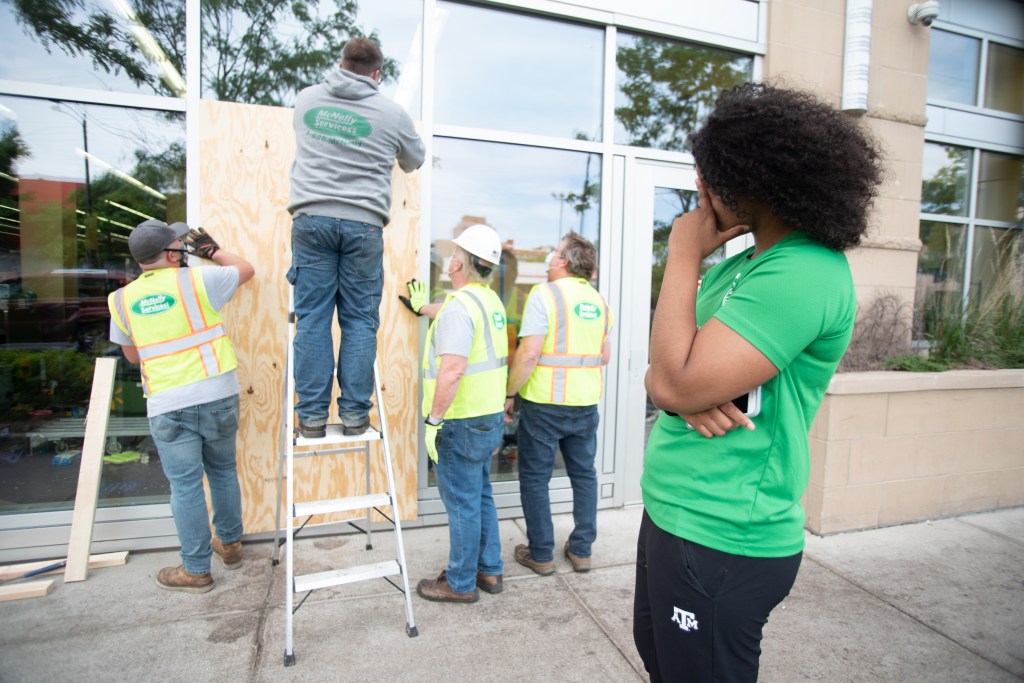 Dr. Stephanie Johnson, owner of Plano Vision Center in Grand Boulevard Plaza, 5401 S. Wentworth Ave., recalled watching helplessly as looters entered the store Sunday night, destroying thousands of dollars of equipment typically used to serve low-income families in the neighborhood.
"My heart is heavy," Johnson said. "Imagine being a Black business owner, seeing a majority of your Black community coming in and looting, and you can't do anything. But you can be the change to make a difference. I saw young people meeting me here that day, cleaning up the glass, and it did my heart great."
Rep. Lamont J. Robinson (D-5) said several small businesses near his insurance and state representative offices at 51st Street and Indiana Ave. were gutted. His offices were spared but nearby Value Furniture, Union Subs, and Hyde Park Liquors — already struggling because of the coronavirus pandemic — were damaged.
"During the evening we saw no police presence respond despite numerous calls," Robinson said. "I worked hard with my fellow entrepreneurs to build a commercial strip worthy of our customers, and now we must figure out how to rebuild from this devastation."
Lightfoot has repeatedly denied assertions that police are favoring Downtown. Lightfoot did not directly answer a question during a Tuesday press conference about why hundreds of National Guard members called into service are patrolling and setting up checkpoints Downtown and not in other city neighborhoods.
"There's no special protection for any neighborhood," Lightfoot said.
She later said there remains strong debate about the desire to have National Guard in neighborhoods.
"While the tensions between the community and the police are real and we certainly don't ignore them, there's been a lot of time and resources spent over many years to build authentic relationships between the police and the communities they serve.
"We are not gonna throw all that out the window and introduce people who are well-intended but do not know about policing at the local level."
State Sen. Elgie Sims, Jr., echoed Lightfoot's sentiments and dismissed the notion of calling the National Guard to police Black neighborhoods.
Invoking the story of Nehemiah, the biblical figure who rebuilt Jerusalem, Sims called on the community to protect itself.
"We can do that ourselves," said Sims, who announced that a "Day of Action" would be held Thursday, June 4, for communities statewide.
Demonstrators have staged days of peaceful protests over the killing of George Floyd at the hands of a police officer in Minneapolis. Thousands marched Downtown on Friday and Saturday.
But some took advantage of the protests to ransack the area, spurring violence and widespread damage to businesses.
Hoping to avoid more damage, city officials abruptly closed off access to Downtown on Sunday, raising bridges, closing streets and canceling CTA train and bus operations throughout a wide swath of the city. By the evening, officials closed the entire public transit system, with CTA, Metra, Pace and Divvy all shutting down.
That pushed protesters — and those looking to loot — in neighborhoods, hurting already disadvantaged communities.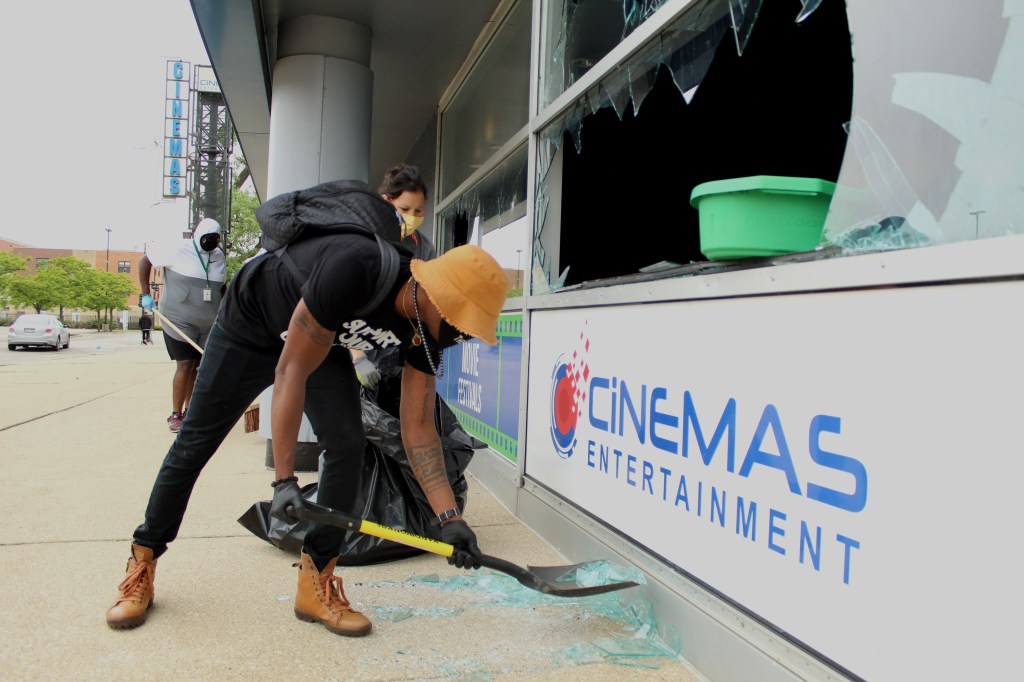 While the Black Caucus is pushing for tougher criminal justice reforms to address police violence, members like Rep. Justin Slaughter (D-27) were hesitant to call for the defunding of police departments, a measure supported by groups like Black Lives Matter and the Transformative Justice Law Project of Illinois.
"I'm not sure if we want to defund police departments as much as we want to address police accountability and police brutality. We've had several discussions about how we could reinvest dollars, and that's something we'll continue to look at," said Slaughter, who noted Illinois' billion-dollar Department of Corrections budget.
"It's not just about local police departments, but the law enforcement community in general."
Subscribe to Block Club Chicago. Every dime we make funds reporting from Chicago's neighborhoods.
Already subscribe? Click here to support Block Club with a tax-deductible donation.