SOUTH SHORE —  Tense confrontation between police and protesters led to three arrests in South Shore Monday afternoon, but protest leaders worked fervently to restore order.
Outside the Local Market, 2101 E. 71st St., and the neighboring City Sports outlet store that had been ransacked this past weekend, more than 100 police officers and a crowd of 100 protesters gathered. Around noon, tensions were heightened as a few protesters threw rocks at the destroyed City Sports and a nearby phone store Lyca Mobile, smashed police car windows and confronted officers.
A few officers antagonized the crowd — largely made of youth — while others arrested at least three people in the span of 30 minutes.
One officer yelled, "they want us to start locking people up — mass arrests."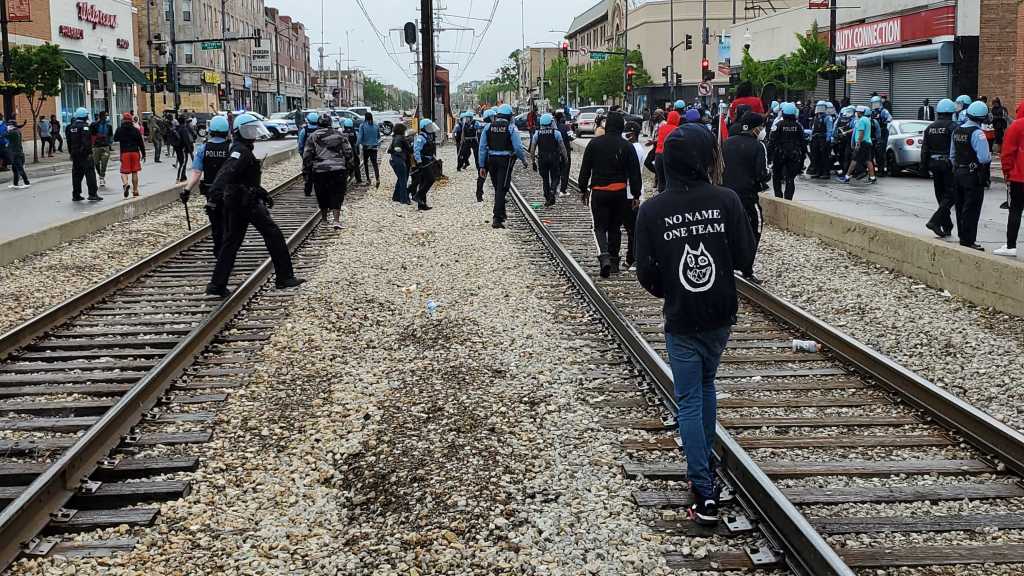 But intervention by protest organizers, who demanded people stop throwing rocks, calmed the situation. Well-known activists William Calloway and Jedidiah Brown were on the scene.
"Everybody here wanna just wyle out … this supposed to be about George Floyd," one said.
Protest leaders told angry protesters, if they act up and get arrested, "you're on your f—ing own."
No further arrests have been made since about 1 p.m., as officers have stood in a line of more than 50 along the 71st Street Metra tracks, from Chappel Avenue nearly to Jeffery Boulevard.
Olaoluwa Randle had never attended a protest before Monday.
He grew up in Nigeria and came to Chicago 20 years ago, and said living in America has felt like living in a "zoo of human beings."
The peaceful protests are about more than George Floyd's brutal killing, he said; they're the reactions of people who are "frustrated to their bone" over "400 years of slavery and torture."
While he disapproves of property destruction, he put the blame on societal forces that have dissolved many Black families rather than the young looters themselves.
"If we don't do this now, we're going to stay like this for another 400 years," Randle said. "The rioting and the looting is not okay, but what do you want them to do?"
The two-party system has failed to give a voice to the looters, who are often youth, organizer and protester Quintin Martins said.
"We can't just sit back and judge these young people because the system has failed them," he said. "The blame is on the parents; the blame is on the schools; the blame is on how we treat each other every day."
A solution to the unrest is possible through economic empowerment and organizing, Martins said. A national poor peoples' party and Black ownership of property in neighborhoods like South Shore are ways he offered to create long-term change and prevent the disillusionment that causes looting.
Though Martins believes those solutions are possible, they need to come soon.
The destruction of commercial property isn't the end stage of rioting — "we haven't ran in people's houses and started injuring them," he said.
"I think there is hope; there's always hope in a sea of darkness," Martins said. "You've got to get to that glimmer of hope and hold onto it and build from there, because this is not the worst that it can get."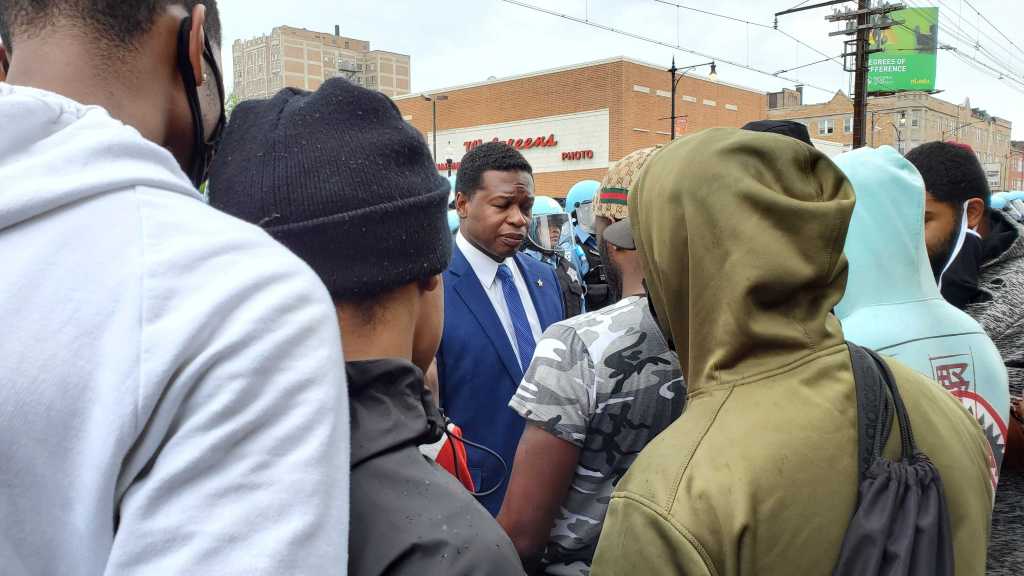 Subscribe to Block Club Chicago. Every dime we make funds reporting from Chicago's neighborhoods.
Already subscribe? Click here to support Block Club with a tax-deductible donation.