WICKER PARK — Early Monday morning, Jenn Jones gathered a dust pan, safety goggles, a hammer and other tools from her North Avenue home and walked out into Wicker Park to survey the damage.
She ended up at Smoke Times, 1850 W. Division St., where a dozen other neighbors compiled strewn receipts and cleaned up glass. About 45 minutes into the cleanup, the store owner arrived.
"He seemed a little overwhelmed, surprised and not knowing what to say," Jones said. "He was grateful to all of us, said thank you multiple times. … Hopefully he gets it all sorted out."
Jones wasn't alone.
Not waiting for aldermen or community leaders to coordinate official efforts, dozens of Wicker Park and Bucktown neighbors woke up early Monday to help clean and rebuild the neighborhood following a chaotic weekend of protests and looting.
From Target to Foot Locker to Carhartt, looters targeted big box corporate chains in the neighborhood over the weekend. But they also hit family-owned independent shops. 
Pamela Maass, director of the Wicker Park Bucktown Chamber of Commerce, said Monday she estimated 40 to 60 of the neighborhood's 1,500 businesses were looted.
RELATED: Wicker Park Shops Destroyed By Looting: 'It's Total Destruction … I Just Want This To Stop'
In addition to sweeping glass and clearing trash, neighbors helped business owners board up their glass windows and doors — a measure some businesses were taking as a precaution ahead of Monday night.
Jones moved to Wicker Park from Los Angeles last November. Though she hasn't called the neighborhood home for very long, she said she felt it would be "wrong" not to help clean up.
Jonathan Zuluaga, another neighbor, started cleaning around 6:30 a.m. He said he was "inspired" to see so many strangers helping.
"No one was organizing the groups, people felt like they had a duty to the neighborhood and to the businesses," he said. "I felt like cleaning up was the little I could do and it reminds me that there are still people that care about our city and our communities."
Ami and Jay Patel took to Division Street around 10 a.m. on Monday with a dust pan and broom.
By then, most businesses' immediate needs had been met, so the Patels spent the morning sweeping broken glass off sidewalks. They quickly filled nearly a dozen pans.
"People have dogs and kids and stuff, and there's glass on the sidewalks," Jay Patel said.
The Patels were joined by friend Kinjal Bhatt, who moved to Wicker Park from River North seven months ago. She said she had trouble sleeping Sunday night.
"A lot of these small businesses are already struggling," she said. "It's just heartbreaking. And it takes away from all the protests."
By noon, most of Wicker Park had been cleaned, but that didn't stop neighbors who had time on their hands to help other neighborhoods.
Grace Park said she planned to head up to Logan Square to see if any business owners there were in need.
"I didn't make it out to the protests. I wasn't brave enough," she said. "[I want to be] out in person and try to help."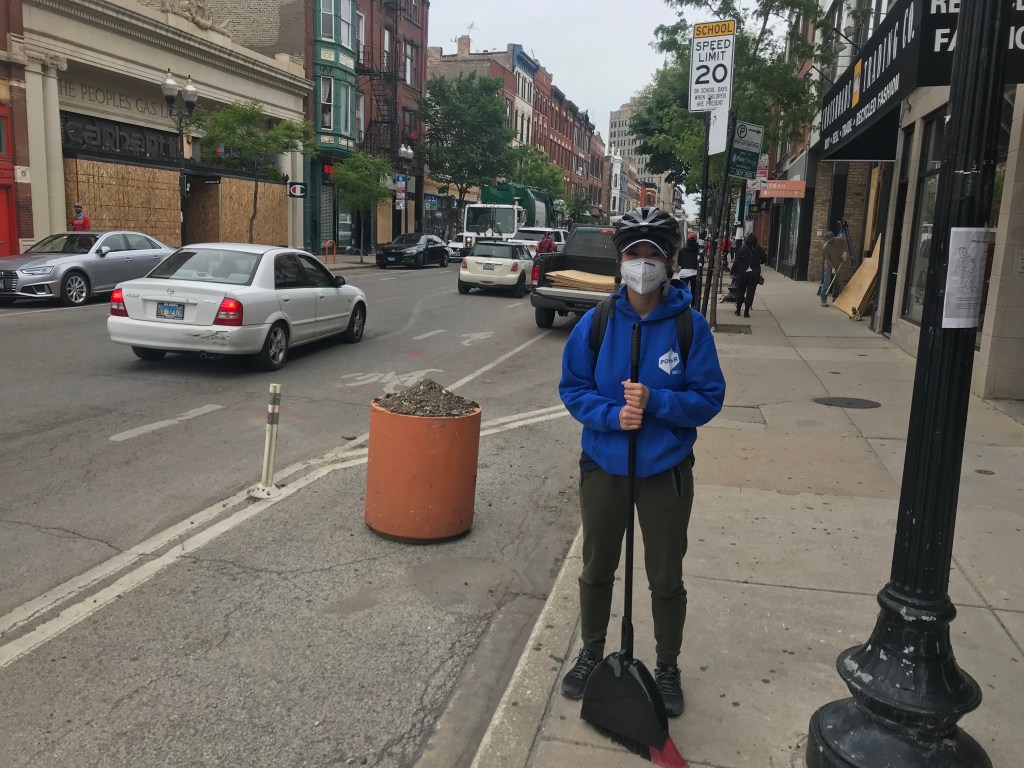 Washington Heights resident Armand Grant stood outside Insomnia Cookies on Milwaukee Avenue with a sign, "help clean everywhere." His friend Hannah Staple, who lives in the suburbs, joined him.
The pair spent the afternoon talking with several groups of Wicker Park neighbors who asked them where else they should go to help with cleanup efforts.
"We're not protesting, we're just trying to shed light," Grant said. "Lots of people are asking us where to go. … This has sparked a lot of positive conversations."
Multiple cleanup efforts are also underway on the South and West sides of the city.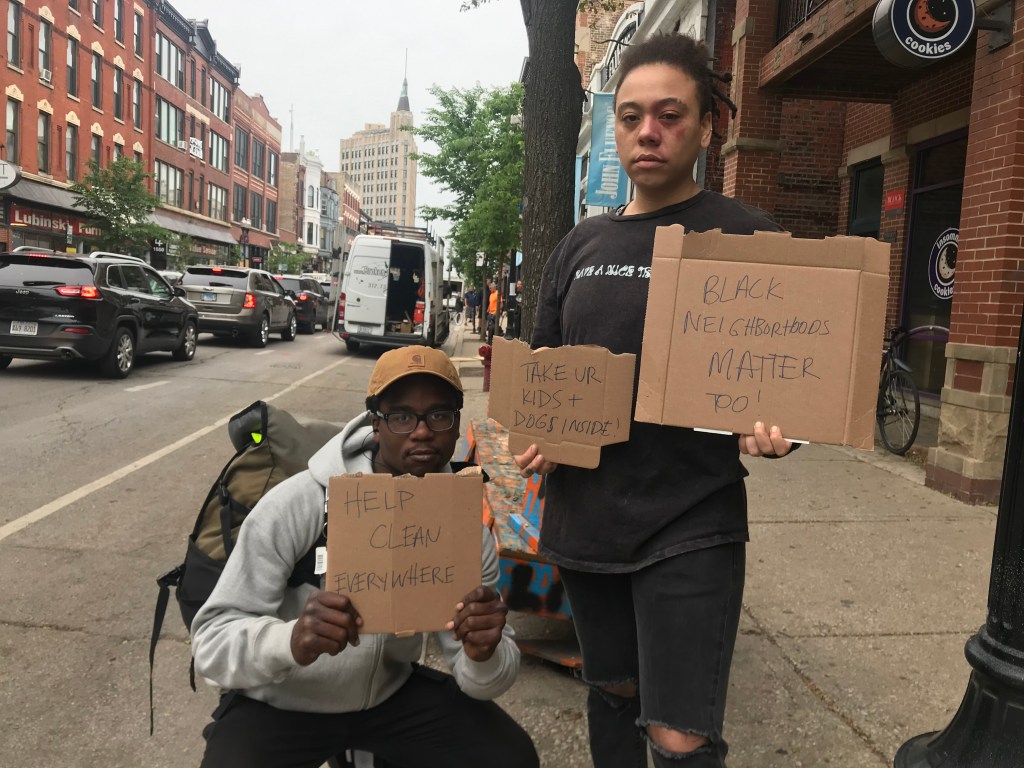 By 3 p.m., an additional 50 volunteers showed up at the 1st Ward office, 1958 N. Milwaukee Ave., to try to help Ald. Daniel La Spata (1st) with his cleanup efforts.
But by then, La Spata said, other neighbors had already done the bulk of the work needed to repair and rebuild.
In the event that more looting occurs, La Spata said volunteers can grab cleaning tools from his office at 8 a.m. Tuesday.
'It Can All Be Replaced, And No One Was Hurt.'
Abdulla Saleh's family owns Division Street Liquors, 1759 W. Division St. Originally from Yemen, the family has run the store since 1992, he said.
Looters targeted the store on Saturday, breaking in and stealing dozens of bottles of top-shelf cognac, such as Hennessy and Remy Martin.
On Sunday, the family boarded up their glass doors and windows and hung signs in the windows that said, "Trespass and you will get shot."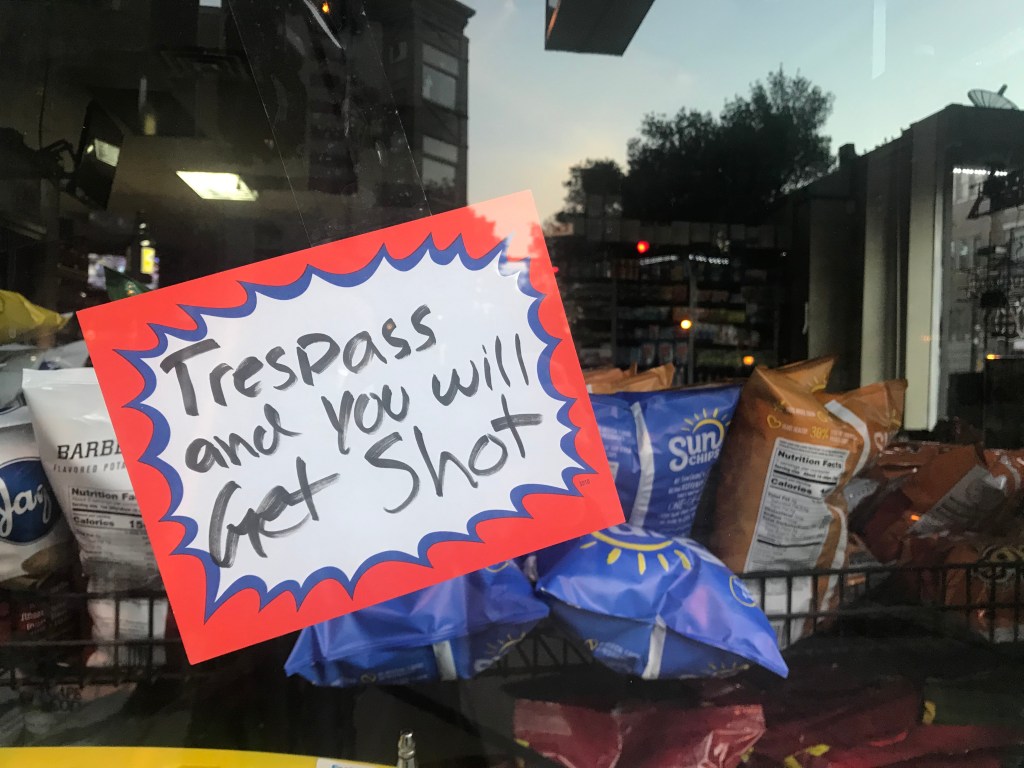 Later that night, Saleh said, the family watched security footage of potential looters stopping at their shop, reading the signs, and walking away.
"We weren't hit that bad," Saleh said. "It's not really a big deal."
A few doors away from Division Street Liquors, shop owner Alexandra Marks woke up at 2:30 a.m. Monday to watch live footage of her namesake jewelry store being ransacked.
A group of five to six women broke the glass door and stole every piece of jewelry in sight, including some displays. They also cut cables and caused electrical damage, which Marks said will be expensive to fix.
Like many retail shop owners in Chicago, Marks had looked forward to reopening her shop this week as Chicago moved into Phase 3 of Gov. JB Pritzker's reopening plan. Marks opened her store two years ago and employs four women and provides them with health insurance.
Marks said she supports the protests and hopes some good will come from the looting of her store.
"It can all be replaced, and no one was hurt," she said. "If this wakes up people and makes change."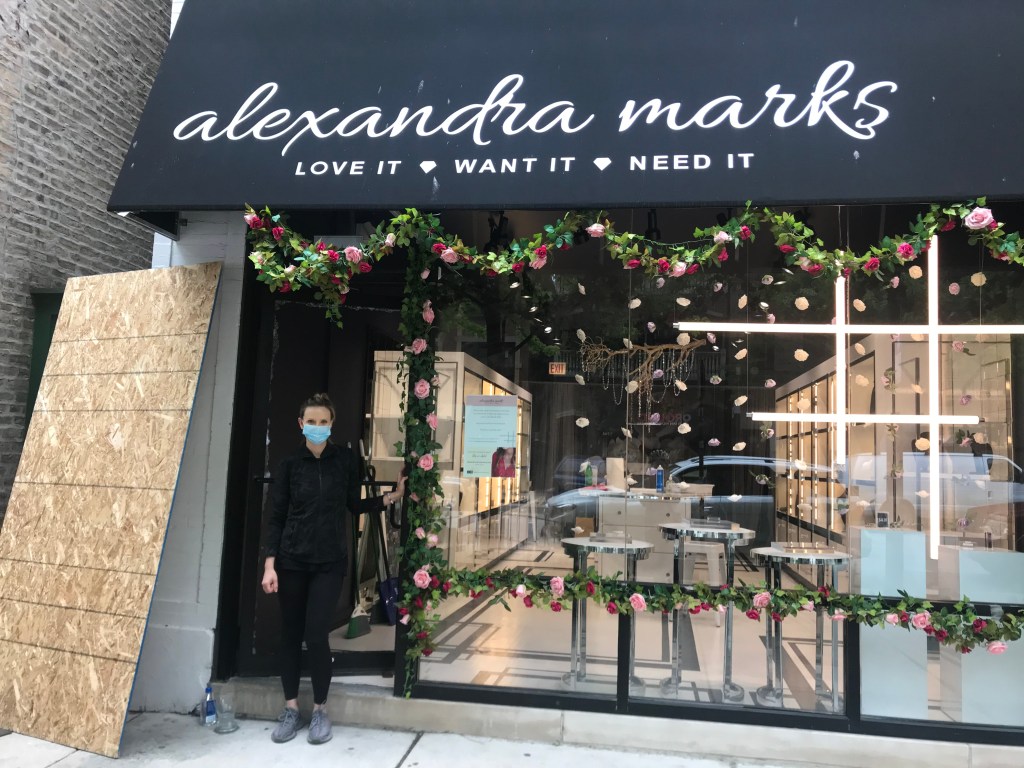 But she's worried about when she'll be able to reopen.
"It's a weird feeling. You're so sympathetic to what's going on, but someone violates your business. I understand why people are angry. I'm angry. I just don't feel it's the answer," she said. "Coming off COVID … Wednesday was a big day for us. I have a family to support, too."
On Sunday, Ald. Brian Hopkins (2nd) distinguished the looting from groups of peaceful protesters who marched up and down Milwaukee Avenue. People looting were moving in smaller groups and using protesters as a "shield," Hopkins said. 
Ald. Daniel La Spata (1st) agreed. When the protests ended, looters came out into the streets, he said.
"I think of them as two very clearly distinct things," La Spata said. "We need to make sure … the real message that needs to be heard around racial justice and police accountability reform doesn't get drowned out by the violence we've seen over the last couple of days."
Business Owners: Don't Call 911 If It's Not An Emergency
Mayor Lori Lightfoot said on Monday about 65,000 calls came through the city's emergency 911 call line the day before.
Neighborhood chambers of commerce are helping to alleviate this burden.
Wicker Park and Bucktown business owners who have been looted and are not presently in danger should not call 911.
Instead, they should email info@wickerparkbucktown.com and describe the looting and their cleanup needs, Maass said.
The 911 line should be reserved for emergencies only, La Spata said. If you're witnessing a looting in real time, call 911, he said. But if you're trying to report a past event — in other words, you are not watching a potentially life-threatening situation unfold — submit reports via 311.
The chamber is also working on expanding its existing facade rebate program to include boarding services for applicable businesses, Maass said. Learn more here.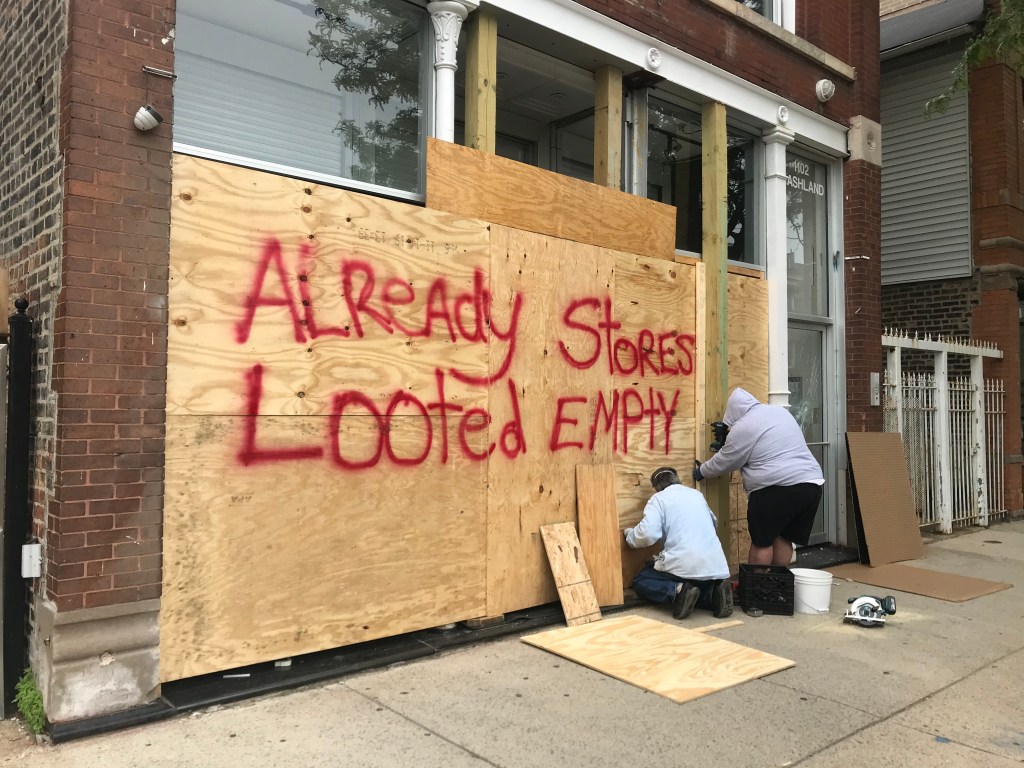 Subscribe to Block Club Chicago. Every dime we make funds reporting from Chicago's neighborhoods.
Already subscribe? Click here to support Block Club with a tax-deductible donation.