LOGAN SQUARE — When the wave of theft and destruction started to hit Logan Square on Sunday night, prolific restaurateur Esam Hani stationed himself on the Milwaukee Avenue block where he's built his restaurant/bar/liquor store empire.
Hani recruited about 10 friends, family members and employees to help him stand guard in the 2700 block of North Milwaukee Avenue to prevent people from ransacking his businesses. He said he and his group stood on the block from 4:30 p.m. until about 2 a.m., warning people with armfuls of stolen goods headed in their direction to stay away.
Hani also parked his van on the sidewalk in front of one of his businesses, Red Star Liquor at 2725 N. Milwaukee Ave., to prevent people from breaking in.
It apparently worked. None of Hani's businesses were damaged or vandalized Sunday.
"It's our neighborhood," Hani said. "Our businesses have been there starting 30 years ago so it's important we protect what we work hard for. I believe in Black Lives Matter. I believe in peaceful protest. I don't believe in theft. I think it's two different [groups] of people out there doing this."
Protesters staged peaceful demonstrations throughout the day Sunday, with people marching and chanting in honor of George Floyd, a Black man killed by police in Minneapolis. But separate groups of people used the weekend as an opportunity to steal, smash store windows and burn down buildings, authorities said.
The Loop and River North bore the brunt of the damage at first, but after city officials shut down the Downtown area, destruction and thefts spread to neighborhoods across Chicago.
Several stores throughout Logan Square were ransacked, including the Foot Locker, an AT&T store and the GAP Outlet at Milwaukee, Diversey and Kimball avenues.
On Monday, several shops along Milwaukee Avenue were being boarded up. Some had "Black Lives Matter" signs posted.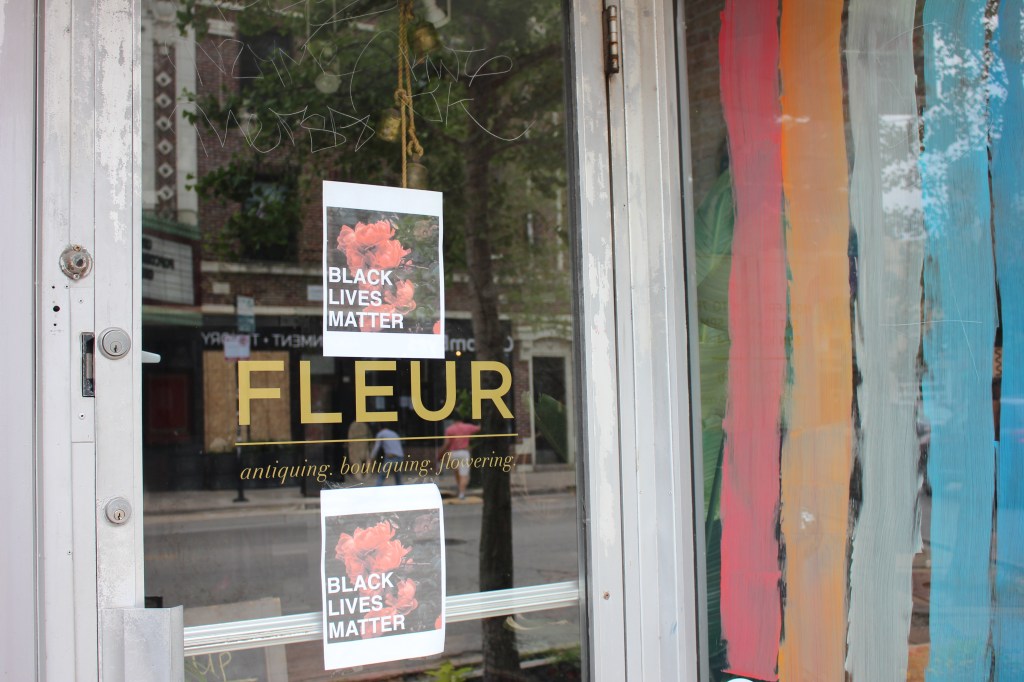 Hani said while he was stationed on the Logan Square block, he saw groups of people stealing from nearby businesses, including Foot Locker.
As the groups got closer, Hani and his group yelled at them.
"We said, 'Come on, try it, try it,'" he said. "They didn't want confrontation. They just wanted to steal. They wanted an easy steal. If there was a presence of people there, they would not come there."
Hani opened his first business on the block, Red Star Liquor, in 1991. He has since expanded that business and opened six others: The Old Plank, Saba, Café Con Leche, De Noche Mexicana, Harding Tavern and The Walk-In.
In January, Hani said he was planning on opening an eighth business on the block, a late-night hot dog joint.
Hani has lived in Logan Square for years. He said he and other neighborhood business owners have "worked hard for what we've earned."
"We don't want to lose it overnight because of some vandalism and thieves," he said.
Hani put up more barriers around his establishments Monday morning. He said he plans to stand guard on the block again Monday night in case the theft spree continues.
"You have to protect what's yours. That's all you have to do," he said.
Subscribe to Block Club Chicago. Every dime we make funds reporting from Chicago's neighborhoods.
Already subscribe? Click here to support Block Club with a tax-deductible donation.