LINCOLN SQUARE — The artist behind "Our Tiny Guide to Chicago's Best Music Culture Spots" is donating its proceeds to help record stores and venues hit hard by the shutdown.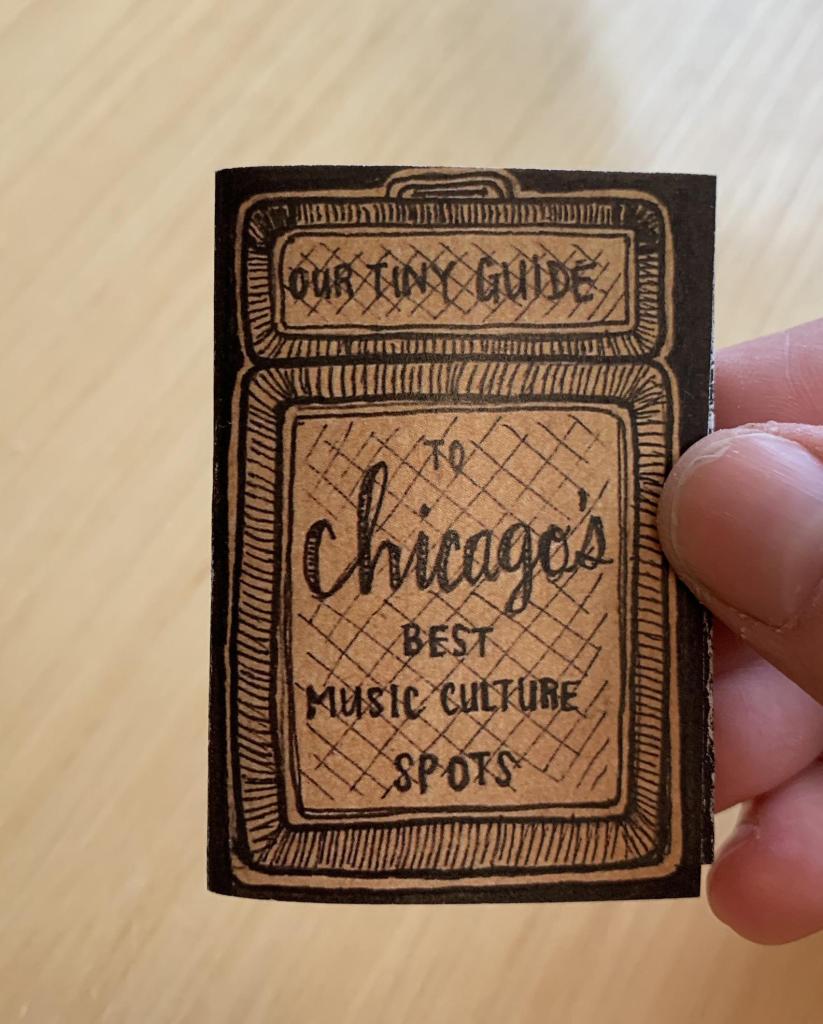 Artist Maura Walsh started selling her hand-illustrated guide last year as a way to spotlight places like The Hideout, 1354 W. Wabansia Ave., Laurie's Planet of Sound, 4639 N. Lincoln Ave., and Old Town School of Folk, 4544 N. Lincoln Ave. 
The tiny book has been so popular, Walsh is on her third printing. As an avid music fan, she decided to reach out to venues featured in her book to ask if they would accept donations from its sales. 
Walsh announced her fundraising effort May 19 and raised more than $10,000 by Thursday. Her tiny book costs $20, but Walsh has a pay-what-you-can option on her Etsy store. Some people have paid more than $100 for it, she said.
"Concerts are such a big part of my lifestyle," Walsh said. "Last year my boyfriend and I went to 53 shows. That's not going to happen this year, which is really sad. It's scary to think we could really lose a lot of them."
Walsh is selling a larger art print version of the tiny book, and those proceeds will benefit the venues, as well.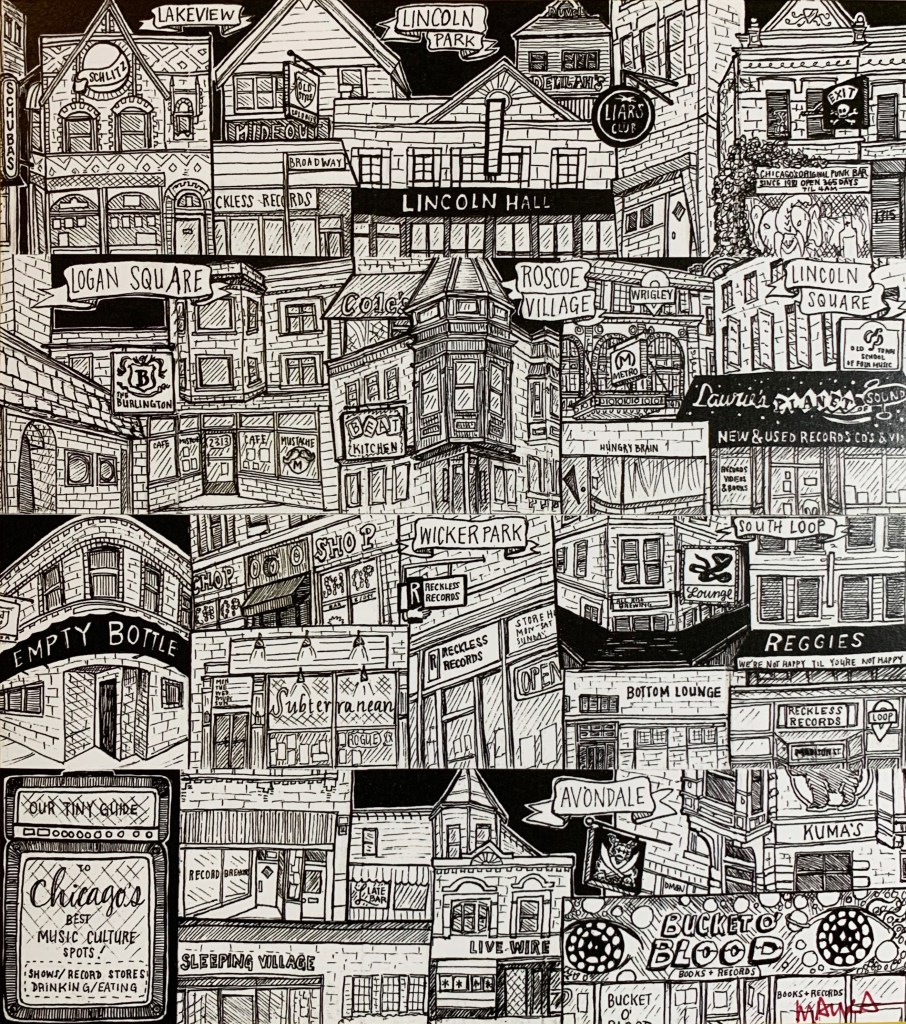 Customers can add a note when they buy the tiny book or a print to have their entire purchase go toward a specific venue. Purchases without a note will be divided equally among the 30 venues and record stores, Walsh said.
"You look at it and it's so small and detailed. It's always been a thing of wonder to me she drew it by hand," said John Laurie, Laurie's owner. "And now she's helping raise money for us. She's the best and we love her."
Sales at the record store have slowed with the nearby Davis Theater not screening films, restaurants not being open for sit-down dining and the Old Town School not hosting live shows and classes. 
"Over the years Old Town has kept our bluegrass record section thriving thanks to teachers and students coming in after classes to shop," Laurie said. 
Laurie's landlord has allowed him to only pay half his normal rent to compensate for the slow business. Online sales and now this fundraiser are important in helping the record store make it through the pandemic, he said.
"The outpouring of support for venues like ours is a perfect reminder that Chicago really cares for each other," said Old Town spokesman Dave Zibell. "They don't want to lose the city's vital music culture." 
Hideout owner Tim Tuten bought two mini guides and has one sitting on his work desk. He said the book has taken on new significance to him as a historic snapshot Chicago's music scene before the global pandemic.  
"This COVID thing is causing longtime jewels of Chicago like the California Clipper to close down for good," Tuten said. "I don't know when we'll be able to got back to the old days when we had sold-out events with lots of people enjoying a show in a small space."
Tuten, who is co-chair of the Chicago Independent Venue League, was overwhelmed by Walsh's generosity while venues like his try to keep paying their bills without being able to host in-person shows. 
"It's a tiny, matchbook-sized book, but she's sending a very powerful message that small grassroots fundraising is important, too," Tuten said. "Everyone is doing their part to help, and no matter how small the contribution it all adds up to something big. That means the world to us."
Gov. JB Pritzker's plan for reopening Illinois says the Chicago area won't be able to reopen theaters, bars and similar businesses until the area enters Phase 4. Even then, gatherings will still be limited to 50 people or fewer, and businesses that reopen would have capacity limits.
Large gatherings, including concerts, won't be permitted until Phase 5, which won't happen until there's a vaccine, widespread treatment for COVID-19 or no new cases at all — which experts predict is months away.
Indie venues owners are asking fans to take to social media and use the phrase "Save our Stages" (#saveourstages) in posts and to call elected officials and emphasize venues are invaluable economic drivers and cultural institutions.
The venues benefitting from Walsh's fundraiser:
Beat Kitchen
Bottom Lounge
Bucket o' Blood
Burlington
Café Mustache
Chop Shop
Cobra Lounge
Cole's
Delilah's
DMEN Tap
Empty Bottle
Exit
Hideout
Hungry Brain
Kuma's Corner
Late Bar
Laurie's Planet of Sound
Liar's Club
Lincoln Hall
Live Wire Lounge
Metro
Old Town School of Folk Music
Reckless Records
Record Breakers
Reggie's
Schubas Tavern
Sleeping Village
Subterranean
RELATED
• California Clipper, Humboldt Park Lounge Since 1937, Closing Permanently
• This Very Tiny Guide To Chicago's Music Scene Celebrates City's Indie Record Stores And Venues
• First To Close, Last To Open: Will Chicago's Independent Music Venues Survive The Coronavirus?
Block Club Chicago's coronavirus coverage is free for all readers. Block Club is an independent, 501(c)(3), journalist-run newsroom.
Subscribe to Block Club Chicago. Every dime we make funds reporting from Chicago's neighborhoods.
Already subscribe? Click here to support Block Club with a tax-deductible donation.