AUBURN GRESHAM — It was nearly 5 a.m. when Barbie Jones got the call that her dance studio's building was on fire.
The reality of the situation didn't set in immediately. MBM Dance Company, a second home to her and her students, sits next door to Vincennes Food Mart at 400 W. 79th St. in Auburn Gresham, and it was the food mart on fire, she was told.
But Jones soon saw for herself the May 19 blaze destroyed the entire building, including her studio.
The immediate shock and devastation were bad enough, but then she had to wonder: How would she explain this to the kids? Where would they go now?
"They were so hurt," Jones said. "The studio was like another home for a lot of them. They did homework there, their laundry … this was their safe place. And now it's gone."
Related: How One Family Escaped The Fire That Destroyed Auburn Gresham Food Mart: 'Dad, Somebody's Stuff Must Be On Fire'
Jones started MBM Dance Company five years ago and moved her studio into the building in 2016. For her, the location was the draw.
"I chose it because I wanted my kids to know that I was going to be right here, right in the neighborhood. It was near all the bus stops, and the barber shop was right there next to the food mart," said Jones, who traveled from her home in the south suburbs to Auburn Gresham seven days a week. "It was the perfect place."
Jones trains more than 50 dancers, ages 3 to 21. Former students have become coaches themselves, a point of pride for the Simeon Career Academy alumna. The group has danced at events in and around the city and is well known for performing show-stopping routines at the Bud Billiken Parade.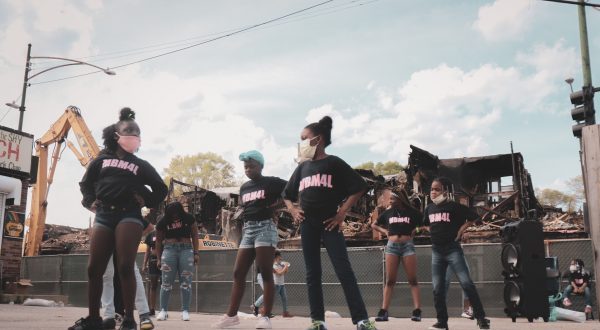 When the early morning call about the fire came from Ald. David Moore (17th), Jones was still asleep, her fiancé snoring peacefully next to her.
"Now, I wasn't worried because if you know David Moore, he's up all day. I thought he was calling to wish me a happy birthday at that hour just to be extra," Jones said.
"But he told me that the store is burned down next door, but that our unit wasn't touched or anything 'We're just going to evacuate everyone and contain the fire, so don't worry,' he said. So I thanked him for telling me, hung up and rolled back over."
It took Jones several minutes to process the news. But soon, she and her fiancé were throwing on clothes and and heading to their car, still under the impression there was nothing to worry about.
"We're cruising down the expressway from Dalton and I can see the bundles of smoke so thick I can't see anything. I can't go down 79th Street, there's nowhere to park or anything," Jones said. "We pull over to a mini mart nearby, and I see people from the building going to the warming bus. I rush over to the fire marshal to ask him what's going on, and he says, 'The whole building is on fire.'"
That's when she broke down.
When the last of the embers finally flickered out, the devastation left behind was clear in the daylight. Every banner, every uniform, every newspaper clipping had been reduced to ash, even the petty cash Jones kept on hand to cover families when they couldn't afford the monthly membership dues.
Jones was able to recover one trophy covered in soot.
"I'm never washing that off. It's symbolic," she said.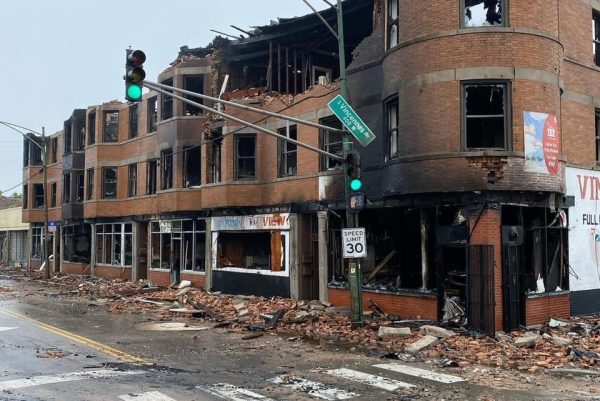 But the community that raised Jones is helping her pick up the pieces. Last weekend, a drive-by fundraiser hosted by Moore netted the troupe $300. The GoFundMe campaign Jones launched the day after the fire is now at a little over $2,000. Another fundraiser, sponsored by Wing Street, 850 W. 63rd St., is planned for Monday.
And Jones has set her sights on a higher goal: She wants to raise $25,000 to make a down payment on another building near the Food Mart, in hopes of converting it into a youth center.
"I was told it was going for $300,000, and then they told us that we'd have to raise about $450,000 for renovations," Jones said. "And they're saying this like it's impossible, like it's out of reach. And I'm like 'No, we can raise this money. It's going to happen.'
"Whenever I talk to the kids in group chat, they tell me how much they miss the studio, how God took the studio away. And I tell them, 'No, God didn't take it away. He's moving us up. He's giving us something better.' That's what I believe."
Do stories like this matter to you? Subscribe to Block Club Chicago. Every dime we make funds reporting from Chicago's neighborhoods.
Already subscribe? Click here to support Block Club with a tax-deductible donation