HUMBOLDT PARK — The California Clipper's landlord, Gino Battaglia, said he's planning to take bar owner Brendan Sodikoff to court for skipping out on rent before abruptly shutting down the beloved bar and neighboring coffee shop C.C. Ferns.
Battaglia said he was willing to accept reduced rent or tack rent onto the back end of the lease to keep The California Clipper and C.C. Ferns as tenants, but Sodikoff ignored the offers, stopped paying rent and then shut down both businesses last week.
Block Club Chicago wasn't able to reach Sodikoff for comment despite multiple attempts. But in an Eater Chicago article Thursday, Sodikoff suggested Battaglia was to blame for the bar's closure. Battaglia said that's not true.
"[Sodikoff] just wanted out of the lease. Period," Battaglia said.
Now, Battaglia said there's nothing left to do but battle it out in court.
"It's not about the money. It's a matter of principle," he said.
Sodikoff on why The California Clipper closed
Known for its speakeasy, red-lit vibes and live music, The California Clipper at 1002 N. California Ave. dates back to the 1930s and has been a local favorite for decades.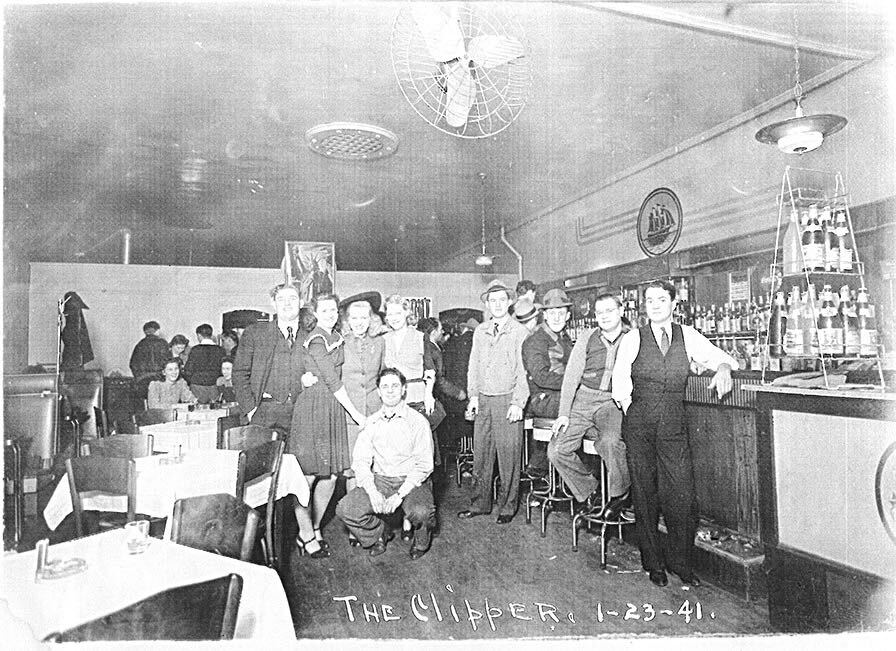 Sodikoff — the restaurateur behind uber-popular spots Green Street Smoked Meats, Au Cheval and Gilt Bar — took over the bar in 2014. He made some renovations, but kept cocktails and live music the focus. He opened C.C. Ferns alongside the bar.
On Thursday, Eater broke the news that Sodikoff would be closing The California Clipper and C.C. Ferns for good due to the coronavirus shutdown, which is ravaging bars and restaurants across Chicago.
Sodikoff told Eater Chicago he wasn't able to reach an agreement with Battaglia that would enable him to keep the bar and coffee shop open.
More broadly, he also said landlords do not understand the gravity of the coronavirus shutdown and how hard it's hit those in the hospitality industry, who are already operating with razor-thin margins.
After this story published, Sodikoff told Block Club "unfortunately it's in the best health interest of the public to keep taverns such as the Clipper closed at this time." 
"It's a huge sacrifice but a necessary one to save our family, friends and their loved ones. With no clear horizon to the pandemic in sight and stacking expenses there are few options," he said in an email.
But Battaglia, Sodikoff's landlord, said he tried to help save the businesses. He said he made it clear from the start that he was willing to work out a deal with Sodikoff.
Battaglia owns about 30 buildings across Chicago, including several at the Humboldt Park intersection, and has multiple restaurant and bar tenants. He and his wife have also owned the Downtown blues bar Blue Chicago, 536 N. Clark St. for 35 years.
Battaglia said he's been offering rent reductions and other concessions to his tenants amid the pandemic, but Sodikoff simply didn't take him up on the offer.
"I'm interested in keeping all of our tenants in business," Battaglia said.
Jason Vincent, owner of Chef's Special Cocktail Bar 2165 N. Western Ave., is one of Battaglia's restaurant tenants.
Vincent, who also owns the restaurant Giant at 3209 W. Armitage Ave., said he's been able to pay rent at Chef's Special amid the pandemic, so he hasn't had to ask for a reduction or freeze in rent. But he described Battaglia as a "great" landlord.
Vincent said when construction delays and building problems pushed back Chef's Special's opening date, Battaglia gave him three months of free rent. That gesture made it possible for the restaurant to open.
"He couldn't have done better. There's nothing more he could've done," he said.
Vincent added that he recently held a meeting for a group of Chicago chefs at Chef's Special to address the challenges facing the restaurant industry right now. Battaglia showed up and addressed the group, advising restaurant and bar owners to ask their landlords for reductions in rent should they need that.
"I can honestly say that part of my criteria looking for new restaurants, if that ever happens again, is to look at a building that Gino owns," Vincent said.
'Using this as a convenient excuse to get out'
Battaglia said he received a letter from Sodikoff in early April. In it, Sodikoff stated that he wouldn't be paying rent in April or May and there was no guarantee he'd be paying the following months due to the pandemic, according to Battaglia.
According to Battaglia and an email shared with Block Club, Battaliga's lawyer asked Sodikoff for his financial documents so Battaglia and Sodikoff could reach an agreement on a rent reduction or some other arrangement to ensure The California Clipper and C.C. Ferns remained tenants.
In the email, dated May 20, Battaglia's lawyer noted that it was the third time that he had tried to get financial documents from Sodikoff's lawyer to help establish what rent Sodikoff could afford to pay.
"I advised you that Gino has been making deals with his tenants all over the place. However, all of those deals have been balanced and have been based on full disclosure," Battaglia's attorney wrote in the email.
"You immediately avoided discussion of a 'look at the books' in our conversation and immediately went to a discussion of Brendan wants out, the email continues. "If a proposal looks like Brendan using this as a convenient excuse to get out, then that's how it will be treated."
Sodikoff ended up breaking his lease and abruptly shutting down The California Clipper and C.C. Ferns last week, Battaglia said.
Battaglia said the move out came as a "total surprise" to him. He said the neighbors called him to let him know Sodikoff was moving his furniture out.
Battaglia said he understands the unique challenges bar and restaurants owners are facing right now and he sympathizes with them. He noted that he's owned a bar for 35 years and his work in the restaurant/bar industry stretches back even further than that, about 50 years.
"My wife and I, we work very hard with the club and we have some good tenants and we understand the hospitality industry because that's what we're in and we know the struggles they're going through. … I used to own a restaurant in my 20s, working 80 hours a week," he said.
Battaglia said when it comes to struggling tenants, "We work with people. That's what we do."
"[Sodikoff] just wanted out for whatever reason," he said.
Asked why he didn't take Battaglia up on his offer to help, Sodikoff said in an email, "Why would a business shutter if it had adequate support, financial reserves and a clear path to recovery?"
"With no income, Insurance companies not honoring business interruption claims and no clear opening date. Business owners are faced with a bleak reality," he said.
Sodikoff added that he doesn't think it's "any landlord's responsibility to save a struggling business."
"I'm sure Gino did his best," he said. "This pandemic is shuttering thousands of businesses like the Clipper by the day."
Since news broke of The California Clipper's closure, Battaglia said he's been fielding many calls from people clamoring to buy the 1930s-era bar.
"I don't understand why Brendan did not place the Clipper on the market. It's such a treasure," he said.
Sodikoff told Eater, however, that Hogsalt retains the rights to the bar's name and could use it again in the future.
Block Club Chicago's coronavirus coverage is free for all readers. Block Club is an independent, 501(c)(3), journalist-run newsroom.
Subscribe to Block Club Chicago. Every dime we make funds reporting from Chicago's neighborhoods.
Already subscribe? Click here to support Block Club with a tax-deductible donation.