ALBANY PARK — The Albany Park church defiantly hosting in-person services and suing Gov. JB Pritzker over his stay at home order is now asking the U.S. Supreme Court to allow church services to go forward in time for a Christian holiday on Sunday.
Elim Romanian Pentecostal at 4850 N. Bernard St. — along with a church in suburban Niles — filed the emergency injunction Wednesday.  
"No church or pastor should be treated by the heavy hand of government the way these Romanian churches and pastors are being treated," Mathew Staver, an attorney representing the churches, said in a statement. 
Lower courts already have rebuffed the churches' attempts to invalidate Pritzker's order, which bans gatherings of more than 10 people and effectively sidelines in-person church services.
U.S. District Judge Robert W. Gettleman threw out the lawsuit May 13. A three-judge panel in the Seventh Circuit Court of Appeals also ruled against the churches May 16, but allowed them to expedite their appeal. Oral arguments are scheduled for June.
But the churches are appealing to the high court for permission to hold services in time for this Sunday, which is the Christian holy day of Pentecost. The churches also want to continue congregating as their case proceeds through the courts. 
The appeal is addressed to Justice Brett M. Kavanaugh, who oversees appeals for the Seventh Circuit. Pritzker said the state Attorney General's Office would file a response by the court's Thursday night deadline.
"Multiple federal judges have reviewed and upheld the approach that we've taken with our executive orders with regard to houses of worships," Pritzker said at an unrelated press conference. "These courts have recognized there's a public health crisis that's ongoing and the need to take steps to protect public health, as we have, including as related to religious services."
Also Thursday, the Illinois Department of Public Health issued new guidance for faith leaders as the state and Chicago moves into the next phase of the reopening plan.
State leaders strongly recommend that places of worship continue remote services, which are the only way to guarantee no new sources of infection.
Health officials also urge people to wear face coverings and not have singing or "group recitation, which significantly increases the risk of transmission of the virus by projecting respiratory droplets."
Indoor gatherings still are limited to fewer than 10 people.
"The main point of contention to us isn't being addressed in Pritzker's latest announcement," said Cristian Ionescu, pastor at Elim Romanian. "They're still limiting us to 10 people. It's absurd and shows a complete lack of understanding of what we're asking for."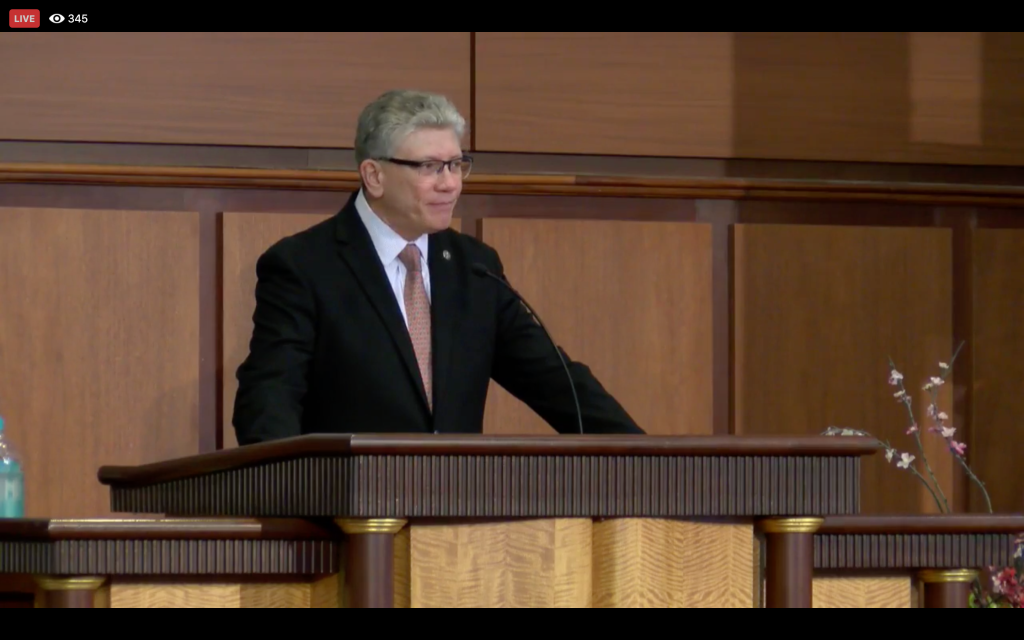 Elim Romanian is among at least three city churches flouting the stay at home order and hosting in-person services, prompting Mayor Lori Lightfoot and city officials to try various strategies to get the pastors to stop.
The mayor, local aldermen and other church leaders have tried to persuade the pastors to only hold virtual services, as most churches have done. Police blocked parking near the churches earlier this month. After the mayor pledged fines, police cited each pastor for disorderly conduct last week.
Over the weekend, the head of city's health department pledged to increase penalties for the three pastors.
Dr. Allison Arwady, commissioner of the Chicago Department of Public Health, wrote in separate letters that any continued operation of the three churches would be declared a public health nuisance. Arwady said state law gives her the authority to close and make off limits any establishment to prevent the spread of contagious disease.
That prompted the churches to seek the injunction with the Supreme Court, Staver said.
Church pastors and their attorneys have argued Pritzker's order unconstitutionally restricts religious worship and unfairly puts churches in a different category from essential businesses allowed to operate. Church pastors also have argued they have implemented social distancing and other safety precautions in accordance with the executive order. 
Ionescu, for example, has provided his congregants with masks, gloves and hand sanitizer, and put caution tape on the pews to ensure social distancing. He said he's also limited the number of people who can attend the services to 110 people and has been having his church professionally cleaned. 
Lower courts have rejected this reasoning, saying there is no evidence Pritzker's order is specifically targeting churches for unique restrictions and enforcement.
The courts also have sided with the governor that it is necessary to prevent large gatherings to slow the spread of a highly contagious disease during a global pandemic. Group activities such as church services, the judges have said, pose grave public health risks because of the number of people involved and the amount of time they spend in close proximity to each other. 
In his ruling, Gettleman noted a Washington State church where a choir practiced social distancing and used hand sanitizer when they gathered for a rehearsal. Still, 45 of the 60 members contracted COVID-19. Two of them died.
Arwady also mentioned a rural Arkansas church whose members became infected with COVID-19 despite social distancing efforts. Three people died in that case.
Regardless of the injunction's outcome, Ionescu told Block Club he will keep hosting in-person services. 
"I'm still in disbelief we were cited with 'disorderly conduct' after conducting what I would way say is one of the most orderly services in the country," Ionescu said. 
Ald. Rossana Rodriguez (33rd) learned of the church's latest court filing Thursday and said as far as she knows the city would continue issuing citations for each violation of the stay at home order. 
Former mayoral candidate and potential U.S. Senate candidate Willie Wilson attended in-person services at Metro Praise International, 5405 W. Diversey Ave., another church that has ignored the stay at home order this month.
During the service, he presented Metro Praise with a $5,000 check to cover any fines the city imposes on that church. Wilson had previously pledged to cover any fines for the churches defying the order. 
Ionescu said he appreciated Wilson's gesture but would not accept any money to cover any fines. He previously told Block Club that members of his church had already raised enough to cover them if needed.
"But more importantly, I don't want to pay the fines if I can fight when I go to the hearing date that was on the citation," Ionescu said. "It's the principle of it. These citations are not right and shows the governor and mayor's incompetence and lack of interest in working with us."
This story has been updated.
RELATED
City Public Health Chief Orders Churches To Stop Hosting In-Person Services, But Church Leaders Undeterred
'Dangerous And Foolish': Lightfoot Rebuffs Trump's Demand That Churches Reopen During Pandemic
Chicago Churches Get Disorderly Conduct Citations After Hosting In-Person Services During Stay At Home Order
Willie Wilson Attends In-Person Church Service In Ravenswood, Defying Stay At Home Order
Albany Park Church Continues In-Person Services; Mayor Promises Fines, Bans Parking
How Do We Reopen Churches, Mosques, Temples? City Making Plans For Safe Religious Services
Judge Tosses Lawsuit From Albany Park Church Challenging Stay At Home Order
Albany Park Church Holds Sunday Services In Defiance Of Stay At Home Order: 'I'm Going To Keep Hosting Mass'
Belmont Cragin Church Brings Outsiders To Illegal Service As Mostly Latino 
Neighborhood Battles Thousands Of COVID-19 Cases
Belmont Cragin Neighbors To Protest Church That Held Illegal Services
Block Club Chicago's coronavirus coverage is free for all readers. Block Club is an independent, 501(c)(3), journalist-run newsroom.
Subscribe to Block Club Chicago. Every dime we make funds reporting from Chicago's neighborhoods.
Already subscribe? Click here to support Block Club with a tax-deductible donation.