LOGAN SQUARE — Kate Vrijmoet already was on high alert weeks before the coronavirus pandemic gripped Chicago.
Vrijmoet, owner of grab-and-go coffee spot necessary & sufficient in Logan Square, kept hearing from worried friends in Seattle, one of the early epicenters of the virus. She said she remembers thinking, "There's no way it's just going to hit Seattle and not everywhere else."
So she wrote up a detailed plan, outlining what adjustments she'd make to her small business at 3624 W. Wrightwood Ave. should the pandemic hit Chicago. By the time the stay at home order came down, she had already been following safety protocols for about a month.
Perhaps because of that advanced preparation, and because necessary & sufficient is the kind of business that lends itself to social distancing, necessary & sufficient is thriving amid a decidedly dire economic landscape.
Being a new business helped, too. Vrijmoet said she could quickly adapt to the changing conditions because her business is less than a year old and "not in this groove of, 'This is how we do things.'"
"I don't think we're better than anyone else. I just think we were new and we had that advantage," she said.
There are a number of reasons why business is booming at necessary & sufficient coffee: The grab-and-go spot is located in a dense, residential part of Logan Square, it offers coffee and other treats to go, and other competing businesses are shut down right now.
Vrijmoet began implementing safety protocols in February. She stopped allowing customers inside. Employees were required to wear masks and gloves, and wash their hands frequently. Staff took orders from behind a screen and requested permission from customers to run their cards for them. Cash was not accepted. Customers had to wear masks and wait in a socially distant line.
She's continued making changes over the past few weeks. Just recently, Vrijmoet installed an intercom system so employees can better communicate through a screen.
"The yelling at the window is getting old," she said.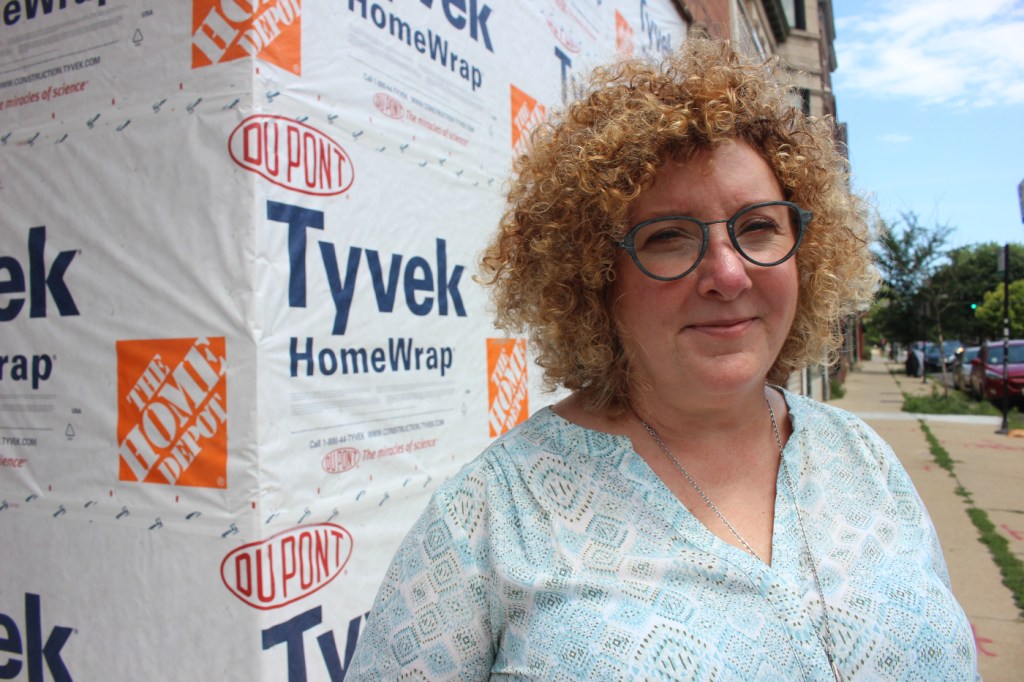 Customers can order online and pickup their orders offers via the Joe Coffee app. They can also grab fresh produce boxes for $35 to fill gaps in between grocery trips. The boxes are currently only available for pickup, though Vrijmoet is aiming to roll out delivery in the coming weeks. Customers can donate boxes, too.
Vrijmoet also launched a program that allows customers to pre-pay for their neighbors' orders.
"As soon as we became cash-less, that leaves out people in the community," Vrijmoet said. "Some people don't have credit."
Vrijmoet opened necessary & sufficient coffee in September of 2019 as a tiny, grab-and-go coffee spot. There's only enough room for a couple people to comfortably stand and sip coffee, and a takeout window in front. Vrijmoet uses the back of the storefront as her art studio.
Vrijmoet said they spent those first few months "hobbling through the winter trying to stay afloat," unsure if the business would survive.
Now, with the influx of business, Vrijmoet said she's in a position to pay back the loans she took out to get her business off the ground. When the weather cooperates, sales are quadruple what they were prior to the pandemic, Vrijmoet said, enabling her to provide employees health benefits and 401k plans.
"We thought it would take me two years to get this place," she said.
Some small businesses in Chicago are being forced to shutter because of the coronavirus shutdown. Many are facing uncertain futures.
"If we want our small businesses to thrive, we have to support them. Many people are hearing that clarion call and taking action," Vrijmoet said.
Vrijmoet said there's still time for other small businesses and neighbors to work together to save Chicago's small business community.
"This is all figure out-able. It may take time but we will through this and come out on the side. We are the change we need to see. It's up to each and every one of us, in small ways. We don't all have to rush out and save the world, but we can do small things that will make a difference."
Block Club Chicago's coronavirus coverage is free for all readers. Block Club is an independent, 501(c)(3), journalist-run newsroom.
Subscribe to Block Club Chicago. Every dime we make funds reporting from Chicago's neighborhoods.
Already subscribe? Click here to support Block Club with a tax-deductible donation.