UNION RIDGE — For more than 30 years, Atlas Comics has been a place Northwest Side comics fans depended on. Customers who discovered it as teens now come with their own children and grandchildren.
That customer loyalty— and an Indiegogo campaign — might just be enough to keep the shop open through the coronavirus pandemic.
Atlas, located at 5251 N. Harlem Ave., started curbside service last week as comics publishers began releasing new titles for the first time in two months — timing that owner John Stageland said he's grateful for.
"Because there was no product coming in, it actually was a good thing. You're not bringing in product that you can't pay for and can't sell," Stageland said.
While good for him, Stageland said his customers, many of them longtime regulars, have been excited to finally get to buy new items.
"They are champing at the bit to get back to the things they know and the routine they had. They've been looking for new stuff," Stageland said.
Stageland, who is 59 and lives in nearby Norwood Park, has collected comics since he was a kid with his older brothers. He opened the store in 1988 near Lawrence and Cumberland Avenues where it remained until 2013. After moving briefly to Jefferson Park, it found its current home later that same year.
Stageland said the shutdown has hit him hard but that it might have been a death blow if he wasn't the only employee. And although he had an "emergency fund" set aside in case he ever needed it, he never imagined a pandemic leading to a shutdown that would go on for months.
"I've been the owner and operator since the beginning. Occasionally I rely on friends if I go on vacation or something like that, but because it's so self contained it hasn't quite been as hard," Stageland said. "I was never thinking of something like this but I always thought of some type of emergency and kept a little emergency fund, but it runs out very quickly. When something is lasting two months and maybe longer, it's a different story."
Despite running low on funds, Stageland said he's continued to pay his rent during the shutdown, realizing his landlord is being effected as well.
"My landlord is the sweetest woman you can imagine and she has her own struggles. She's in the same boat as I am," Stageland said.
However, because of the uncertainty on how long the shutdown would last, Stageland set up an Indiegogo campaign to raise money. It's currently brought in more than $2,000 of a $7,000 goal.
For long-time customers like Anthony Bozzi of Prospect Heights, the Indiegogo campaign is a way for customers to give back to someone who has given a lot over the years and to ensure the store stays open for years to come.
Bozzi, a 48-year-old copywriter, said he has been going to Atlas Comics since he was a teenager because his father owns a transmission shop near the store.
"When I went to see my dad I'd also go to Atlas," Bozzi said, adding that now he takes his nieces, nephews and godchildren to the store. He's also developed a personal relationship with Stageland over the years.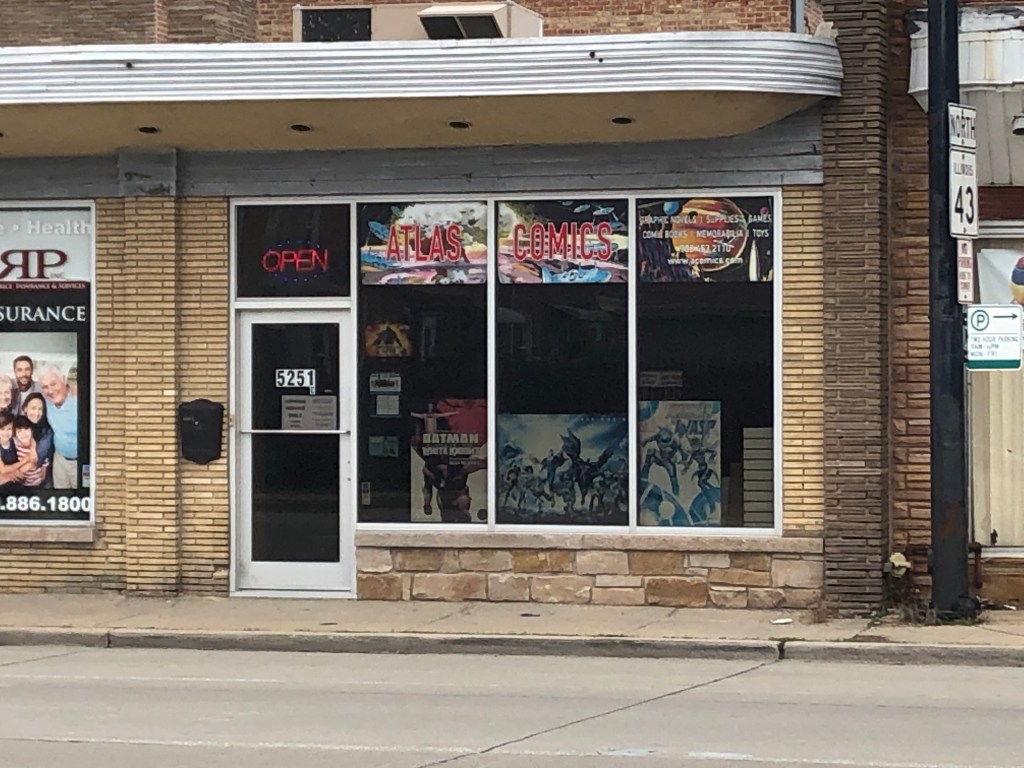 "He's just a great guy. He donates comics at my church's retreat events and at library events in the city and the suburbs. I don't even think he gets business from them, but he still gives with a big heart."
The shutdown has given Stageland time to learn how to make funny videos that he's been posting to the store's Facebook page in an attempt to draw more people to the Indiegogo campaign.
"I started fooling around with it and got some editing software and it's kind of fun," Stageland said.
While the videos were a nice way to pass the time and help his campaign, Stageland said he's really looking forward to seeing his regular customers again in-person once he can fully open.
"We've been in the neighborhood for so long. So many of the people know us and even if they aren't collecting anymore, they come in to reminisce. I've had kids who have grown up and bring their own kids and grandkids."
One of the customers who brings his grandchildren is Tim Flanagan of Elmwood Park, who stopped by on Wednesday to buy some new Batman comics. 
Flanagan, who is in his 50s, said he's been going to Atlas Comics for more than 20 years, and despite the fact that he could get comics digitally, prefers to get the actual comic books to support the store and because he said he's "old school."
Flanagan was unaware of the Indiegogo campaign but was happy to hear the store will survive.
"I've been collecting comics since I was old enough to go to the drug store. I'm really looking forward to bringing my grandkids here as soon as it's open for walk-ins," Flanagan said.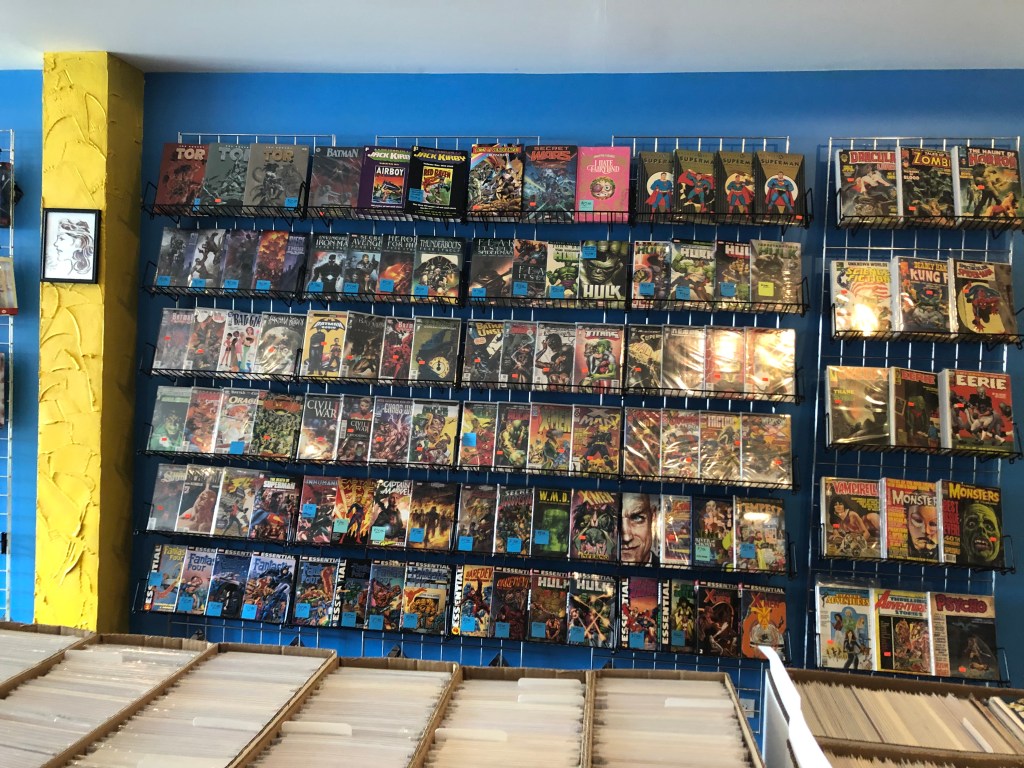 Subscribe to Block Club Chicago. Every dime we make funds reporting from Chicago's neighborhoods.
Already subscribe? Click here to support Block Club with a tax-deductible donation.