SAUGANASH — A campaign to raise money for a group of businesses in Sauganash and Edgebrook by selling raffle tickets ends Sunday night, with two winners to be announced Monday.
The two winners will split over $7,000 worth of gift cards donated by the businesses, but the real winners of the campaign are the businesses themselves. They will split the proceeds of the $10 raffle tickets to help them survive the COVID-19 shutdown.
The fundraiser was inspired by S & T Provisions in Mount Greenwood, which created a similar small business lottery in April, according to Justin Ochonicki, president of nonprofit community group Everyday Edgebrook. 
The campaign, which has 24 participating businesses, required businesses to donate $300 in gift cards to be used in 2021. Thus far, the campaign has raised more than $17,000, with a goal of $30,000 or more.
"We'd at least like to hand over enough to cover rent for the businesses," Ochonicki said. "It's really open-ended. It's something we've never done."
Dakota 94 restaurant at 5304 W. Devon Ave., owned by Kayla and Peter Lardakis, is one of the participating businesses. Kayla Lardakis said it was a "no-brainer."
"It's a really nice thing that they are trying to do and every little bit helps," Lardakis said.
Blake Baum, manager of City's Edge Chicago, a restaurant and bar at 5310 W. Devon Ave., echoed Lardakis.
"On our end it was a no-lose situation. …I don't know what the numbers are, but any little amount helps us," Baum said.
Ochonicki said it's important to help the independent businesses because they are what make Chicago special.
"We love Chicago for its uniqueness, its local businesses, its restaurants, but right now, the way it looks, is it going to be only the big boxes that survive? Is it only the national chain restaurants that are going to survive? I don't think anybody in Chicago wants it to be just that," Ochonicki said.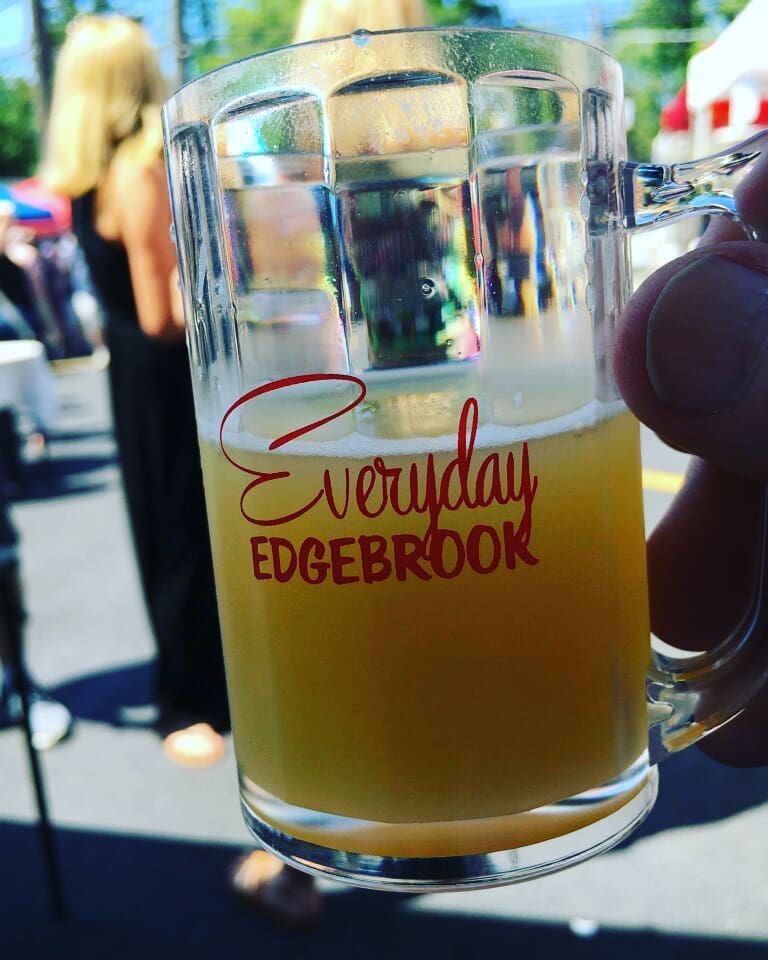 Along with Dakota 94 and City's Edge Chicago, some of the 24 businesses taking part in the relief effort include Alarmist Brewing & Taproom, Bellissima Donna Salon & Spa, Colletti's, Inspired Boutique Edgebrook, My Sister's Closet and Wildwood Tavern.
Edgebrook's main business district is near Devon and Central avenues. Sauganash's main district is centered around Devon and Cicero avenues.
Ochonicki said it wasn't hard to get businesses on board, but some declined because they were not sure if they would survive the shutdown regardless of the relief effort.
"Some did not want to participate because they don't think they are going to make it through this," Ochonicki said. He added that the ones that are part of it are "happy for anything that helps."
He also said most of the participating businesses haven't gotten any money from the government to help them through the crisis.
"One of the main reasons that I wanted to get involved is because I love the underdog and they are suffering really bad. We all know what happened with the federal small business money and how millions were gobbled up by publicly-traded companies," Ochonicki said, adding that now is a perfect time for people to give back to businesses that have supported the community in the past. 
"In our neighborhood we are real passionate about our schools and churches. When someone is fundraising for those, people march into these businesses and ask for money and whenever they can, they are always giving to our community. So now, they need us."
To find out more and to buy tickets to support the businesses, click here.
Block Club Chicago's coronavirus coverage is free for all readers. Block Club is an independent, 501(c)(3), journalist-run newsroom.
Subscribe to Block Club Chicago. Every dime we make funds reporting from Chicago's neighborhoods.
Already subscribe? Click here to support Block Club with a tax-deductible donation.