WICKER PARK — Neighbors and family are mourning the loss of a longtime Wicker Park resident, retired Chicago teacher and historic preservation activist Geraldine "Geri" Baginski.
Baginski died Saturday in a house fire that destroyed her coach house at 2154 W. Potomac Ave. She would have celebrated her 77th birthday Sunday.
As of Saturday, city officials were still investigating the cause of the fire, Ald. Brian Hopkins (2nd) said. Investigators were able to initially determine the fire began around 2:15 a.m. in the kitchen, but that the spark was not caused by the stove or oven, Hopkins said.
Investigators do not believe the fire was suspicious, Chicago Fire Department spokesman Larry Langford said.
The coach house and the adjoining 2-story worker's cottage represented Baginski's childhood home. At 76, she was a "bridge" to an important era of Chicago history, Hopkins said.
"She was a bridge to a lost era when the area was home to the largest Polish population outside of Warsaw, the people that Nelson Algren made famous writing about," he said. "She was a direct connection to that part of the heritage of Wicker Park. … much of what she did was really informed by her desire to keep that part of our shared history alive."
Baginski is survived by her sister Gloria Derengowski, of Niles, nephews Ronald and Michael and 1-year-old grandson Hudson.
A staunch supporter of historic preservation and a regular attendee of monthly Wicker Park Committee meetings, Baginski was known as a someone who always spoke her mind.
No matter the topic, she always had an educated and well-informed opinion, neighbors said.
A devout Catholic, Baginski was also very involved with her church, St. Helen Parish Catholic Church in Ukrainian Village, where she helped with evening masses.
She attended St. Helen's primary school and graduated in 1957 before graduating high school from Holy Family Academy in 1963. Baginski later earned a college degree from DePaul University.
Before Baginski began her career as a Chicago Public Schools teacher she spent time traveling the world, including trips to South America and an extended stay in Pakistan. During part of her teaching career she taught at Wells Community Academy High School, 937 N. Ashland Ave., in West Town.
Fitness was an important part of Baginski's life. She regularly took the North Avenue bus to a health club on Clark Street in the Gold Coast neighborhood where she and a group of friends would exercise, Hopkins said.
In an Our Urban Times obituary Elaine Coorens wrote Baginski's many passions included educating politicians, expressing her opinions to Chicago police and having fun with friends.
"Beyond the world of education, she traveled around the globe for many years," Coorens said.
Leah Root, a board member of Wicker Park Committee, said Baginski was one of the group's longest active members.
"Geri was so full of life," Root said. "She was very active and involved in the community. … She was a former teacher and fought for the historic preservation of Wicker Park. She was always happy to chat and ask about my daughter. … One of the best."
While she didn't always agree with Hopkins' decisions, the alderman said Baginski was adored by everyone in the 2nd Ward office.
"I first met Geri in my first campaign," he said. "What really stands out in my memory, she didn't ask me for my position on historic preservation. She told me hers. And in no uncertain terms. And expected that I would honor that, if I got elected."
He continued, "She could be a little cantankerous … but it was always in a loving way. We always knew where she was coming from. Her sense of commitment and custodianship of her neighborhood. … I wish I had a thousand more Geris in my ward."  
Alma Wieser, a Wicker Park Committee member and the co-owner of Heaven Gallery, said she remembered Baginski as a kind and intelligent woman who "cared deeply" about Wicker Park.
"Listening to her thought provoking questions at the WPC meetings it was clear she had her finger on the pulse of this community," Wieser said. "Sometimes she talked about how she missed the old Wicker Park with all the artists. She believed in me and my project and I'll never forget that."
'She was pretty courageous'
Connecticut native Connor Young moved to Wicker Park in 2017. When he first began attending neighborhood meetings, everyone was a stranger — but not for long, thanks to Baginski.
"I had no idea who she was at first, at least when I was newer to the meetings. Eventually I realized exactly who she was, because she would always speak up at the meetings," Young said. "I was always very impressed by her courage to speak out in front of a group like that."
Whether the topic was historic preservation or Lincoln Yards, whether she was addressing an alderman or a developer, Young said, Baginski always spoke her mind.
"She was really friendly and funny," he said. "I really do think she was pretty courageous, in the way she spoke up in front of a group."
When it came to neighborhood boundaries, Baginski was adamant about what was — and what was not — Wicker Park.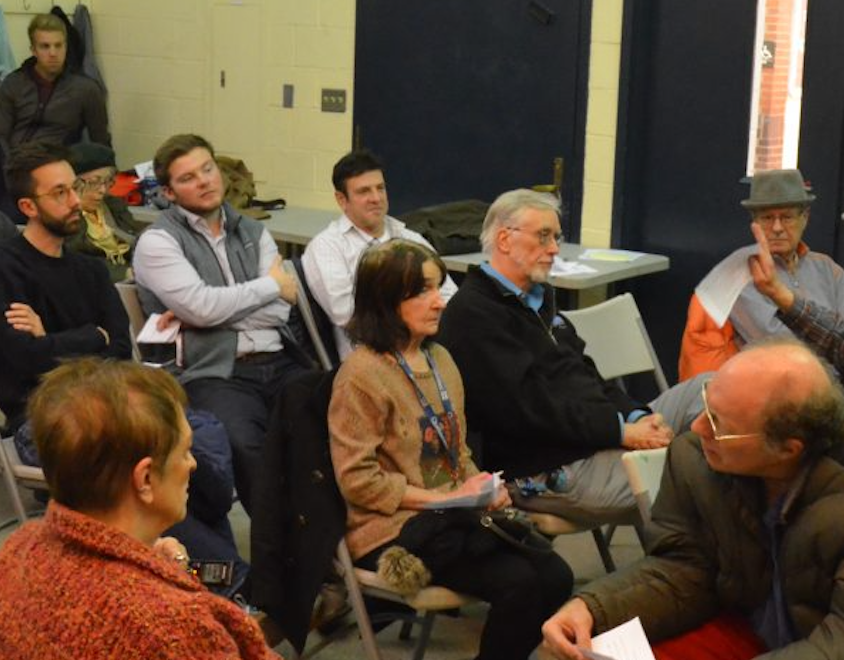 Young quickly came to know Baginski as someone he could count on if he had a question about the neighborhood's history.
In turn, Baginski leaned on Young to teach her things, too.
On a recent evening neighborhood leaders decided to grab a round of beers following a community meeting. At the bar, Young showed Baginski how to use the YouTube app on her smart phone to watch music videos of Bob Dylan — one of her favorite musicians.
"You might think an older person may not want to be part of the group heading to the bar after [a meeting]," Young said. "But there she was … wanting to be a part of everyone's conversations."
Baginski's death was unrelated to coronavirus, but the pandemic will certainly affect those close to her. Funeral arrangements have yet to be determined.
Derengowski said the tragedy is particularly painful because their mother died Memorial Day weekend in 1988.
In lieu of a community funeral service, Wicker Park leaders are planning a virtual celebration of life. Details will be announced.
Reporting from Alisa Hauser contributed to this report.
Subscribe to Block Club Chicago. Every dime we make funds reporting from Chicago's neighborhoods.
Already subscribe? Click here to support Block Club with a tax-deductible donation.