ALBANY PARK —  The head of the city's health department pledged to increase penalties for three church pastors if they continue to hold in-person services, saying she will deem their churches a "public health nuisance."
The warning came in a letter from Dr. Allison Arwady, commissioner of the Chicago Department of Public Health. Her letter was delivered Saturday to pastors from Philadelphia Romanian Church Chicago, 1713 W. Sunnyside Ave.; Elim Romanian Pentecostal, 4850 N. Bernard St.; and Metro Praise International, 5405 W. Diversey Ave.
All three pastors confirmed to Block Club they received the same letter.
Arwady wrote any continued operation of the three churches would be declared a public health nuisance. Arwady said state law gives her the authority to close and make off limits any establishment to prevent the spread of contagious disease.
"If you continue to host gatherings in violation of the Executive Order, the City of Chicago will take all necessary measures to abate the nuisance to ensure the safety of the City's residents," Arwady wrote.
Arwady said the pastors could be fined up to $500, be liable for any costs the city takes on to enforce the order, and be penalized up to three times the city's expenses. Arwady said future gatherings could lead to "Summary Abatement."
In this context, "summary abatement" means the city is escalating the type of penalty the churches will incur by continuing to host in-person services, Ald. Rossana Rodriguez (33rd) said.
"Last time they got 'disorderly conduct' citations. Now it's moved up to 'public nuisance.' And if they keep hosting services, the city will keep escalating the penalties," Rodriguez said.
Arwady's letter comes as Mayor Lori Lightfoot and city officials have sought various ways to stop the pastors from convening services, which violate the state's executive order banning gatherings of more than 10 people. Most Chicago churches have switched to digital services to slow the spread of COVID-19 while still allowing people to worship together.
The mayor, local aldermen and other church leaders have tried to persuade the pastors to stop. Police blocked parking near the churches last Sunday. After the mayor pledged fines, police cited each pastor for disorderly conduct this week.
None of that has deterred the pastors, who said they are determined to continue hosting in-person services with certain precautions in place.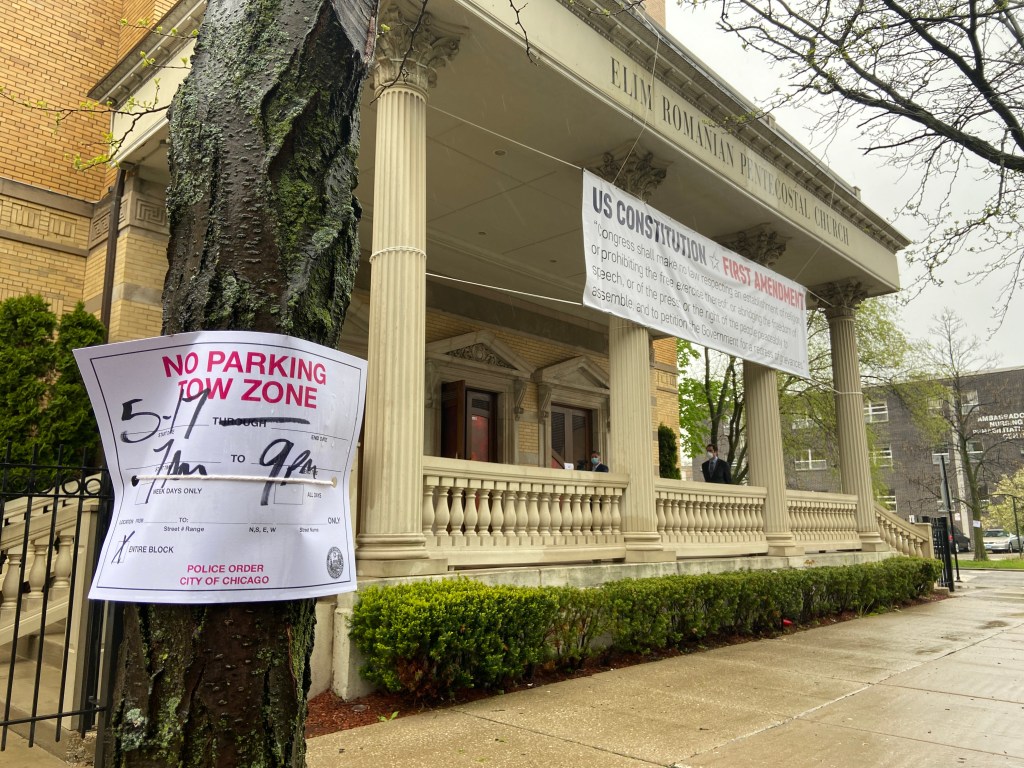 Cristian Ionescu, Elim Romanian's pastor, said he fears the letter he got could mean the city will put chains on his church's doors or lead to it being condemned due to the city claiming it's a health risk like it does for dilapidated properties. 
Still, Arwady's letter did not dissuade him.
"For me, the way the letter is written, it is a lot of gibberish," Ionescu said. "I have no idea what they plan to do next. But it doesn't matter. I will not be discouraged and still plan to host services Sunday." 
Churches and church communities are particularly vulnerable places for disease to spread, Arwady wrote. Three faith leaders have died, as have "many more congregants who have been linked to churches with clusters outbreaks," she said.
The Centers for Disease Control and Prevention tracked a case in early March where 35 out of 92 attendees at a rural Arkansas church became infected with COVID-19. Three people died.
"This outbreak highlights the likelihood for widespread transmission of COVID-19 at group gatherings, even before any participants show symptoms," Arwady said.
Arwady also referenced "super-spreading" events in Chicago where people have become infected and died. In February, one infected person unknowingly spread the disease to 16 others after attending a church funeral and a birthday party. Three people died.  
Pastor Joe Wyrostek from Metro Praise and Pastor Florin T. Cimpean from Philadelphia Romanian both said they still plan to host services. 
"They have to change something for us because it's a a national movement right now," Cimpean said. "The curve is going down and the restrictions in Illinois for us are not reasonable. They are putting houses of worship at the end of the line for opening up again and that's not right."
Local aldermen were surprised when told the letters were sent Saturday.
Ald. Rodriguez said she and other City Council members were told by the mayor's office Friday the city again planned to issue citations if more than 10 people went to a service at the three churches. City officials weren't planning to ban street parking again since the churches have their own lots.
Rodriguez said City Council members asked the mayor's team on Friday why the health department hadn't gotten involved in the situation. 
"I don't understand how some people can just get away with ignoring the stay at home order to keep creating a public health risk," Rodriguez said. 
Ald. Matt Martin (47th) said he was aware the letters would be sent out at some point but was surprised they were sent Saturday. He said he wasn't surprised the churches plan to keep hosting in-person services despite the letters.
Messages left with the mayor's office and the city's department of health were not immediately returned. 
The letter sent to Elim Romanian Pentecostal is below. Similar letters were sent to Philadelphia Romanian Church Chicago and Metro Praise International.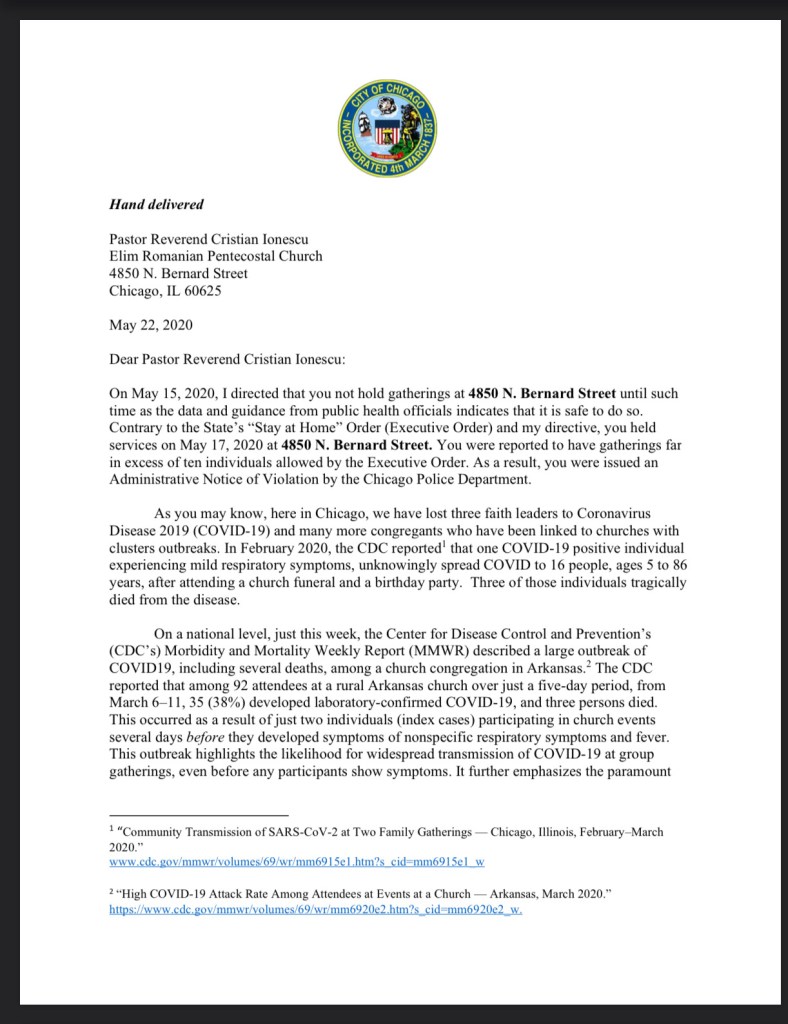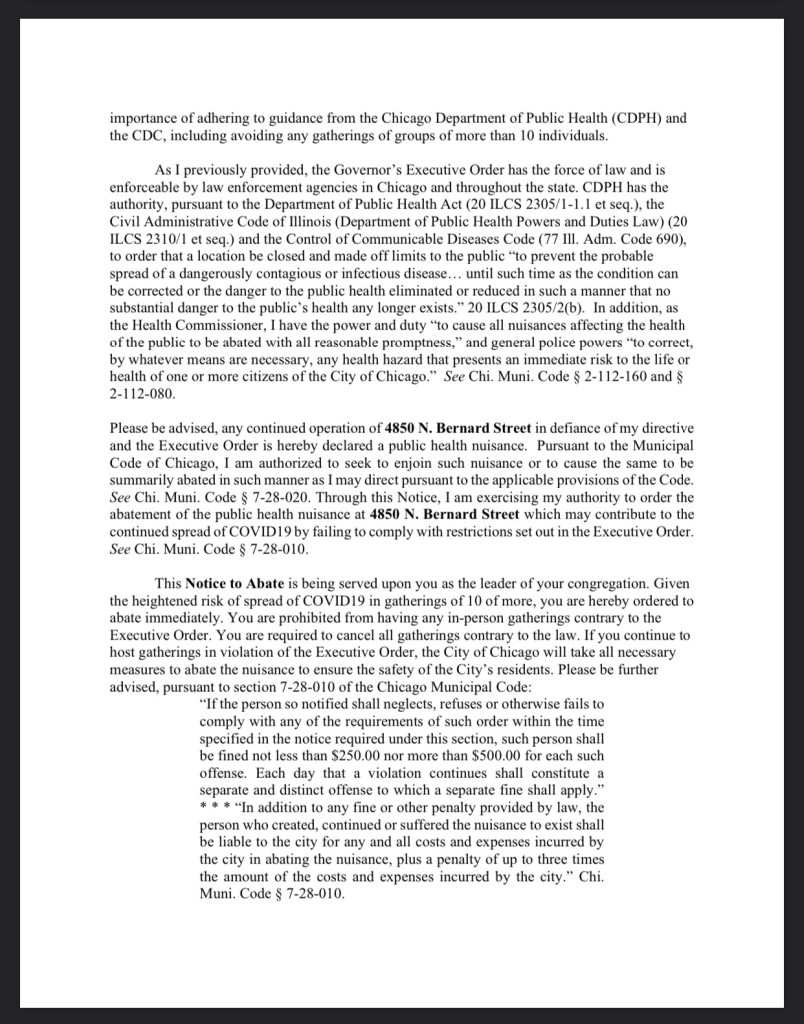 RELATED
'Dangerous And Foolish': Lightfoot Rebuffs Trump's Demand That Churches Reopen During Pandemic
Chicago Churches Get Disorderly Conduct Citations After Hosting In-Person Services During Stay At Home Order
Willie Wilson Attends In-Person Church Service In Ravenswood, Defying Stay At Home Order
Albany Park Church Continues In-Person Services; Mayor Promises Fines, Bans Parking
How Do We Reopen Churches, Mosques, Temples? City Making Plans For Safe Religious Services
Judge Tosses Lawsuit From Albany Park Church Challenging Stay At Home Order
Albany Park Church Holds Sunday Services In Defiance Of Stay At Home Order: 'I'm Going To Keep Hosting Mass'
Belmont Cragin Church Brings Outsiders To Illegal Service As Mostly Latino 
Neighborhood Battles Thousands Of COVID-19 Cases
Belmont Cragin Neighbors To Protest Church That Held Illegal Services
Block Club Chicago's coronavirus coverage is free for all readers. Block Club is an independent, 501(c)(3), journalist-run newsroom.
Subscribe to Block Club Chicago. Every dime we make funds reporting from Chicago's neighborhoods.
Already subscribe? Click here to support Block Club with a tax-deductible donation.