CHICAGO — Josie Pickett had a plan for the summer: Her boys, 2 and 5, would be in day care and school. When CPS let up in June, she'd take a week off work to be with her older son, and then his camp would start and he's spend his days learning with friends while she and her husband worked.
Coronavirus changed all of that, just as it's changed child care for thousands of parents and guardians across Chicago.
Now, Pickett's sons are home in Albany Park because schools are closed, as are many day cares. Pickett and her husband are juggling homeschooling and watching their sons with their own work and the everyday pressures of life during the pandemic.
It gets even more complicated next week: Child care centers won't be allowed to reopen until Phase 4 of the state's reopening plan — but offices, stores and businesses are returning when Illinois moves into Phase 3 on May 29.
That's left Pickett and many other parents struggling to figure out how they'll return to work when their kids have nowhere to go and no one to watch them.
It's stressful for adults and children alike, parents told Block Club. Many are worried their kids are losing opportunities to socialize and learn during a critical time in their lives.
And adults are concerned they'll put their careers at risk if they have to keep working from home or take time off. Others are feeling financial pressure from relying on emergency day cares or sitters they didn't plan to use.
They have just days to sort out everything — with few solutions and little guidance from the state.
"I am expected to be in the office as soon as I can, which right now is presumed to be June 1. But day care is not opened," Pickett said. And even if day care opens for her 2-year-old, her older son needs care. "I still have my kindergartner and school will not be back in session, and summer camp may open at the end of June but also may not.
"In a week, I have to figure out how to have care for my kids. … It's not easy."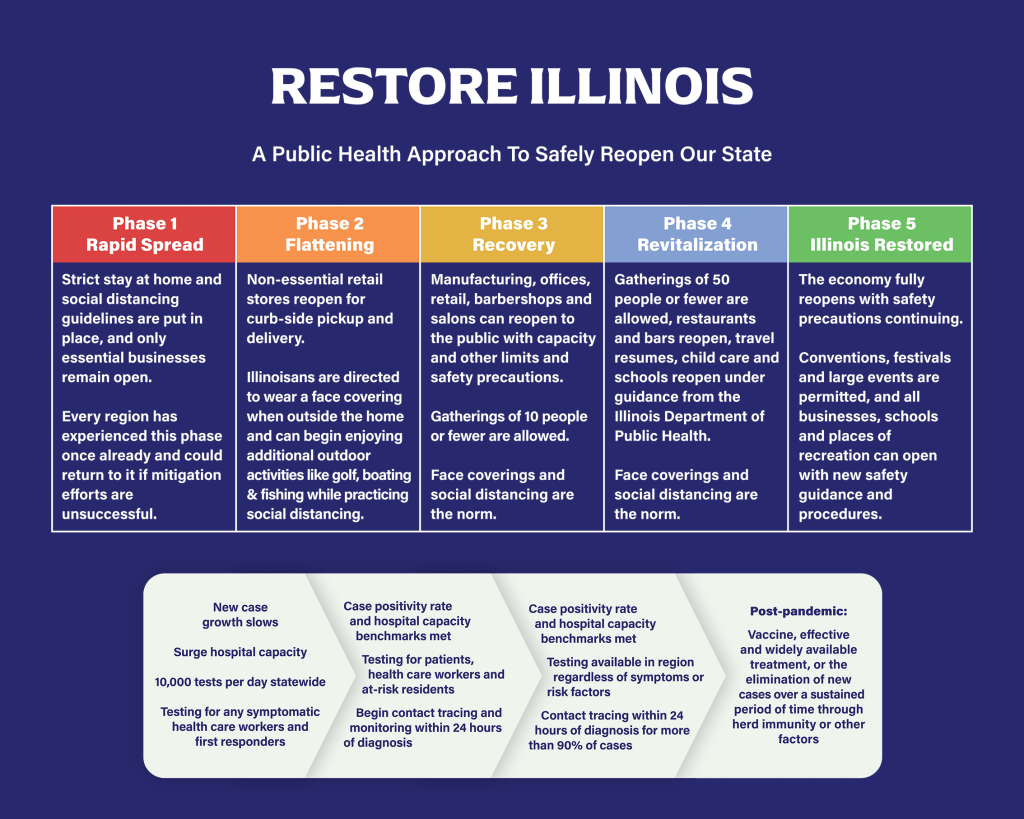 Child Care Crisis
Traditionally, parents rely on camps, school, day care and relatives to help with kids when they've got to work.
But the pandemic has made many of those options impossible this year, even as many parents are expected to return to work next week.
"Child care seems to be an afterthought in a lot of conversations," said Michael Ko, of Lakeview, who has two daughters. "It's great to encourage businesses to open up, … but if you can't do it with the day cares, these places being open, I don't know who's gonna work there."
Schools shut down March 17, leaving parents scrambling for care. The stay at home order was enacted just days later, and though it meant many people were pushed into working from home with their kids — if they had work it all — it also meant numerous day care and child care facilities were closed.
Some day cares have remained open to help with the children of essential and frontline workers, like grocery store workers and doctors. But there are only about 2,650 emergency child care providers open across the state, Gov. JB Pritzker said Thursday. Those that are open can only serve 10 children at a time.
Non-emergency day cares can't reopen until Phase 4 of the state's reopening plan, which Chicago won't be able to progress to until at least late June. The day cares that are open have long waiting lines because demand is high, parents told Block Club.
To protect children and their families, Pritzker ordered schools to remain closed through the academic year, with no word yet on whether there will be summer school.
The governor hasn't said yet if summer camps will be allowed this year, and many camps are already canceling their programs for the summer or telling parents they're uncertain if they'll be open. The Chicago Park District, which watches over thousands of kids during the season, has said it will have a "revised" version of day camp July 6-31 — but it hasn't yet provided any other information.
The cherry on top: While grandparents might have once helped with child care, people who are elderly or have underlying conditions are those most at risk from coronavirus. Because of that, state and city officials have told parents not to bring their kids by grandma's place for baby sitting.
Like Pickett, Ko and his wife's summer plans have been upended: Their 3-year-old was to spend time with her mom, who works from home, and some time in day care. Their older daughter, who's 8, would go to summer camps. They'd visit grandparents in Iowa for a few weeks.
The summer camps, the day care and even the trip to grandma and grandpa — all seemingly impossible now.
Ko's consulting business shut down due to the stay at home order, so he and his wife have been able to watch over the girls at home. But he's worried about what will happen as the state enters Phase 3 and business resumes without child care.
For now, Ko's simply decided to keep staying home to help with the girls. He's concerned about his business, he said, but he hopes it won't be too impacted because he thinks his work will be slow to restart.
"The thing that we're concerned about is if work starts opening up or businesses start opening up then the day care's still closed and I still won't have a place to send my daughters," Ko said. "We can do partial reopening of things, but it doesn't really solve all our problems."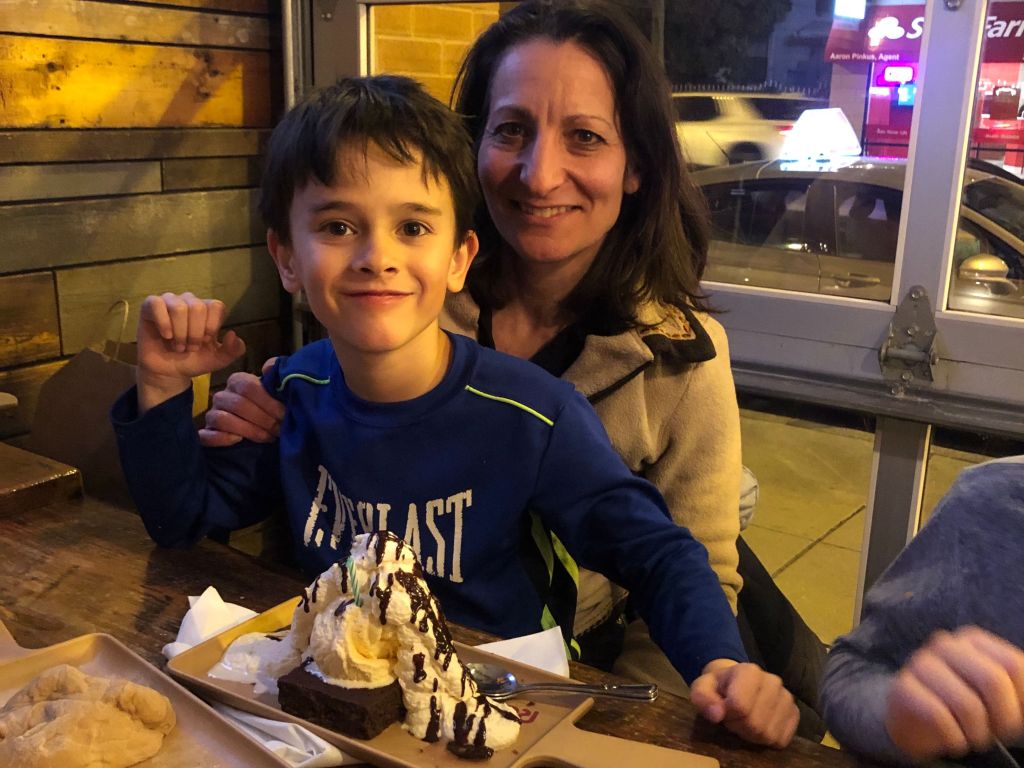 Lost Opportunities
With parents trying to balance work and child care, and kids stuck at home, all are missing out.
Multiple parents said they'd be worried about their businesses or positions at work if they had to remain home to look after their kids.
Pickett, who works in interior design, said she's having to work on the weekends to make up for time during the workday she takes care of her sons — but she's "still struggling to get full-time hours." Her husband, an essential worker, has to spend half his day at work and then works the other half at home so he can look after their boys. They split homeschooling responsibilities.
"I am trying my best," Pickett said.
Pickett wants her older son, 5, back in day care as soon as possible so he can learn and play with other kids. Homeschooling has been stressful, she said, and being home constantly hasn't "been great" for a little kid.
"I feel like this has been detrimental," Pickett said. "I think that there's a high level of anxiety, too, just with the whole situation and the uncertainty. … He needs more of the structure, and the people who are professionals know what they're doing."
Barbara Goodman, of Wicker Park, said she was one of the "extremely fortunate" people who could move her work online in March. But she's also having to juggle working at home with looking after her 8-year-old, Ravi, since his school closed.
Goodman planned for Ravi to spend his summer in various camps that serve his interests; she'd already booked eight of his 11 weeks of summer before the crisis hit. But one by one those camps, even the small ones, have canceled.
"What am I gonna do? I've started mentally preparing my son that there is no summer," said Goodman, a single mom who runs a non-profit. "He's gonna have to be in 'school.' He's gonna have to have stuff at home. I can't take off. What am I supposed to do with my kid?
"I'm starting to mentally prepare not only myself … but just try to tell my kid, 'You're gonna be having assignment sand projects and I'm gonna have to come up with stuff.'"
Goodman's worried her son won't get to experience the enriching, educational activities he would have had at camp. And because Ravi is an only child, he doesn't have anyone his age to socialize with.
Homeschooling is "not the same. As a single child, he also has absolutely no interaction. … The social part of school is completely wiped out," Goodman said. "And I think that's gonna appear in a couple of years down the road, the trickle-down of that."
Some camps are trying to create digital options, but Goodman said they won't provide the same opportunities for learning and socializing. Plus, it'll be difficult to keep a young child in front of a screen when it's beautiful outside, she said.
Goodman tries to give her son one-on-one attention, giving him assignments at the start of every hour and taking short breaks to check on him. She spends an hour for lunch with him every day.
But that also means Goodman's now working longer hours to make up for her time with her son during the day.
And if camps don't come back and there's no one to watch Ravi, Goodman said she'll have to keep her entire nonprofit working from home. That'll continue in the fall, too, if schools don't reopen.
"I try to give him the one-on-one attention he deserves," she said. "But we start at 8 and I'm working until 5:30. I feel horrible, but that's the reality.
"His issue is he hates — he's very mad at the virus."
'There's No Other Option'
There's no clear solution, parents told Block Club. One of the few remaining options — hiring a sitter — isn't as simple as it sounds.
For one, parents are already having to pay for child care they hadn't budgeted for since they thought their kids would be in school. Sitters would add on to the unplanned costs.
Most people can't handle that, Goodman said.
And some parents said they wouldn't want to risk exposing a sitter to COVID-19 if their family is carrying the virus. Kids could be at risk, too: Ko's 8-year-old has asthma, which means she could face more serious complications from coronavirus if a sitter were to infect them.
"I really wouldn't want someone else to come and watch our girls for the health reasons. It's either I'm doing it or that's it. There's no other option," Ko said. "We can't phone a friend, can't call family for help. It's either us or kind of nothing. And we can't do nothing. They're too young for that."
Pickett's spoken to sitters, and some have said they might be able to give her a day or two — but she worries relying on one baby sitter, let alone the multiple she'd need due to their busy schedules, puts her family and the sitters at risk of COVID-19.
"It's nothing that we planned for," Pickett said. "Honestly, I don't know what the answer is. It's such a tough situation for everyone."
Pickett said perhaps the state could give more support to businesses, since they need employees to survive but employees need to look after their kids without child care options.
Ko said he'd like to see the state make its plans work in lockstep so people returning to work would also have "some ability to have child care."
Questioned during press conferences, Pritzker and his administration have pointed parents toward the 2,650 emergency day cares that have been licensed. But they have yet to provide details on how, or if, the state will further help parents as they return to work while child care centers are still closed.
Pritzker acknowledged Thursday that Illinois needs "much more child care," but officials have to figure out a way to allow that while looking out for the safety of kids and their families. A task force is trying to figure that out now.
"This isn't a desire on any of our part to limit child care," Pritzker said. "The idea here is with everything we know, especially the potential there are COVID-related illnesses that can befall children, that we want to make sure we're also limiting the social interaction, the numbers of people that are in a child care setting … .
"We're working on it. We have a task force of child care providers who are motivated, trust me, want to open their facilities. And I am motivated because I know as we send people back to work they need more child care."
Goodman, like other parents, said she supports the governor's efforts to minimize the spread of the virus and save lives.
But she pointed out gaps in the plans: Why will people soon be able to eat outdoors, for example, but there's no word on if small camps can open up to help with kids?
"The other single parents who can't work from home, I literally don't know what they're doing," she said. "I feel for them."
Block Club Chicago's coronavirus coverage is free for all readers. Block Club is an independent, 501(c)(3), journalist-run newsroom.
Subscribe to Block Club Chicago. Every dime we make funds reporting from Chicago's neighborhoods.
Already subscribe? Click here to support Block Club with a tax-deductible donation.