LINCOLN SQUARE — Lincoln Square's Maifest is back, but now as a virtual event due to the coronavirus pandemic. 
The three-day virtual Maifest will be held May 29-31 and feature food, prizes and performances and presentations over Zoom.
The nonprofit relies on beer and food sales at the annual Maifest, which typically has 35,000 people in attendance, to raise an average of $75,000 each year. 
"It is our No. 1 fundraising event for the year," said Dagmar Freiberger, Dank Haus' board president.
That money goes towards maintaining Dank Haus' six-story, 93-year-old building at 4740 N. Western Ave. The building is home to more than 40 other nonprofits and has become a spot where groups — including the Neighborhood Boys and Girls Club, German American Police Association and Northside College Prep — host community meetings.
Dank Haus announced in April it was canceling the festival to help slow the spread of the virus. Maifest and dozens of public programs, weddings and school fundraisers have been canceled in recent weeks as the state's stay at home order made such large gatherings unfeasible. 
These cancellations have caused the nonprofit to hemorrhage more than $140,000.
"Virtual Maifest will not recoup the estimated $75,000 in losses from the cancellation of this year's event, but it will allow everyone to celebrate the coming of spring and our uniquely German American traditions of Maifest Chicago," said Monica Jirak, executive director of the Dank Haus.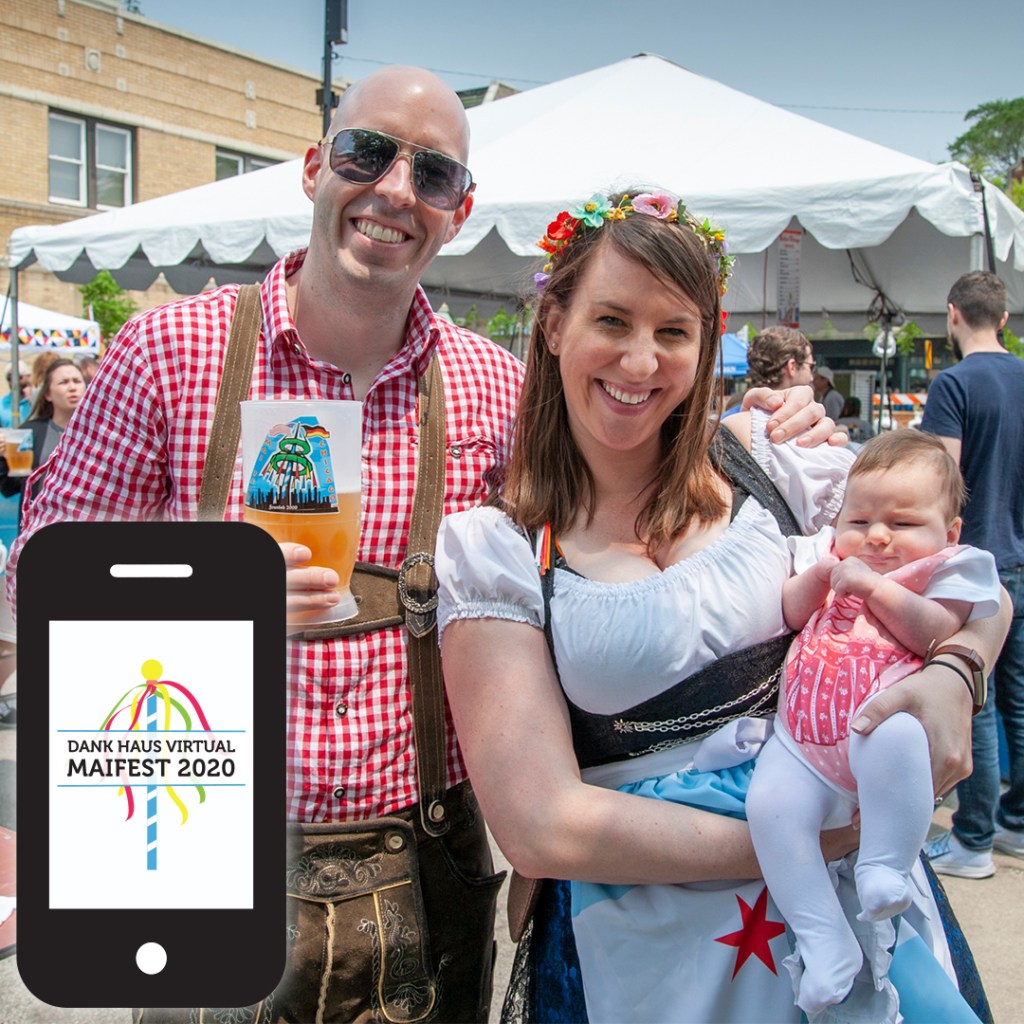 Guests can buy a $20 all-access "virtual wristband" to enjoy more than 12 hours of online programming, such as cooking classes with Himmel's restaurant, a livestreamed beer stein holding contest and a conversation with Consul General Wolfgang Mössinger about his family's life of travel as an ambassador of Germany.
Guests can buy food items like bienenstich (an almond-encrusted cake filled with custard, commonly known as bee sting cake), pretzels, landjäger (German beef jerky), potato salad, sauerkraut, leberkäse (German meatloaf) and fest favorites like Bratwurst and Thuringer sausages and beer from the event's website.
Guests can get the food and beer via no-contact pickup at Dank Haus, 4740 N. Western Ave., during the virtual event.
RELATED
Dank Haus Asks For Donations 'Or There May Be No Haus To Come Home To'
Lincoln Square's Maifest Canceled Because Of Coronavirus Concerns