LAKEVIEW — Residents were ticketed, cars were "relocated" and at least one car was impounded Thursday as city crews began work to repave a residential side street in Lakeview — blindsiding neighbors hardly using their cars to comply with the state's stay at home order.
Notices of the construction work were placed on Surf Street between Broadway and Sheridan Road less than 24 hours before work began. The orange "no parking" signs posted along the streets prohibit parking from 6 a.m. to 3:30 p.m. on weekdays. Parking is allowed on weekends, according to the notice.
Several residents said they weren't aware of the parking ban or the planned work, and did not see the notices because they are driving less and walking by their cars less often.
Surf Street resident Lauren Davis, a teacher conducting online classes from home, said her car was moved to Irving Park Road on the border of Lakeview and Uptown. She noticed her car was gone just in time to walk 45 minutes to retrieve it and get to a scheduled vet appointment for her two cats.
"I think it's just inconsiderate of the fact that we're all in quarantine right now," Davis said.
She also took issue with the hours for the parking ban.
"I understand that we want the workers to be able to have a normal workday and normal hours, but no one is leaving at that time right now," Davis said.
The non-emergency repavement was paid for out of Ald. Tom Tunney's (44th) aldermanic menu money. The program allows aldermen to prioritize infrastructure projects in their ward, Tunney's chief of staff Bennett Lawson told Block Club.
Lawson confirmed the notices went up Wednesday, which was when Tunney's office was made aware the street work had been scheduled.
Work is permitted to continue until June 1. Oakdale Avenue, between Pine Grove Avenue and Clark Street, also is scheduled to be repaved.
Lawson said the repavement is needed and the work will continue.
"The Alderman has not asked for the work to be delayed.  It's sorely needed on these blocks," he said.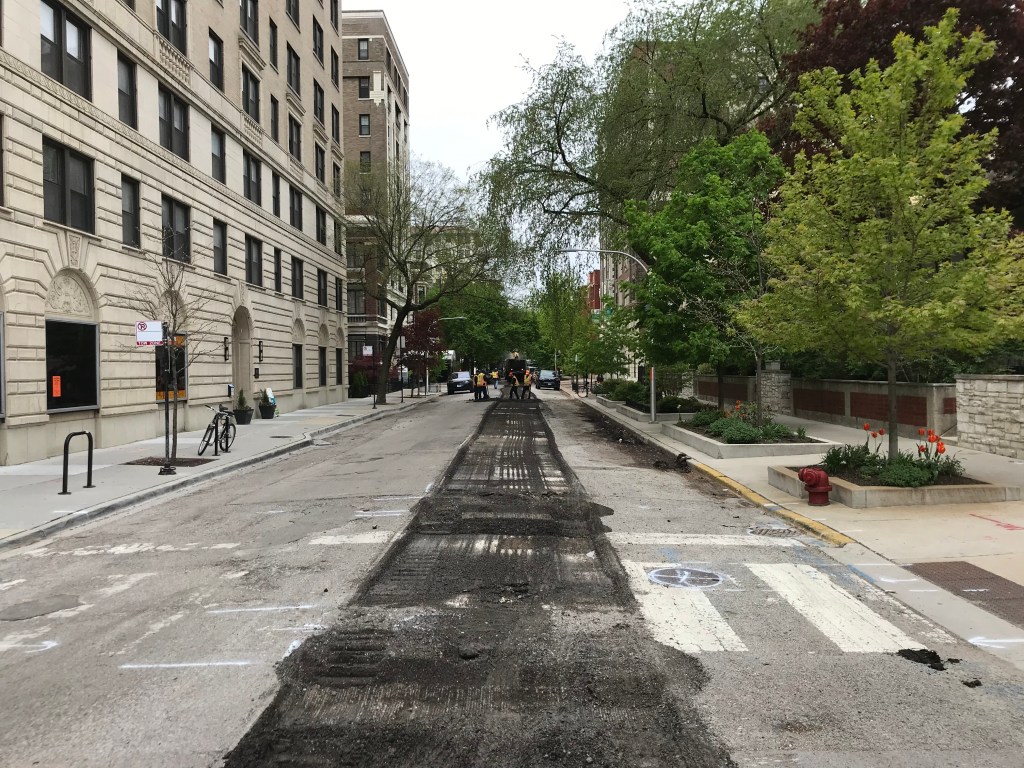 Lawson said no cars should have been impounded. Vehicles should have been relocated to a nearby street or to the parking lot at Diversey Driving Range.
In a newsletter to residents on Friday, Tunney said the tickets should not have been given. Anyone who received a ticket or was towed can email ward44@cityofchicago.org for help removing their fines or learn where their car was relocated.
"These tickets were issued in error and we are working to get them dismissed. Please be sure to attach a copy of your ticket," Tunney said in the newsletter.
Patrick Byrnes received a $100 ticket on Thursday. He was spared having his car relocated when a police officer knocked on his Diversey Parkway apartment to let him know his car was about to be towed.
Like Davis, Byrnes said he has been driving less to comply with the state's stay at home order. He only drives to pick up a few weeks worth of groceries for him and his wife, and he said he wasn't even sure where his car was parked until the officer told him.
"Anything that expects people to be checking their cars every day, or even every few days has got to be relaxed. You know, special considerations have got to be made," Byrnes said. "I realize we've got to take care of the city's infrastructure, but at the same time, you know, human and extraordinary circumstances have to be taken into account too."
On Friday, as crews prepared for the second day of work, few cars remained on the street. Chrissy Schultz, who lives on Surf Street, said she witnessed two cars being hauled away.
"We saw the signs go up yesterday and we saw tickets on the street," Schultz said. "We didn't actually think they were ticketing during COVID at all."
A Block Club reporter saw more than two dozen cars parked on Oakdale Ave. on Friday morning, where crews were set to begin work later in the day. 
A city worker who didn't give his name said that crews would strip the current pavement in the coming days and return in two weeks to repave the street.
The Dept. of Transportation did not immediately respond to a request for comment.
Mayor Lori Lightfoot said in March that parking tickets would be relaxed and given only when the car posed a threat to public safety. After residents continued to receive tickets for parking at expired meters, a city spokeswoman confirmed there was no plan to cease issuing tickets related to metered parking. 
The cars affected on Thursday were parked on a street that doesn't have meters and is not restricted to those with a certain permit.
"I had heard once everything shut down that Lori Lightfoot said that there would be no tickets…while on lockdown unless it affected personal safety," Byrnes said. "But my car was legally parked. They created a no parking zone around my car."
Block Club Chicago's coronavirus coverage is free for all readers. Block Club is an independent, 501(c)(3), journalist-run newsroom.
Subscribe to Block Club Chicago. Every dime we make funds reporting from Chicago's neighborhoods.
Already subscribe? Click here to support Block Club with a tax-deductible donation.