CHICAGO — Restaurants and bars across Illinois are preparing to open for outdoor seating May 29 when Phase 2 of the state's stay at home order expires. But it's unlikely Chicago spots will be ready to serve diners by then.
Mayor Lori Lightfoot on Thursday said she's working with restaurant owners, public health officials and aldermen on a plan to expand outdoor dining options in the city, but, "I don't think we're gonna be ready by May 29," she said.
"My hope is that soon in June that we will be ready," Lightfoot said, adding the city needs to make sure safety measures are in place and communicated to businesses before they can open.
"I'm very worried about a spike … a surge in cases," Lightfoot said. "As everyone surely knows, the city of Chicago has its own responsibilities and obligations to craft policies, public health policies, that are specific to the city of Chicago. And we are hard at work looking at ways we can get our restaurant industry back up. I was heartened by the comments the governor made yesterday about restaurants but, again, like everything, we've gotta do it safely."
Initially, the state's reopening plan had bars and restaurants coming back in Phase 4, but Pritzker said he had a change of heart after speaking with health officials about chances of transmission outdoors. He did, however, say it was up to individual mayors to make decisions if they did not want eateries to reopen.
Restaurants must "have a means to protect their employees and members of the public that will patronize them," Lightfoot said.
Chicago has the highest concentration of coronavirus cases in the state, which puts the city in a different place than the suburbs or downstate locations, Lightfoot said.
"I'm the mayor of Chicago and what I gotta do is look after residents here," the mayor said. "I can't account for what happens [in Wisconsin, Evanston or other places]. They're experiencing COVID-19 different than we are."
Dr. Allison Arwady, commissioner of the Chicago Department of Public Health, said the city is working on guidance for restaurants — and for the general public — on how to go back to restaurants safely.
"We're thinking about what needs to happen structurally in restaurants and other food establishments, everything from face coverings to occupancies to not using the same ketchup bottle," Arwady said. "There's a lot of detail that come into play where you think about creating the space and protections that come into place."
Arwady said people need to make decisions based on their own health and the health of those with whom they come into regular contact. If a person does go home to a immunocompromised partner or parent every night, they would need to weigh their options because the virus is still among us, Arwady said.
"We will not be able to completely eliminate the risk of COVID-19 as long as we have COVID-19 here in Chicago," Arwady said.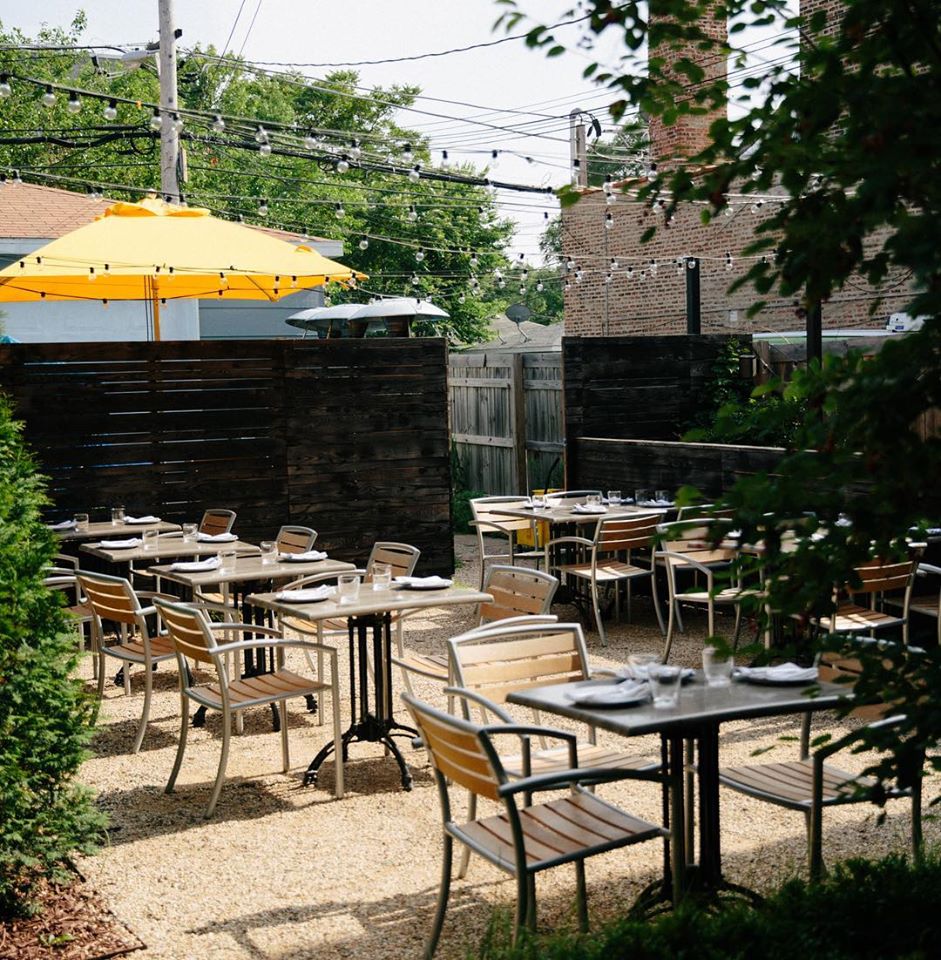 Even In June, Some Restaurant Owners May Not Be Ready
In northwest Indiana, the Three Floyds brewpub is now allowed to open at half its capacity — but it won't. The brewpub's owner told the Tribune he doesn't trust the Indiana's reopening guidelines, and "no one should die over a beer."
Some Chicago restaurant owners are feeling the same way.
Jason Vincent, chef and owner at Giant, 3209 W. Armitage Ave. in Logan Square, said while he'd "love to" reopen for limited patio service, he worries it's too soon and could end up killing his business if patio service causes coronavirus cases to spike and the city to shut down again.
"We've sustained through this maze of horses — and we're in a position to reopen, but if we reopen and we have to close again, we're closing forever," Vincent said. "We're gambling with our bank account at this point."
Limited patio service could work for Giant, Vincent said. He measured the patio and there is room for 20 people sitting 6 feet apart. But limited patio service alone won't save the restaurant, he said.
"Yes, people can come in and spend $50 each and we can serve 20 of them. What do we do if it rains? That's a day gone. … People aren't coming out in the rain," he said.
Similarly, Lightfoot said she doesn't like the idea of restaurants' futures hinging on having good weather, saying the state needs to look at how it can allow in-restaurant dining to return sooner.
Vincent said in addition to limited patio service he'd like to see officials loosen the state liquor law so he can sell cocktails and other alcoholic drinks to go. San Francisco is doing "boozy food trucks" and Vincent said "something like that would be a game changer, a life saver."
Pritzker has been asked repeatedly about plans to repeal state regulations that prohibit to-go cocktails, but he has not committed to doing so.
Pete Ternes, co-founder of brewpub Middle Brow Bungalow at 2840 W. Armitage Ave., said in an email they've been using their patio for beer, bread and farmer produce pickups over the last several weeks, and "half-cooked patio service would threaten that" and the health of their staff and neighbors.
"We're happy that Mayor Lightfoot is taking a slower path to reopening that's more appropriate for Chicago," Ternes said.
Read all of Block Club's coverage on outdoor dining here.
Block Club Chicago's coronavirus coverage is free for all readers. Block Club is an independent, 501(c)(3), journalist-run newsroom.
Subscribe to Block Club Chicago. Every dime we make funds reporting from Chicago's neighborhoods.
Already subscribe? Click here to support Block Club with a tax-deductible donation.