LINCOLN SQUARE — The owner of Jimmy's Pizza Cafe plans to open a new location after developers secured key approval this week to tear down the building that houses his Lincoln Square restaurant. 
The City Council approved a developer's plans on Wednesday to tear down the two-story building at 5155-5159 N. Lincoln Ave. 
Owner Jimmy Kang said he's been searching for another location for a while because the developers told him he'd likely have to move by the end of the summer. But since the pandemic hit, the process has been delayed and officials say it's likely demolition work won't start until next Spring at the earliest.
Until then, Kang said, loyal neighbors can expect to find New York-style pizza at Foster and Lincoln for a little while longer.
"Once I settle on another location I plan keep both the new place running alongside the Lincoln Square one until they start the demolition so we don't have a hiatus," Kang said.
Jimmy's popularity has skyrocketed during the pandemic. Due to the size of his current kitchen, he's had to cancel orders because he routinely sells out of dough.
Kang said he likely will have to leave Lincoln Square to find a new space he can build out to his liking, he said. But he hopes to find a spot close enough to easily deliver to his Lincoln Square fans.
"I looked at locations in the neighborhood but sadly there's nothing I found where I can build out a new bigger kitchen that also fits our budget," Kang said.
Ald. Andre Vasquez (40th) said there is no timeline in place for the developer, Grand Properties Acquisitions LLC, to start work.
"Everything is still up in the air and we don't have a hard date on when the demolition could possibly begin because of the pandemic," Vasquez said. "We met with the new building owners a few times already and as we get more info, we'll be sharing it with neighbors."
It may be months before the city issues final approval for the current building to be torn down said Rolando Acosta, the developer's attorney. The earliest crews would likely start demolition would be sometime in spring 2021, he said.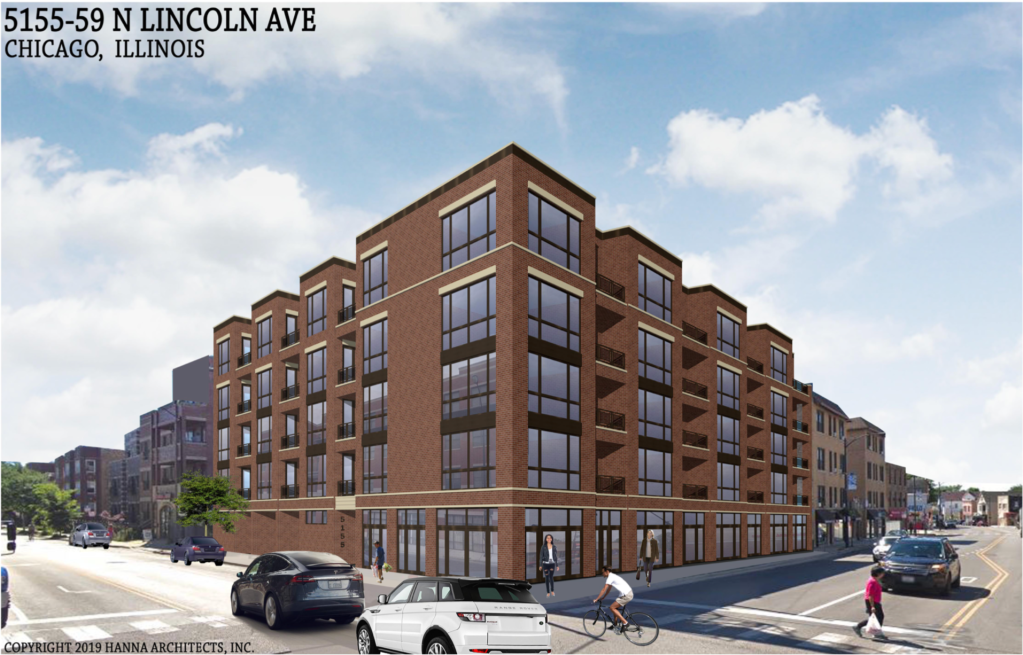 The developer first announced its plan to tear down the two-story building in January and build a five-story apartment complex with ground-floor retail in its place. 
The new building will also have two designated affordable work-live storefront units, parking for 20 vehicles, and upper floors containing 40 residential units, four of which will be designated affordable, according to plans submitted to the city. 
These initial plans were a surprise to Kang. He first learned of the developer's plan from Block Club. The then-owner of the building didn't notify him of the sale and the incoming developer was waiting to close on the property before starting discussions with them.
After hearing from neighbors worried about the future of Jimmy's, Vasquez asked developers to go back to the drawing board to try and figure out a potential solution.
In the revised plans approved by City Council, the developer promised to provide relocation assistance and first right of refusal to current tenants like Jimmy's once construction is complete, Vasquez said.
The developer is "particularly sensitive" to Jimmy's situation and will work to accommodate all of the building's current tenants before demolition begins, Acosta said. 
The developer didn't have any specifics about what that assistance would entail, but Acosta said it was an "ongoing positive dialogue" with tenants like Kang.
"What's going to happen with Jimmy's still needs to be figured out," Vasquez said. "That will be a constant conversation with the developers as they help them relocate. It's important to me, too, because honestly, I want my New York slice."
Kang said he also wants more information about relocation assistance. He looks forward to learning more about it from the developer now that the city has approved its plans, he said.
"Moving out of here and building out a new kitchen is going to cost a lot of money," Kang said.
RELATED
Jimmy's Pizza Cafe Bombarded With Orders During Shutdown: 'Last Week We Sold Out Of Dough
In Effort To Save Jimmy's Pizza Cafe, Lincoln Square Apartment Plan Put On Hold By Alderman
Neighbors Worry Beloved Jimmy's Pizza Cafe Could Be Forced Out By Developer's Plan
Plan To Tear Down Building At Lincoln and Foster Is News To Businesses Operating There Now
Block Club Chicago's coronavirus coverage is free for all readers. Block Club is an independent, 501(c)(3), journalist-run newsroom.
Subscribe to Block Club Chicago. Every dime we make funds reporting from Chicago's neighborhoods.
Already subscribe? Click here to support Block Club with a tax-deductible donation.