AUBURN GRESHAM — Three days before the fire that would destroy the apartment he had called home since September, Mario Lemar dreamed about it happening. He believed it was a sign he should teach his four children about fire safety.
He made a mental note to do it soon.
Then, late Monday night, Lemar smelled burned biscuits. Assuming one of his sons had left something in the oven for too long, Lemar shrugged it off and retired to his bedroom.
By 4 a.m. Tuesday, his apartment was filled with smoke.
"I was awakened by my son, who was standing over me, and in the calmest voice he says, 'Dad, somebody's stuff must be on fire,'" Lemar said.
The three-alarm blaze swept through the Vincennes Food Mart, 400 W. 79th St., authorities said. The fire started in the first floor of the building. An investigation into what caused the fire was ongoing.
A grocery store on the first floor and apartments above it were destroyed, with the flames spreading to a neighboring building. Two firefighters suffered minor injuries.
Lemar said he quickly threw on clothes before rushing to the kitchen, where fire was erupting from one of the sockets. He went to the other bedroom where his two younger sons slept, the smoke so thick he could barely see them.
He had to get everyone out, and fast.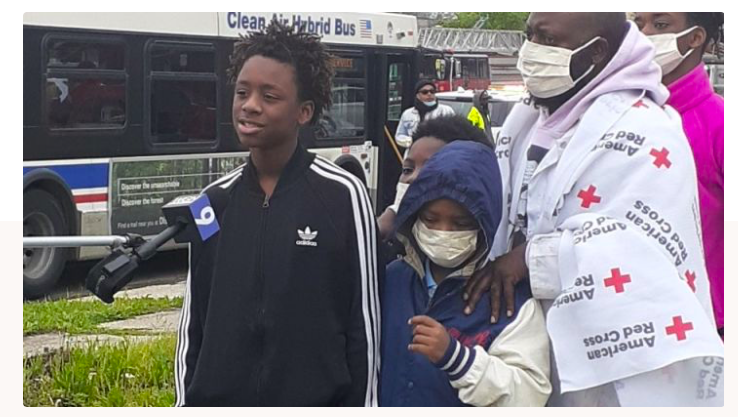 Lemar told his boys to follow the sound of his voice, instructing them to cover their noses as they headed to the back door. For a moment, he thought he could run to the front of the apartment to get to the family pets — a boa constrictor and three cats — but his two eldest sons stopped him, yelling that the floor was too hot to walk across.
Using his voice again, Lemar ushered his boys out of the apartment and downstairs to the barbershop where he worked before going back for the pets one more time.
"I got back in and the smoke was extremely too thick for me. I couldn't breathe," Lemar said. "The whole time, I'm thinking that the fire wouldn't take out the whole building. By the time I got back downstairs, the fire marshal is bringing my sons out of the barbershop because the fire had spread there."
Lemar picked up one of his sons, put him on his back and ran, barefoot, to a nearby CTA bus filled with their neighbors.
By the time the fire was out, Lemar's family and 30 others were safely evacuated but displaced from their homes, the building reduced to rubble and ash.
And memories.
The way the sun shone through the bay window onto his plants. The excitement on the faces of his boys when he brought home Theo and Stormy, the two cats who quickly took to Lucy, their first. The hardwood floors he loved.
While he and his sons are grieiving the loss of their pets, Lemar said he is grateful to still be here and grateful to have a community rally around him in his time of need. The people to whom he once opened his doors have now opened theirs to him.
Within 24 hours of losing his place, Lemar has found a new one for him and his family, at a building on 76th Street and Phillips Avenue. A GoFundMe started by his sister has raised over $5,600. Friends have come with mattresses and clothes for the boys.
"I've always been a person to reach out to the people in the community who were less fortunate, and now those people are coming and giving me a few items I can wear so I can at least look presentable right now," said Lemar, who emcees R.A.G.E's So Fresh Saturdays Tour every summer. "And the GoFundMe thing … it's really blown my mind to see how much love and support from so many people come through."
If there is a lesson to be learned from this, said Lemar, it's to trust your instincts.
"Listen to the warnings," Lemar said. "I feel like I was forewarned about the fire in my dream. Dreams are deeper than we think."
Subscribe to Block Club Chicago. Every dime we make funds reporting from Chicago's neighborhoods.
Already subscribe? Click here to support Block Club with a tax-deductible donation.