CHICAGO — While health experts are optimistic Illinois has reached its peak in the coronavirus pandemic, an additional 87 people died in the past day and 2,268 more people tested positive, officials announced Thursday.
There have now been 4,607 deaths and 102,686 confirmed cases statewide. In Chicago, there have been 1,788 deaths and 38,783 confirmed cases.
The state also announced it processed its highest one-day total of coronavirus tests, with 29,307 tests reported in the past day.
Despite how widespread the virus has been in Illinois, Gov. JB Pritzker defended his efforts to start up a large contact tracing program.
Health officials routinely do contact tracing, Pritzker said Thursday, but Illinois' efforts were simply overwhelmed at the start of the crisis because no one had the staffing to do tracing during a pandemic.
But the state is now ramping up its contact tracing efforts — and every day is seeing more confirmed cases, which means there are more people to contact and warn they should be on the lookout for symptoms of COVID-19, Pritzker said.
Having the tracing program will be key to preparing for potential surges, as will testing and keeping up efforts to slow the virus's spread, Pritzker said.
"The fall is expected to be a time when we might see another surge. … And I'm very concerned about that, so we need to be ready for that. … If it doesn't go away, and I don't think people are expecting it to, it means that we have to be ready for the potential of a surge. Contact tracing is just one of many items that we're making sure that we keep warm … ."
The governor also emphasized Illinois' reopening needs to be gradual, with several weeks between each phase, so experts can ensure cases don't spike so much they overwhelm the health system.
Meanwhile, after several days of declines, Illinois saw increases in hospitalizations, intensive care unit admissions and ventilator in use in the past day.
There are now 4,107 infected people hospitalized statewide. Of those, 1,088 are in ICUs and 609 are on ventilators.
On Wednesday, there were 3,914 people hospitalized statewide with COVID-19. Of those, 1,005 were in ICUs and 554 were on ventilators.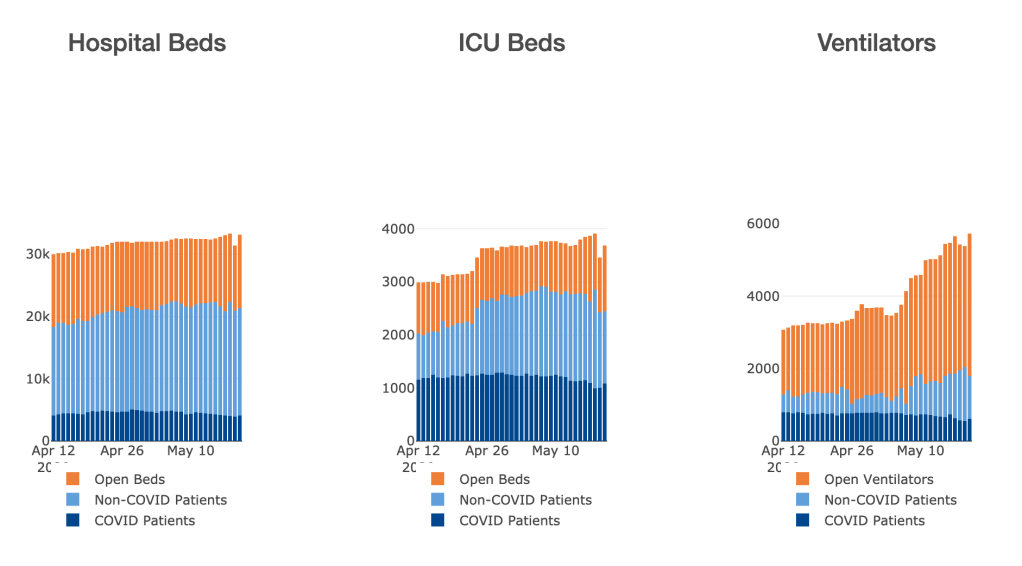 Symptoms
Coronavirus can be deadly, but the vast majority of cases have been mild. Those most at risk from the virus are people who are elderly or who have underlying health conditions.
Symptoms of coronavirus can appear two to 14 days after a person has been exposed to the virus, according to the Centers for Disease Control and Prevention. Even people who show no symptoms may have the virus and can spread it to others.
The virus spreads between people through coughing and sneezing, according to the Illinois Department of Public Health.
The most common symptoms are:
Fever
Cough
Shortness of breath or difficulty breathing
Chills and shaking with chills
Muscle pain
Headache
Sore throat
Loss of taste and/or smell
People have also experienced body aches, nasal congestion and runny nose, according to Harvard Medical School.
If you or someone else has difficulty breathing, persistent pain or pressure in the chest, become confused, cannot be roused or develop a bluish face or lips, seek immediate medical attention, according to the CDC.
How To Protect Yourself
Here's what you can do to prevent getting ill:
The CDC and other officials have said people should wash their hands often, including before, during and after eating; after using the bathroom; and after blowing your nose, coughing or sneezing.
The CDC has a guide here for how to properly wash your hands. Remember: Wash with soap and water, scrubbing your hands for at least 20 seconds.
If you can't wash your hands with soap and water, you can use an alcohol-based hand sanitizer, according to the Illinois Department of Public Health.
Avoid touching your face, especially your eyes, nose and mouth, with unwashed hands.
Clean and disinfect objects and surfaces you touch frequently, such as cellphones and light switches. Here are tips from the CDC.
Stay home when you're sick and avoid close contact with people who are sick.
If you have to sneeze or cough with a tissue, throw it out immediately after using it, according to the CDC.
What To Do If You Think You're Sick
Even if you're not showing symptoms, the Chicago Department of Public Health recommends people coming from high-risk countries (here's a CDC list) self-quarantine for 14 days after returning home.
If you do have symptoms of coronavirus, contact your primary doctor or a health care facility before going in. Explain your symptoms and tell them if you've come into close contact with anyone with coronavirus or traveled to an area where COVID-19 is widespread (here's a CDC list) within the last 14 days, according to the Illinois Department of Public Health.
From there, the experts will work with your local health department to determine what to do and if you need to be tested for coronavirus, according to the Illinois Department of Public Health.
And, of course, if you think you're sick with coronavirus, don't risk exposing other people to the virus. Anyone who feels unwell has been ordered to stay home or risk getting a $500 fine.
Those with questions and concerns about coronavirus can call the Illinois Department of Public Health at 800-889-3931.
Block Club Chicago's coronavirus coverage is free for all readers. Block Club is an independent, 501(c)(3), journalist-run newsroom.
Subscribe to Block Club Chicago. Every dime we make funds reporting from Chicago's neighborhoods.
Already subscribe? Click here to support Block Club with a tax-deductible donation.