CHICAGO — Illinois on Wednesday surpassed 100,000 confirmed coronavirus cases since the start of the pandemic, but the state also saw significant progress in hospitalizations associated with the deadly virus, officials said.
The progress Illinois has seen helped inspire Gov. JB Pritzker and state health officials to prepare to change and lift some stay at home restrictions in the coming weeks, including allowing bars and restaurants to open outdoor seating May 29.
RELATED: Patio Season Is Back: Restaurants, Bars Can Offer Outdoor Seating Starting May 29, Pritzker Announces
The state dipped beneath 4,000 COVID-19 hospitalizations for the first time since officials began tracking statewide hospital beds filled with coronavirus patients, said Dr. Ngozi Ezike, head of the Illinois Department of Public Health.
There are now 3,914 infected people hospitalized statewide. Of those, 1,005 are in intensive care wards and 554 are on ventilators, Ezike said.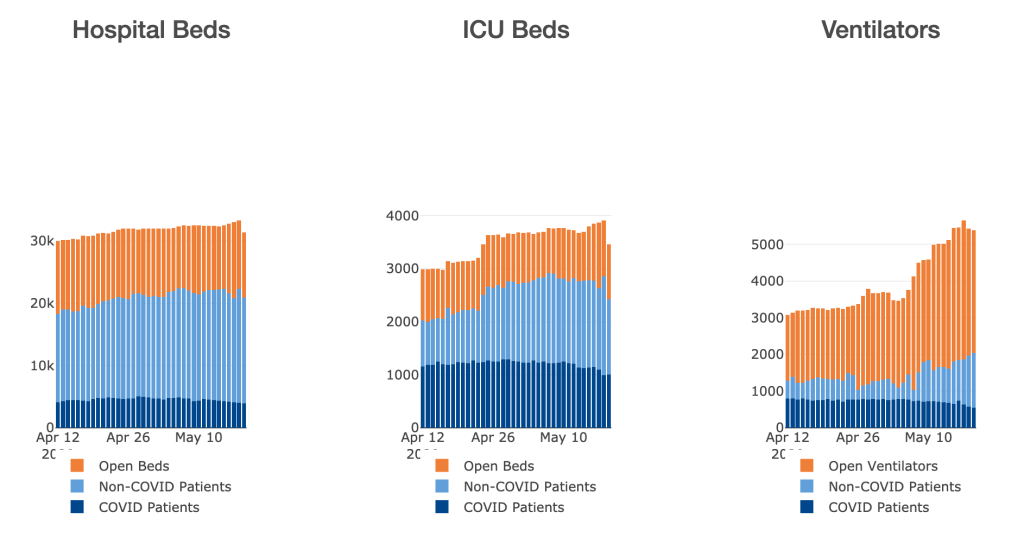 The state's total number of confirmed cases increased to 100,418 with the addition of 2,388 in the past 24 hours.
Deaths from the disease jumped 145 in the past day. There have now been 4,575 deaths statewide, including 1,742 in Chicago.

Gov. JB Pritzker, out of home self-isolation and in Springfield on Tuesday, praised Illinois residents for helping to slow the spread of the virus.
"You are slowing the spread, bending the curve, keeping our hospital capacity from being overwhelmed," the governor said during his daily coronavirus briefing, the first one not held by conference call since a member of the governor's staff contracted the virus more than a week ago.
"You see people wearing face coverings, knowing they are protecting each other. … And because of your perseverance, we have reduced our rate of spread tremendously in every region of the state."
Illinois is not yet "out of the woods," Pritzker said, but the data here is promising.
The governor laid out more changes that will come when Phase 3 starts, noting again all regions of the state, including Chicago, are on track to progress to that phase at the end of the month.
People will be able to camp or have picnics in groups of 10 or less, tattoo shops and salons will reopen and gyms can provide outdoor classes with 10 people or less.
"The virus has not gone away. Other states that have thrown out restrictions and decided to just go without regulation are seeing rising cases and beginning to see rising hospitalizations," Pritzker said. "Here in Illinois we have followed the science, and we're succeeding. But we can't let up now.
"We've come too far and we've made so much progress because we've kept social distance, [worn masks and washed hands]. We must persevere."
Symptoms
Coronavirus can be deadly, but the vast majority of cases have been mild. Those most at risk from the virus are people who are elderly or who have underlying health conditions.
Symptoms of coronavirus can appear two to 14 days after a person has been exposed to the virus, according to the Centers for Disease Control and Prevention. Even people who show no symptoms may have the virus and spread it to others.
The virus spreads between people through coughing and sneezing, according to the Illinois Department of Public Health.
The most common symptoms are:
Fever
Cough
Shortness of breath or difficulty breathing
Chills and shaking with chills
Muscle pain
Headache
Sore throat
Loss of taste and/or smell
People have also experienced body aches, nasal congestion and runny nose, according to Harvard Medical School.
If you or someone else has difficulty breathing, persistent pain or pressure in the chest, become confused, cannot be roused or develop a bluish face or lips, seek immediate medical attention, according to the CDC.
How To Protect Yourself
Here's what you can do to prevent getting ill:
The CDC and other officials have said people should wash their hands often, including before, during and after eating; after using the bathroom; and after blowing your nose, coughing or sneezing.
The CDC has a guide here for how to properly wash your hands. Remember: Wash with soap and water, scrubbing your hands for at least 20 seconds.
If you can't wash your hands with soap and water, you can use an alcohol-based hand sanitizer, according to the Illinois Department of Public Health.
Avoid touching your face, especially your eyes, nose and mouth, with unwashed hands.
Clean and disinfect objects and surfaces you touch frequently, such as cellphones and light switches. Here are tips from the CDC.
Stay home when you're sick and avoid close contact with people who are sick.
If you have to sneeze or cough with a tissue, throw it out immediately after using it, according to the CDC.
What To Do If You Think You're Sick
Even if you're not showing symptoms, the Chicago Department of Public Health recommends people coming from high-risk countries (here's a CDC list) self-quarantine for 14 days after returning home.
If you do have symptoms of coronavirus, contact your primary doctor or a health care facility before going in. Explain your symptoms and tell them if you've come into close contact with anyone with coronavirus or traveled to an area where COVID-19 is widespread (here's a CDC list) within the last 14 days, according to the Illinois Department of Public Health.
From there, the experts will work with your local health department to determine what to do and if you need to be tested for coronavirus, according to the Illinois Department of Public Health.
And, of course, if you think you're sick with coronavirus, don't risk exposing other people to the virus. Anyone who feels unwell has been ordered to stay home or risk getting a $500 fine.
Those with questions and concerns about coronavirus can call the Illinois Department of Public Health at 800-889-3931.
Block Club Chicago's coronavirus coverage is free for all readers. Block Club is an independent, 501(c)(3), journalist-run newsroom.
Subscribe to Block Club Chicago. Every dime we make funds reporting from Chicago's neighborhoods.
Already subscribe? Click here to support Block Club with a tax-deductible donation.