SOUTH SHORE — More than 150 neighborhood groups on the South and West sides, all of which offer summer programs to help limit the city's gun violence, will receive grants of up to $10,000 from the Partnership for Safe and Peaceful Communities.
This is the fifth year of the grant program, but unlike past years, every awardee is "straining under the impacts of COVID-19," the coalition said Wednesday. The $1 million supports 164 organizations in 21 community areas like Austin, South Chicago, Pilsen and Roseland.
"In this unprecedented time, these resources are even more important to sustaining and building strong community bonds, social cohesion and reducing gun violence," said Deborah Bennett, senior program officer of coalition member the Polk Bros. Foundation.
The Original Sixty-Fourth Street Beach Drummers received a $7,500 grant to help fund their weekly drumming lessons — and, given the coronavirus pandemic, the protective equipment and cleaning supplies necessary to keep kids safe.
As children learn to play percussive instruments like the shakerine and rhythms like the clave, they're also learning how to cope with trauma, said co-founder Juliet Jones.
"Movement helps restore you," Jones said. "We're identifying emotions, how to deal with those hurtful words, and how to turn those hurtful words around into something empowering. … With how we engage them, the drums are doing the talking."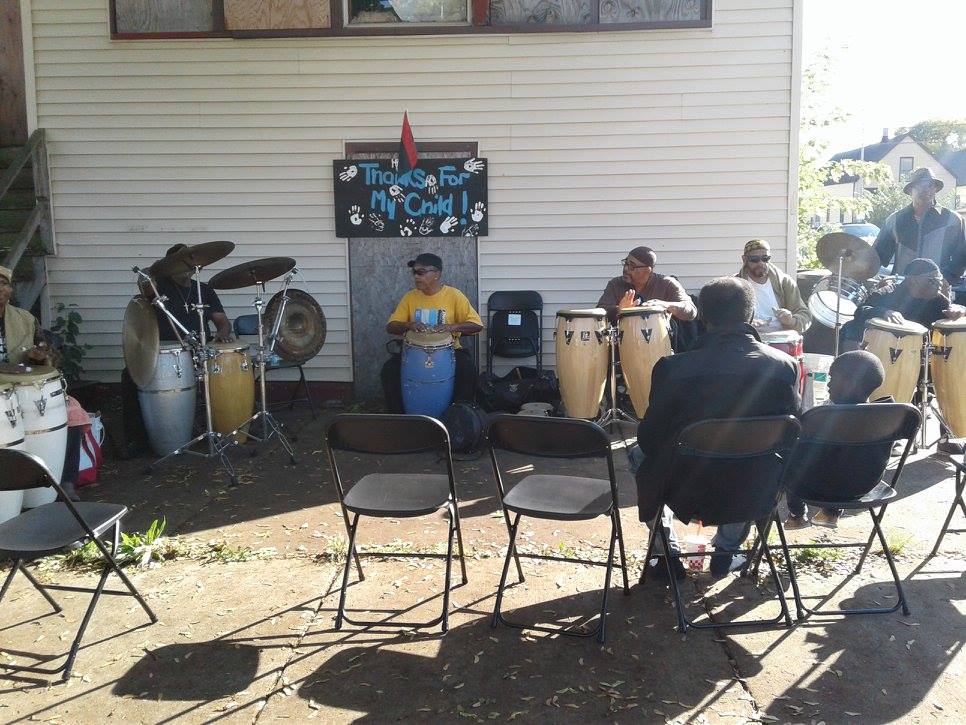 Professional drummers are paid to teach the kids, who will gather in groups of five at Whitney Young Library in Chatham and Grand Crossing Park if pandemic restrictions are loosened for the summer.
If not, groups of 10 or more will receive instruction online. Sessions may be held virtually either way, as the online format allows for more participation, Jones said.
Coronavirus is not going to stop violence among the city's youth on its own, nor will it stop youth from gathering, Jones said.
"Having a structured recreation and a safe place" discourages kids from acting violently in the summer, she said. "They're also learning a profession. They're learning how they can become a musical artist — or perhaps they already are, they just don't have a record deal."
In South Shore, the South Merrill Community Garden at 71st Street and Merrill Avenue also received a $7,500 grant.
Garden organizers had to "rewrite our plan" for the summer when the pandemic hit, and plans for a first-ever day camp were scrapped due to safety concerns, said education coordinator Natalie Perkins.
The grant will be used for new programming, like an online "garden channel" where small cohorts of gardeners are filmed as they learn and grow, she said.
Neighbors will also be able to reserve time in the garden as a recreational space, with lunches provided from local restaurants.
"We thought people on the block would love to be able to come sit in the garden and do nothing with their families," Perkins said. "We want to start having people come and just play chess in garden, if they want to. … We're still working out how best to keep everybody safe."
The garden was founded by two members after they saw someone running through the lot as they were getting shot at, Perkins said.
As an "anchor of the community" with gardening, bike giveaways and art programs, the garden aims to prevent that type of violence and "calm the block down in a lot of ways," she said.
"I wouldn't say you would document, 'We kept this many kids off the street, therefore we stopped the violence for the summer,'" Perkins said. "But by having a presence on the block, we've been able to change the way people see themselves."
Block Club Chicago's coronavirus coverage is free for all readers. Block Club is an independent, 501(c)(3), journalist-run newsroom.
Subscribe to Block Club Chicago. Every dime we make funds reporting from Chicago's neighborhoods.
Already subscribe? Click here to support Block Club with a tax-deductible donation.